Coach Gerard Gallant's firing by the Las Vegas Golden Knights was the slap shot heard around the hockey world. The stunning decision to fire a highly-successful NHL head coach and architect for a miracle on ice in the desert makes no sense whatsoever. So, what happened?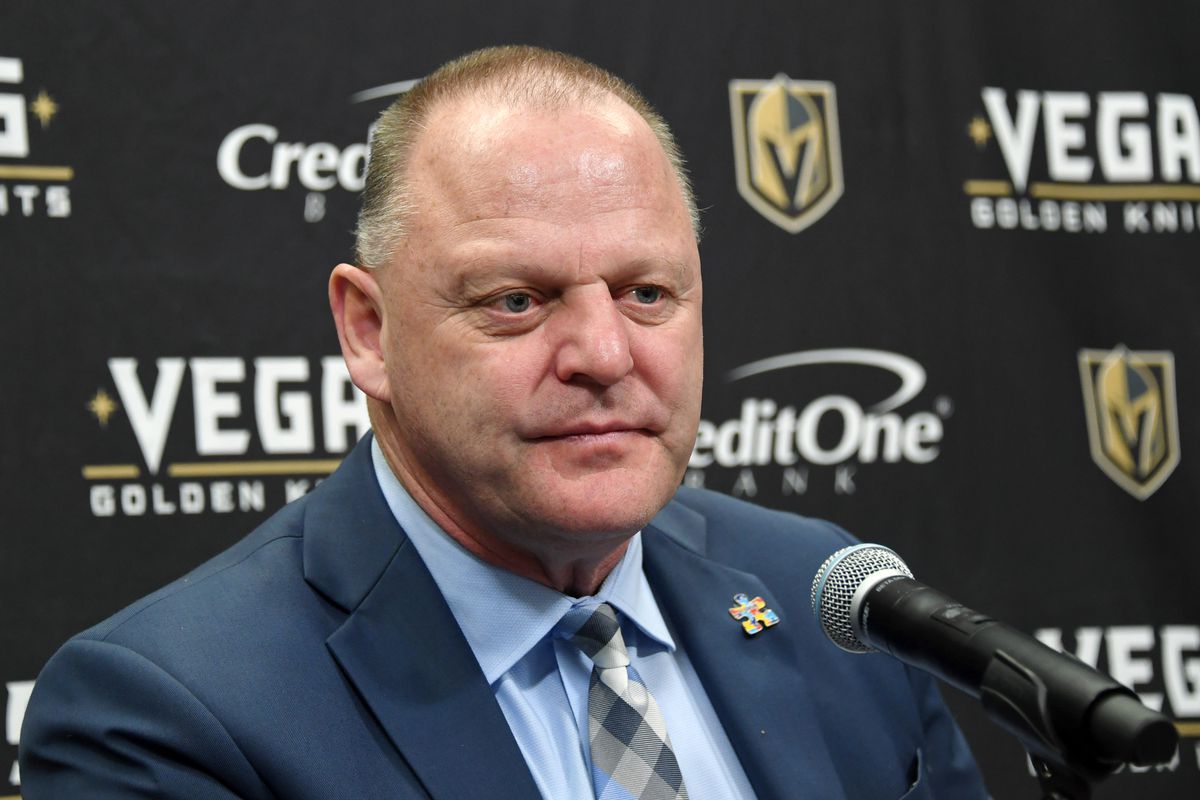 Gerard Gallant was once the golden knight in shining armor.
Less than three years ago, he took an NHL expansion team no one expected to succeed and produced a winning season. Gallant's new Las Vegas franchise made the postseason, then won three consecutive playoff series to roar into the Stanley Cup Finals. His team barely missed achieving what would have been the most storied shocker in sports — and certainly the most astounding upset since the famed "miracle on ice," when the underdog USA National Hockey Team won the 1980 Olympic gold medal. The Golden Knights were defeated by the Washington Capitals in the Stanley Cup. Nonetheless, Gallant became Las Vegas' new champion.
Now, barely a season-and-a-half later, Gallant stands in the unemployment line — unceremoniously fired by the Golden Knights for the audacity of being at the helm of a four-game losing streak.
We reported on Gallant's stunning departure at OG News when the story broke on Wednesday, and aftershocks continue to roll through the Las Vegas Valley and NHL circles everywhere. What could my hometown Golden Knights possibly be thinking?
After so many things went so right, what went so wrong?
Gallant's Record Speaks for Itself
As the head coach, Gallant posted a 118-75 W-L record with the Golden Knights — good for a 59.3 winning percentage. He made it to Game 5 of the Stanley Cup finals in his first season. He made it to Game 7 of the first playoff round in his second season, and certainly would have advanced higher were it not for a terrible few minutes of hockey by the Golden Knights late in the game, and a horrendous call by the referee. He was 24-19, just three points out of first place in his (partial) third season.
Let's now overstate the obvious: Gallant was coaching an expansion team.
Never before in the modern history of any sport has an expansion franchise accomplished so much, so quickly. Las Vegas, a city many critics thought would never adopt hockey, became enthralled with the team and its players. Local restaurants were (and are) noticeably quieter and less crowded when the Golden Knights are playing on TV. During playoff games, the city that never sleeps — nor ever takes a break — stopped in its tracks. Then and now, wherever you look, the team logo is on shirts, hats, and bumper stickers. This city went hockey crazy. Mania on ice was real.
Certainly, some of the credit for this remarkable turn of events should go to Gallant.
An Insider's Perspective on Gallant's Firing
Joe Pane has covered the Golden Knights for the Las Vegas Advisor from the moment the puck dropped in the franchise's first game. A passionate hockey writer and beat reporter, Pane can often be seen (and heard) inside the team's locker room asking questions immediately after the final buzzer. (He also wrote a terrific book about their inaugural season.)
Pane sensed something wasn't quite right with the Golden Knights front office in recent weeks, and in Thursday's column, shared his own suspicions that the team was considering some drastic move, despite a winning record and being very much alive in playoff contention.
"I never wanted to lay the blame on the shoulders of Gallant alone. The VGK play as a team, so they should accept the accolades and the criticism together. Little did I know that Gallant's grave had been dug long before the team left on this 8-game road trip," Pane wrote in today's column. "It was going to happen when George McPhee decided to lower Gallant's body into the hole that was waiting for him, and what better way than when the entire organization is about as far away from their headquarters as geographically as possible. It's called 'damage control,' and everyone up to owner William Foley knew there'd be a lot of damage to control, as evidenced by the outrage that consumed this entire city immediately."
Pane contends this not-so-gallant sacking was all scripted in advance. The Golden Knights wanted to hire former San Jose Sharks castoff Peter DeBoer as the new coach, and Gallant was standing in the way. It was as close as you'll ever see to a professional sports team orchestrating a coup d'etat. The team was looking for an excuse, anything, to get rid of Gallant and bring in a new face.
"The organization claims (the firing is) 100% performance-based," Pane wrote. "Really? Based on what performance? A 4-game losing streak? Gallant's replacement himself was fired last month for a 10-game losing streak, with his team in last place in the much-maligned Pacific Division. After the Buffalo game, the VGK are just 3 points out of first place. This reeks of something other than performance."
Pane is brave for being so outspoken. He's still assigned to cover the team, so his writings and words will certainly ruffle some feathers among Golden Knights' upper management. He appears to have the most comprehensive perspective of the team, and the turmoil this created, than anyone else in local media.
Leaving Las Vegas
No doubt, Gallant won't be unemployed for very long. He can probably pick and chose his next NHL job. There's already talk he's in line as the next hire for an expansion team coming to Seattle in 2021. Indeed, it's hard to think of anyone better suited for the position.
Here, closer to home, the vast majority of Las Vegas hockey fans wish him well. If and when he returns to Las Vegas, perhaps coaching an opposing team, expect Gallant to be greeted with a roar of genuine appreciation. There's also some chance we'll see that the Knights made a huge mistake if performance slides toward mediocrity. Who knows? This risky episode might even portend turning the Knights into a losing team. Then, how would Las Vegas fans react?
Golden Knights' ownership might not appreciate Gallant for the coach he is, or for what he's done for the city, but every Las Vegan, hockey fan, and non-hockey fan alike certainly does.
If anything, this unceremonious firing — something fans certainly weren't calling for — guarantees that, as the team's relationship with the city evolves, Las Vegas will have reasons to doubt ownership and management. This bizarre controversy could be the first rift in what up to now has been a harmonious marriage between fans and their team.
No matter how things turn out, the honeymoon in Vegas is over.