Despite being the No. 2 team in the Associated Press Top 25 Poll Georgia was ranked ahead of Alabama in the first College Football Playoff Rankings released on Tuesday. Some have criticized the choice saying that the No. 1 Crimson Tide should be atop that list.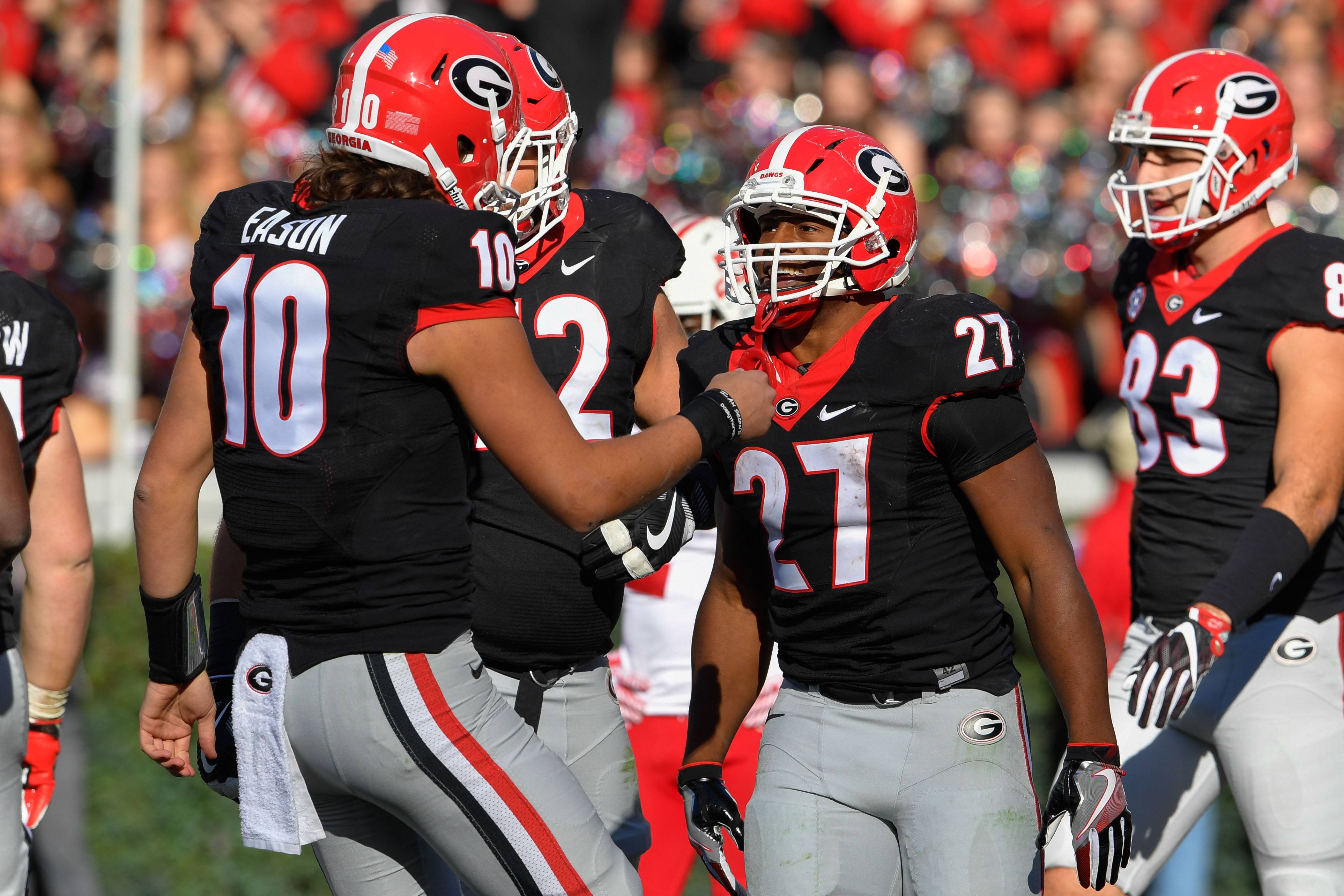 The two Southeastern Conference teams were followed by Notre Dame and Clemson, who was last year's National Champion. The top four teams at the end of the season qualify for the playoff for the title.
But the committee that ranks the teams thought Georgia has had a tougher schedule and more quality wins. Both teams are undefeated.
"What gave Georgia a very slight edge over Alabama this week in the eyes of the selection committee were really the two top-25 wins that Georgia has, over Mississippi State but specifically over No. 3 Notre Dame," said committee chairman Kirby Hocutt.
Debate Rages
Some sports media figures criticized the rankings saying Alabama should be the first pick, just like they are in the AP poll. One radio sports talk show host said it was a travesty that Alabama wasn't No. 1.
The hyperbole was in overdrive after the rankings came out and message boards for both schools were littered with praise and condemnation. While those on the sidelines were worked up into a full lather the two coaches didn't seem to care much.
"It really means nothing right now," Georgia Coach Kirby Smart said. "It's a distraction more than anything." "They (players) understand that's the way of the world, the system we live in. It's built to generate ratings and publicity for our sport."
Notorious curmudgeon Alabama's Nick Saban said he would rather his team found something else to focus on rather than what he characterized as a meaningless list.
"It's like getting like two-thirds, three-quarters of the way up a mountain, and you're sliding on an icy slope and you're worried about some airplane flying behind you," he said. "You fall and bust your ass. That's basically what's equivalent, rather than focus on what you need to do to keep climbing. I don't think I can make it any clearer. And I know you all want to make this a big story, make it one, but don't make it about me because it's not going to be about me."
Rankings Could Change Soon
Georgia has played two teams ranked in the Associated Press Top 25. They defeated then-No. 24 Notre Dame on the road as a five-point underdog, 20-19. Two weeks later they were favored by 2 ˝ points over then No. 17 Mississippi State and blew them out, 31-3.
Alabama plays its first ranked team on Saturday when they face No. 19 LSU. They are 21-point favorites and a blowout victory would impress the group and could very much put them on top of the now weekly rankings.