No gimmicks will be needed when Gennady Golovkin and Canelo Alvarez face each other Saturday night at T-Mobile Arena in Las Vegas and promoter Oscar De La Hoya couldn't be prouder.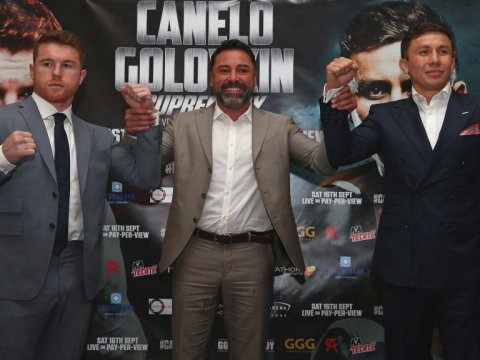 The 10-time world title holder has transitioned seamlessly into the business end of the sport he was so successful at and this could be his crowning achievement. But the chairman and CEO of Golden Boy Promotions, which he founded in 2001, isn't done yet.
"As a promoter, I strongly feel that this might not be the pinnacle because I'm positive there will be bigger events I'm going to be part of, but this is what it's all about," he said. "This is my gold medal as a promoter because this is exactly what boxing needs right now. Boxing needs this fight and I'm glad I was able to make it."
True to Sport
This match comes just three weeks after the much-hyped Floyd Mayweather-Conor McGregor battle at the same location. Many thought the contest was nothing more than a money grab by the two athletes, with the champ expected to receive around $300 million and the Irish UFC fighter taking home a little north of $100 million.
There was no bigger critic of the bout than De La Hoya. He sent out posts on social media criticizing the event and pleaded with fans in an open letter to boycott the August 26 fight.
"Floyd's and Conor's motivation is clear, it's money," he wrote. "In fact, they don't even pretend it's not. But it's also a lack of consequences for when the fight ends up being the disaster that is predicted. After this fight, neither of them will need us anymore. Floyd will go back to retirement — presumably for good this time with another nine-figure paycheck — and Conor will go back to the UFC."
Past of the motivation for his stance was the promotion of his own contest, but he did make some solid points. The 44-year-old businessman hopes his competition brings some respectability back to the sport.
Odds Favor Golovkin
This fight pits the top contender against a strong champion and should be a classic battle. The two are evenly matched and sportsbooks have the champion as a minus-145 favorite. Alvarez is a plus-115 to win.
The 35-year-old is 37-0 with 33 knockouts and has an inch and half height advantage. The 27-year-old Alvarez has a 49-1-1 record with 34 knockouts. His only loss came to Mayweather.
Some betting prop bets include the challenger plus-550 to win by either a technical knockout or KO, while Golovkin is plus-160. Alvarez is favored to win by a decision at plus-190. Triple G is at plus-275. A unanimous decision will get bettors a decent payout if it happens. The challenger is plus-400 and the champ is plus-600.