The Milwaukee Bucks are down 3-2 and on the brink of elimination from the 2021 NBA Playoffs, but they host Game 6 on their home court against the banged-up Brooklyn Nets for a chance to even the series and force a Game 7.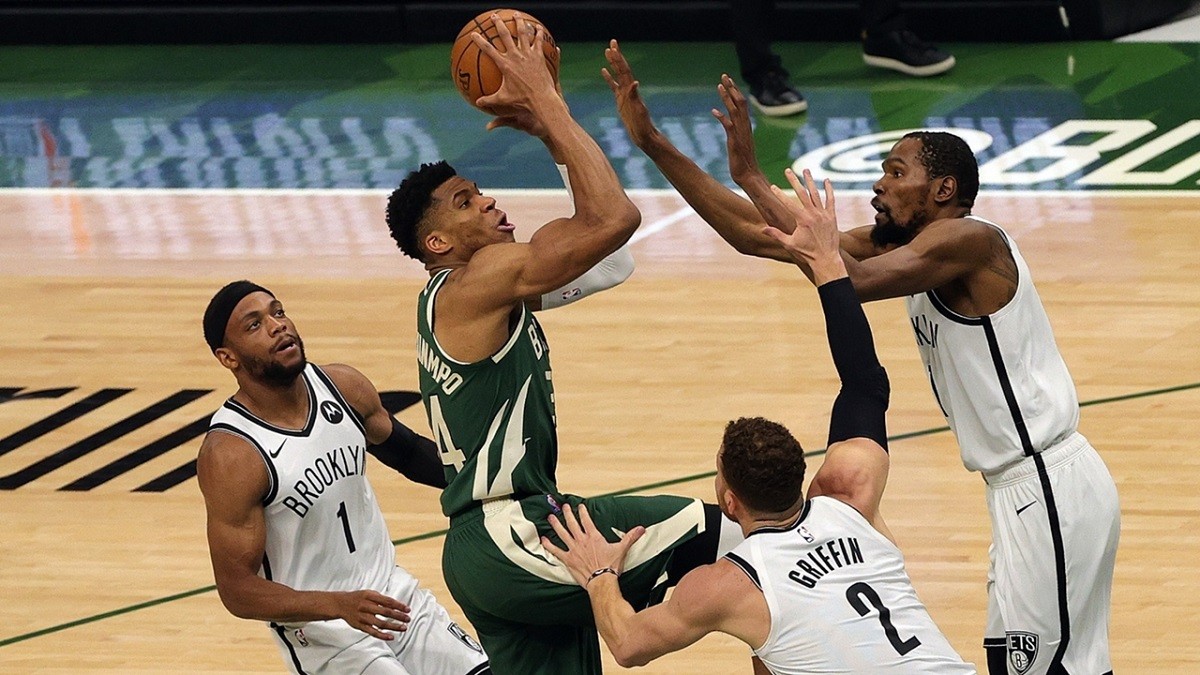 The Brooklyn Nets won Game 5 without Kyrie Irving, but James Harden returned to the lineup, so two-thirds of their Big 3 were in action. Kevin Durant reminded the world why he's one of the NBA's all-time greatest clutch players with 49 points, 17 rebounds, and 10 assists to break a 2-2 deadlock.
---
Game 6: #2 Brooklyn Nets (3-2) at #3 Milwaukee Bucks (2-3)
Tip-off: 8:30 pm ET
Location: Fiserv Forum, Milwaukee, WI
Point Spread: MIL -6
Total: 220 o/u
Money Line: BKLYN +200 / MIL -220
Series Odds: MIL +185 / BKLYN -235
---
Irving is expected to miss Game 6 for the Nets with a sprained ankle injury.
According to an update by DraftKings, Nets are -235 odds to defeat the Bucks to win the series and advance to the Eastern Conference finals. The Bucks are +185 underdogs to win the next two games to stave off elimination and complete a comeback over the Nets.
The Nets are back in the top spot on the NBA futures board at the Circa Casino and Sportsbook in downtown Las Vegas. The Nets are now +150 odds to win the 2021 NBA Championship, whereas the Bucks are +700 odds to win the title.
Unsung hero Jeff Green
In Game 5, Durant put on a dazzling performance, delivering one of his greatest single games in the postseason with 49 points and a triple-double. Without Irving, Durant played every single minute and led the Nets to a victory, proving once again that he's the best player in the NBA and an unstoppable scoring force.
No matter what type of defense the Milwaukee Bucks threw at Durant, he still torched them for 49 points.
KD's mighty performance overshadowed a sensational game from Jeff Green. Green notched a career-playoff high 27 points in Game 5 thanks to seven 3-pointers. He set a new Nets franchise record with the most points off the bench (27) in a postseason game. He also broke the Nets record for the most treys (7) in a playoff game. He's shooting an insane clip from downtown at 64.3%.
"Jeff Green was unbelievable," said Nets head coach Steve Nash. "Incredible performance. Kept us in the game for long stretches of it where it could've got away from us, and we weren't playing well. He didn't miss for a long, long time and kept us in it. For a guy who is coming off an injury and to step up and show that maturity, that veteran presence, that winning mentality tonight was unbelievable."
Green appeared in only four postseason games with the Nets this year, averaging 11 ppg off the bench. Green played two games against the Boston Celtics before he was sidelined with a plantar fasciitis injury. He returned to the lineup in Game 4 with a quiet eight points while still nursing the painful heel injury. He logged 35 minutes in Game 6 and shot 8-for-11 from the floor, including 7-for-8 from beyond the arc.
Budenholzer hot seat, Freak's charity-stripe woes
This could be the last game that Mike Budenholzer coaches with the Milwaukee Bucks if they get bounced by the Nets in six games. Word on the street is that the Bucks will fire Budenholzer if he falls short of winning the Eastern Conference.
The Bucks upgraded their defense across the board this season, but they've been unable to thwart Durant or slow down the Nets without playing overly physical. The old-school banging and bruising worked during victories in Games 3 and 4 after the Bucks fell into an 0-2 hole. However, the officials called a much-tighter Game 5 and, as a result, several Bucks fell into early foul trouble.
"Special performance by KD," said Budenholzer said. "Credit to him, some tough shots, so we've got to look at it, figure out getting better."
Simply put, if the Bucks can push Durant around without getting whistled for an infraction, they'll have a chance to even the series. But if Durant gets the star treatment and all the calls, then the Bucks will meet their fate in Game 6.
Giannis "Greek Freak" Antetokounmpo tallied four 30/10 games this series with at least 30 points and 10 rebounds in three straight games. Against the Nets, he's averaging 30.6 points and 12 rebounds per game. But he struggled from 3-point range (24.5%) and the free-throw line (36%). He missed 21 free throws this series, but shot 9-for-19 from the charity stripe in both of Milwaukee's wins.
Check out more coverage of the 2021 NBA Playoffs.