After years of anticipation, Tyson Fury and Anthony Joshua were finally closing in on making their heavyweight title unification fight official. But an arbitrator's ruling on Monday has cast doubt on that fight, as Fury might have to do battle with another of his top rivals first.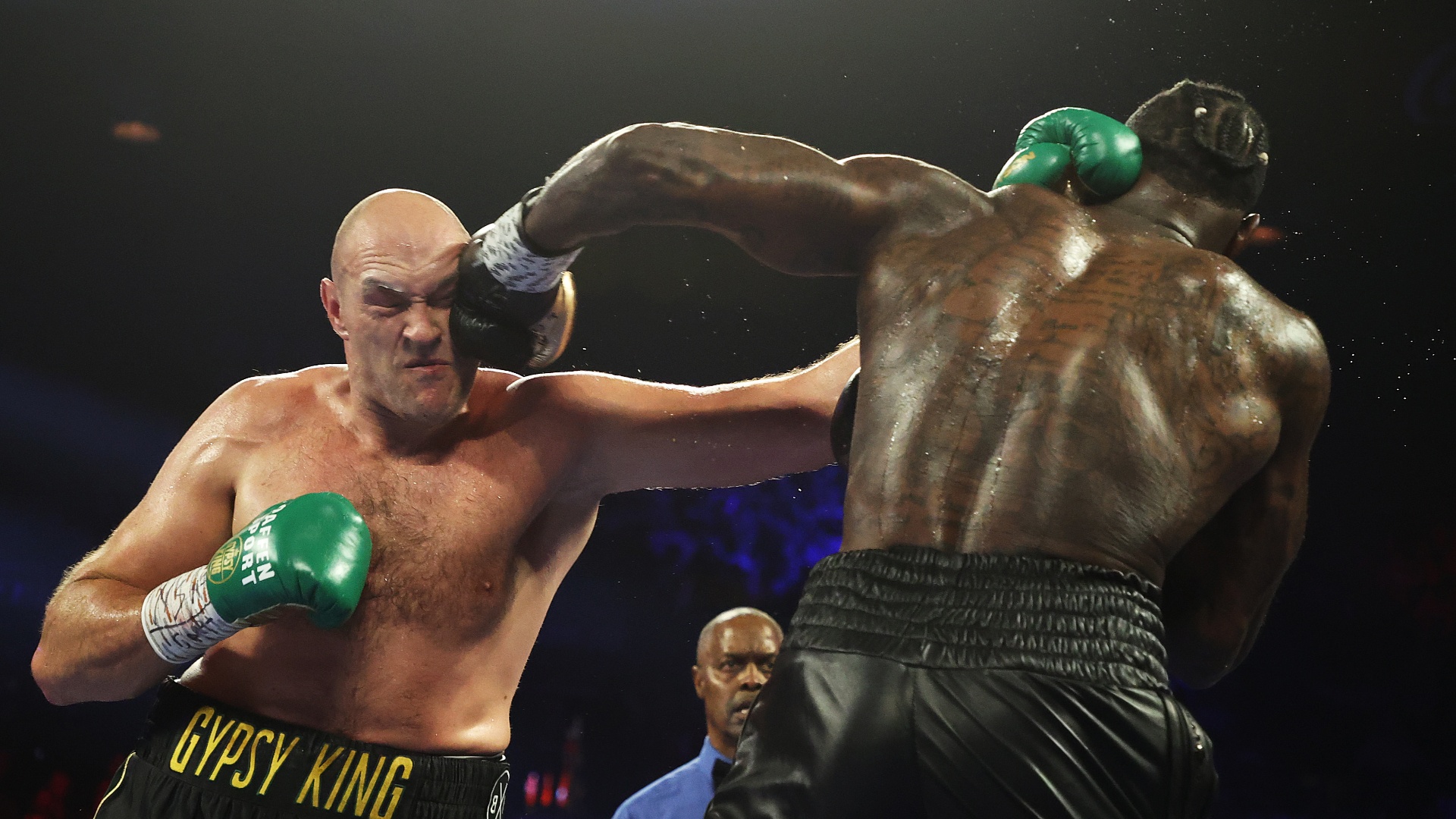 Former federal judge Daniel Weinstein ruled that Fury must grant Deontay Wilder a rematch by Sept. 15, though he also acknowledged that the two fighters could agree to an extension of that deadline.
Wilder wins dispute over rematch clause with Fury
Fury defeated Wilder by TKO on Feb. 22, 2020, when Wilder's corner threw in the towel during the seventh round of the fight. The two had previously fought to a draw in 2018. Neither man has fought since that encounter.
Wilder invoked the rematch clause in the contract for that fight, and the two planned to meet in the ring last July. But the COVID-19 pandemic delayed the fight, and Fury eventually tired of waiting for a date with Wilder. That eventually led Fury to secure a two-fight deal with Joshua instead.
But Wilder argued that he was contractually entitled to a third fight with Fury and, on Monday, Weinstein agreed with that stance.
If Fury wants to delay fighting Joshua, he would likely have to pay Wilder in order to wait for the Joshua fight (or fights) to go forward. Fury's promoter, Bob Arum, says that won't happen.
"We're not paying Wilder to step aside," Arum told ESPN. "It's better to get rid of him and go about our business. We can make the Fury-Joshua fight for November or December."
Arum also told ESPN that Top Rank had secured Allegiant Stadium in Las Vegas for a fight between Fury and Wilder on July 24.
Joshua could face Usyk in title defense
The ruling came just a day after Fury tweeted that a fight against Joshua on Aug. 14 would take place in Saudi Arabia. DraftKings Sportsbook rates Fury as a -190 favorite over Joshua (+140) in that fight.
"massive announcement" FURY VS JOSHUA IS ON AUGUST 14 in The kingdom of Saudi Arabia. The worlds biggest sporting event all eyes on us. @SCEEKSA @gsaksa_en @trboxing @mtkglobal @frankwarren_tv @marbella @wowhydrate #LETTHEGAMESBEGIN #saudiarabia #TYSONOFARABIA pic.twitter.com/ZKIAXLictV

— TYSON FURY (@Tyson_Fury) May 16, 2021
Now, the proposed unification bout faces an uncertain future. The decision could also lead to other fights for the top contenders in boxing's heavyweight division.
Matchroom Boxing's Eddie Hearn, who promotes Joshua, said that Joshua might fight Oleksandr Usyr this summer if Fury must face Wilder. Usyk (18-0, 13 KOs) formerly dominated the cruiserweight division and stands as the WBO's mandatory challenger for Joshua. That would allow Joshua to defend his WBO belt and maintain the possibility of a complete unification for a later Fury vs. Joshua encounter.
Joshua (24-1, 22 KOs) holds the IBF, WBA, and WBO world heavyweight titles. Fury (30-0-1, 21 KOs) holds the WBC title, which he won from Wilder (42-1-1, 41 KOs).
Regardless of how things shake out, Hearn says he wants everyone to come to a decision sooner rather than later.
"We want to be in a position by the end of this week to know are we fighting Tyson Fury or are we moving forward with another option," Hearn said in a Matchroom Boxing video.