In Pac-12 conference action on Friday night, the undefeated #15 Cal Bears host Herm Edwards and his scrappy Arizona State squad.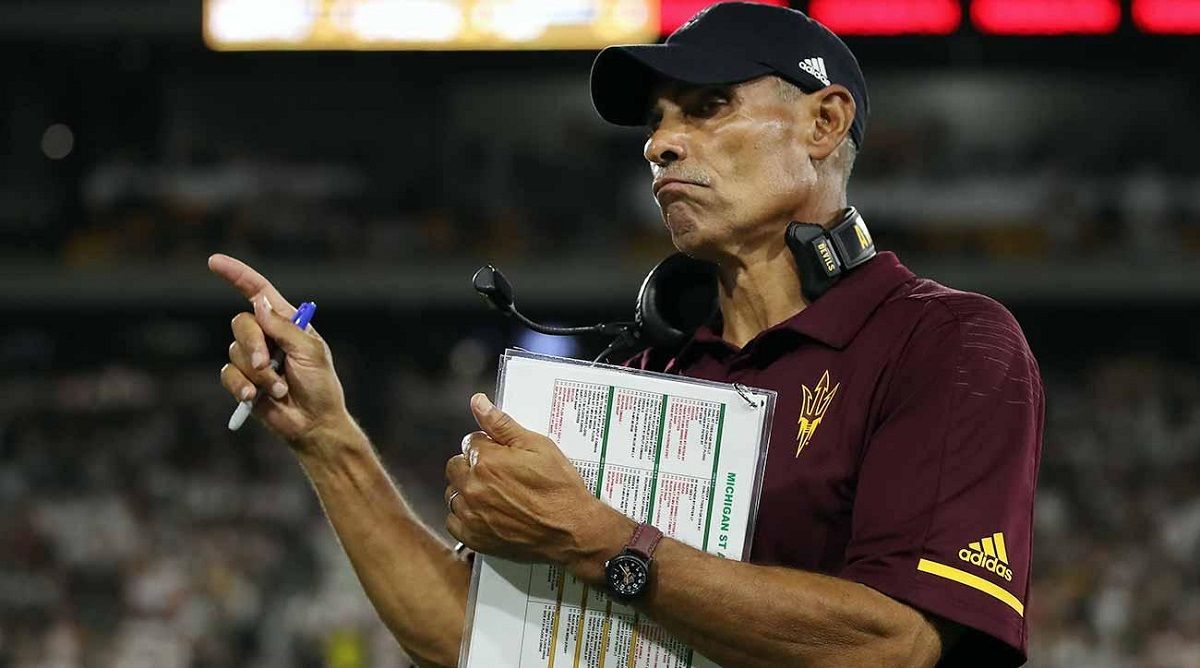 The Sun Devils tumbled out of the Top 25 after a 34-31 loss to Colorado last weekend in Tempe. It had been over 17 years since the Buffs went on the road and beat a ranked opponent, which is why they caught Arizona State off guard.
The Pac-12 is looking much stronger in 2019 than last season. Meanwhile, Arizona State is trying to get back into the Top 25, and a victory over a ranked opponent will do them wonders in the polls.
Arizona State Sun Devils (3-1) vs. #15 California Bears (4-0)
Kickoff: 7:30pm PT
Location: Memorial Stadium, Berkley, CA
Point Spread: CAL -4.5
Over/Under: 41.5
Money Line: CAL -190 / ASU +166
Cal hasn't been ranked this high in over a decade. They're trying to fend off any haters who think that 1, the Pac-12 is overrated, and 2, Cal doesn't deserve that high of a ranking.
A big win over Arizona State won't thrust them into the Top 10, but it will help them inch a couple spots closer in the rankings. Last weekend, USC and third string QB Matt Fink upset #10 Utah in a shootout that's already in contention for Game of the Year.
Herm Devils
Arizona State won their first three games of the season, but two of them were against inferior opponents. They whipped Kent State 30-7, but struggled against Sacramento 19-7.
Edwards and company picked off #18 Michigan State 10-7 in East Lansing two weeks ago, but they were unable to stay unbeaten after Colorado showed them what's up.
"They had an opportunity to do something," said Edwards, "And it got away from them. So now we get another opportunity."
Arizona State's defense allowed 21 points, or seven points per game in their victories. Overall, Arizona State allows 13.8 points per game, and their run D allows only 103 yards per game on the ground. If the ASU run D shows up, then they'll have a legit shot at knocking off the Cal Bears.
Last season, RB Eno Benjamin averaged 5.5 yards per carry and scored 18 combined touchdowns. This season, Benjamin scored five times, but he's only rushing 2.8 yards per carry. He scored twice against Colorado though.
Edwards relies on a freshman QB, but Jayden Daniels has held his own. Daniels bounced back with two touchdowns last week after a rough performance against Michigan State.
Fear the Bear
Cal made waves when they upset UW in Seattle in Week 2. Kicker Greg Thomas drilled a game-winning FG with less than 10 seconds remaining to help the Bears steal a tough road win.
"I'm really proud of the team because it wasn't the cleanest, but they just keep fighting and they're a tough bunch of guys," said Cal coach Justin Wilcox.
Last weekend, Cal went down to Jackson, Mississippi to play Ole Miss. Cal won 28-20, with an impressive road win against an SEC foe.
Cal has a much better defense than you think. Their D allowed only 17.3 points per game so far, and no team has scored more than 20 against them. The D is anchored by Evan Weaver, who recorded 22 tackles against Ole Miss.
"When was the last time we didn't talk about what a great player he is?" Wilcox said. "Weaver produces every week. He's a really good player. We're proud of him."
QB Chase Garber got banged up against Ole Miss, but he still threw four touchdowns in the victory.