Last year, Doswell followed Largent across the Fort Lauderdale Stakes finish line, falling short in the Grade 2 prep for next month's Pegasus World Cup Turf Invitational. But the 5-year-old Giant's Causeway progeny went gate-to-wire Saturday, capturing the Fort Lauderdale at Gulfstream Park.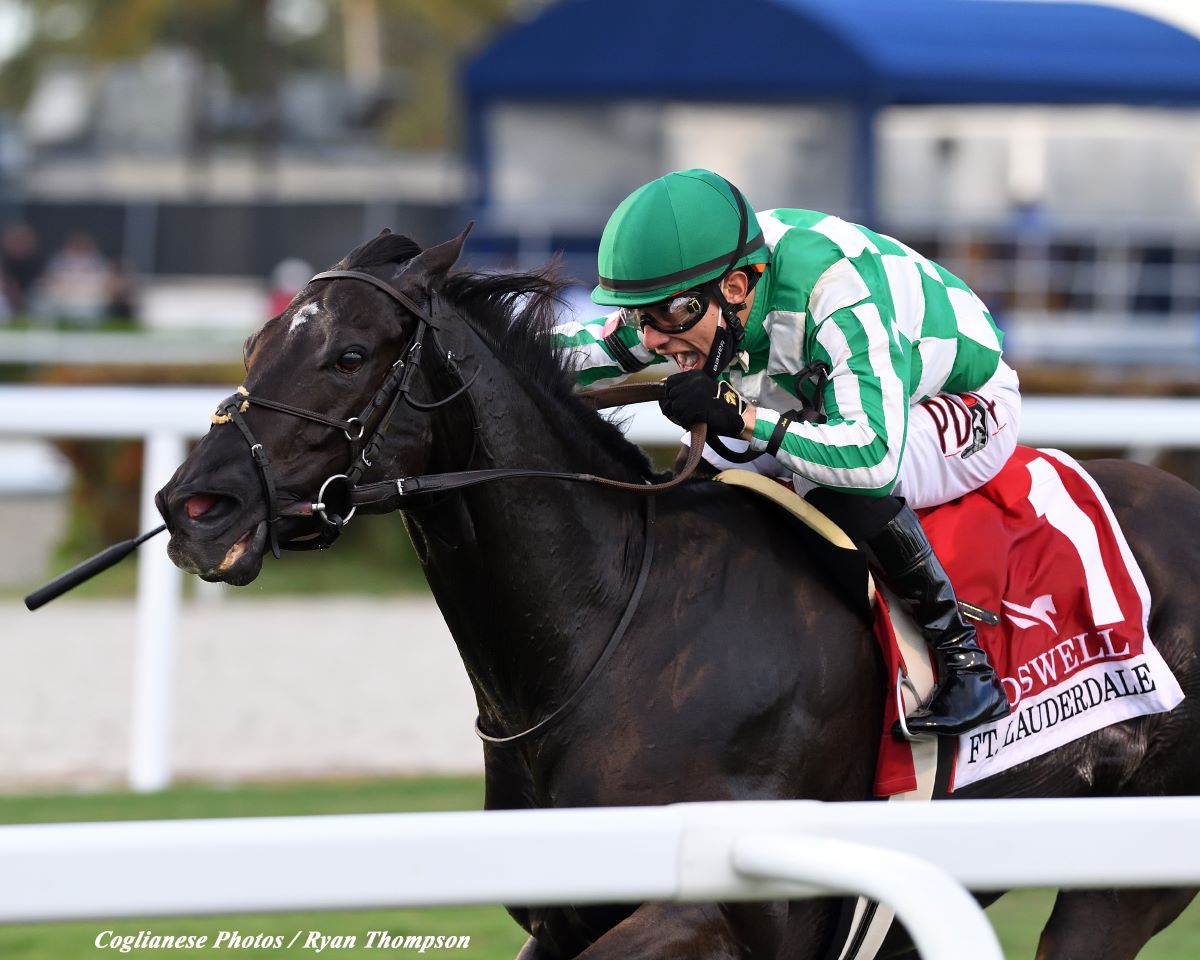 That puts the gelding on the radar for the Jan. 29 Pegasus World Cup Turf, the first major turf contest of the season. Last year's Fort Lauderdale winner, Largent, finished second by a neck to Colonel Liam in the $1 million, Grade 1.
It also gives Doswell his first stakes victory, doubling as his first victory since he captured a Belmont Park allowance in October 2020. That was six races ago. Since then, Doswell finished second in last year's Fort Lauderdale and third in the Grade 3 W.L. McKnight last January. He then took nine months off before finishing third in a pair of allowances on Oct. 19 at Belmont Park and Nov. 19 at Aqueduct.
"He's hard to get fit because he's had some little problems and stuff like that, and we had to give and take with him a lot," trainer Barclay Tagg said. "But I felt kind of good about him today (Saturday) because he was fit. We were able to train him hard. He's a horse that's kind of made for trouble. (Assistant trainer) Robin Smullen has just done a hell of a job with him. She rides him every single day. She got him all straightened out and he's very sensible now."
Doswell takes a different path to the winner's circle
On Saturday, Doswell seized the lead out of the gate. He and rider Junior Alvarado turned aside challenges from Atone, English Bee, and Analyze This. Atone would finish second at 17/1, English Bee third, and Analyze This 11th, beating only the struggling King Guillermo across the line.
Doswell paid $11 at 4.50/1, running under different tactics than he did last year.
"Last year, they kind of told me to try to see if he would stalk to make sure he would finish strong," Alvarado said. "We kind of took away his main (weapon). Today, they told me, 'You're in the one (post), just leave out of there rolling,' and that's what I did."
There are conditions he faces prior to Pegasus
Based on this performance, Tagg said Doswell will probably run the Pegasus World Cup Turf. It's a logical next step, considering that since the race's 2019 debut, four Fort Lauderdale runners were in the Pegasus starting gate, including Largent in this year's Pegasus, and Instilled Regard who finished third to Zulu Alpha in the 2020 Pegasus. Instilled Regard won the 2019 Fort Lauderdale.
"We're thinking about it. We'll probably go in it," Tagg said. "We'll see how he comes out of this and see if he freshens up. If he's got energy and all that kind of stuff, I don't want to take him over there and just make a fool out of him if we can help it."