Following Sea spent much of his 3-year-old season as a colt seeking a breakout victory that would vault him into the front rank of his class. His last chance to garner that as a sophomore comes in Saturday's Grade 1 Cigar Mile at Aqueduct.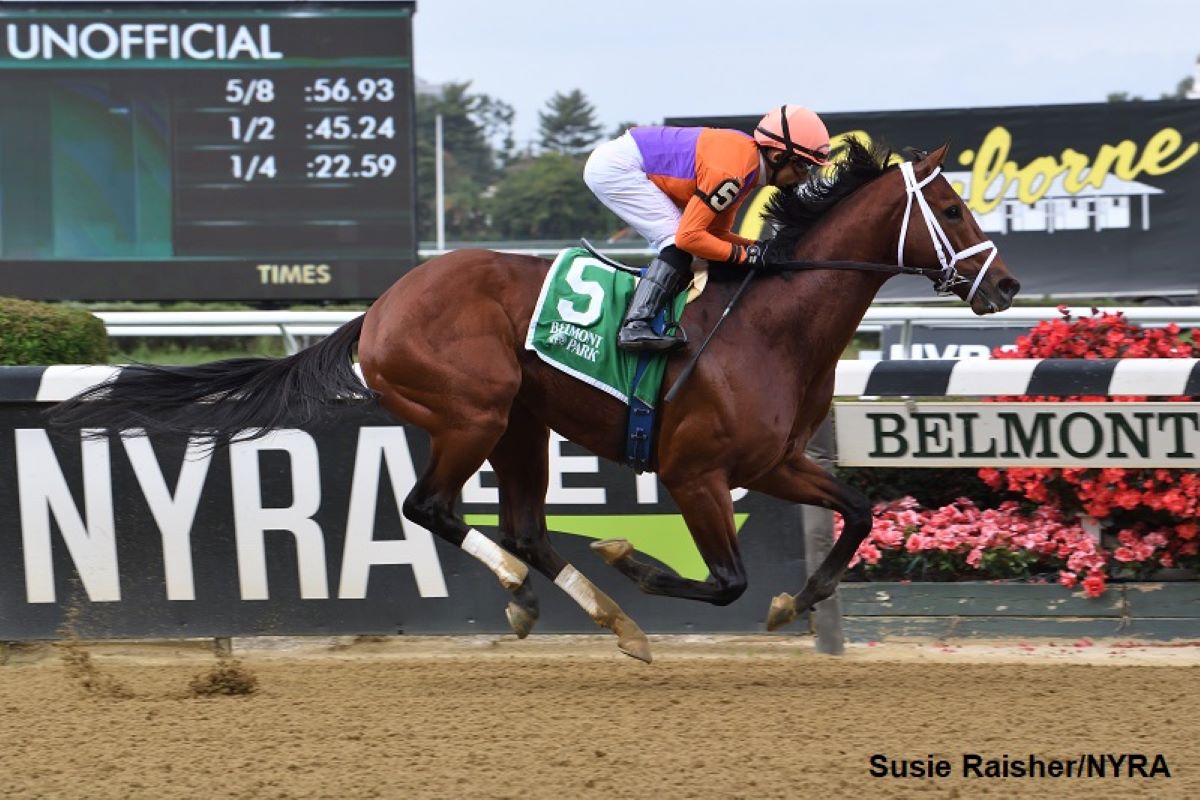 The Cigar Mile is the signature race in Aqueduct's Winter Meet. It's Big A's only Grade 1 race, and it represents one of the final Grade 1s of the year. For Following Sea, it also represents a significant step toward a stallion career.
Spendthrift Farm, the Kentucky breeding colossus, owns Following Sea. General Manager Ned Toffey illustrated what goes into the process of "stallion making" for a homebred colt.
"Our goal is always hoping that any colt in our program can earn his way into our stallion barn," Toffey told the New York Racing Association. "I think that's what we're looking to do with Following Sea, so his campaign will be shaped around that. Certainly, the subject of 'stallion-making' races is an interesting one. If you ask stud farms and breeders, the Met Mile would be very high on that list. That would be one goal we would have in mind. Obviously, there's the Breeders' Cup as well. But as always, we're going to listen to (trainer) Todd (Pletcher), and Todd is going to listen to the horse."
Regardless of his trainer, Following Sea finds the board
What Following Sea has told his connections, along with horseplayers, is that he's a horse on the verge of breaking out. Since moving from Bob Baffert's barn to Pletcher's in early summer, Following Sea hasn't missed the board in five races (2-1-2).
Nor has he missed competition either. After an allowance win at Belmont Park in his first race for Pletcher, Following Sea was elevated to second in the Grade 1 Haskell. That came after Hot Rod Charlie was disqualified for interference. It also came after Following Sea finished 18 1/4 lengths behind Hot Rod Charlie and eventual winner, Mandaloun.
This told Pletcher that Following Sea is probably a miler, at best. It didn't prevent Pletcher from sending Following Sea out against Jackie's Warrior and Life Is Good in the Grade 1 H. Allen Jerkens Memorial at Saratoga. There, he finished third to that pair by nine lengths.
Pletcher kept Following Sea in deep waters, and in October's Grade 2 Vosburgh Stakes at Belmont Park, the tactic finally paid off. As the 2.50/1 third choice in a four-horse field, Following Sea went nearly gate-to-wire, scoring a 4 3/4-length victory over Firenze Fire for his first graded-stakes victory.
A game Breeders' Cup effort falls short
He still awaits his second. It didn't come in the Breeders' Cup Sprint, although jockey John Velazquez nearly pulled off a massive rally. Velazquez had to gear Following Sea down at the top of the stretch when an alley along the rail suddenly closed — courtesy of fading pacesetter Jackie's Warrior.
Velazquez took Following Sea out several paths, then hit the jets. The rally fell 1 1/2 lengths short of Aloha West and Dr. Schivel. It did, however, fill out the trifecta at 20/1.
"Take nothing away from the first and second horses because they obviously finished beautifully," Toffey said. "But if that hole stays open, he would have had to have his running shoes. It would have been nice to see what would have happened. He looked poised to roll through there."
A $700,000 colt still seeks career validation
Following Sea has never finished out of the money. He's 3-1-3 with nearly $700,000 in the bank in his seven career races. His sire, Runhappy, also seems to be on the verge of a breakout as a stallion. Following Sea would provide that, via his first Grade 1 offspring score.
"He's a horse who has shown us a lot of talent and shown he can run with the very best in the country," Toffey said. "We always need a little luck in this game and with that, he's more than capable of coming away with a win … This game is a little tricky to look too far ahead in, but we just have to see how things unfold. He's a fun horse to have in the barn. He's given Todd every indication that he's ready to run a good race."