First it was on, then it was off, now the match between Floyd Mayweather and Japanese kickboxing star Tenshin Nasukawa is apparently back on, scheduled for New Year's Eve. The rules for the bout have changed dramatically from when the contest was first announced a month ago.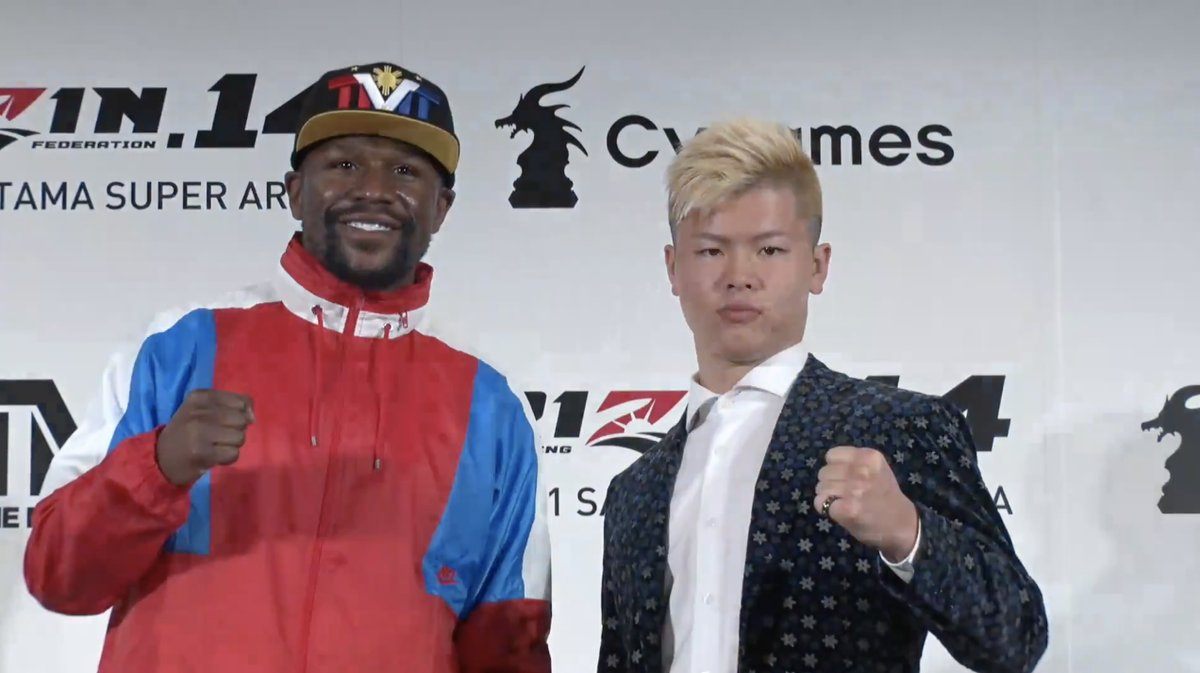 Now instead of a sanctioned fight, Mayweather said in a press conference from his Las Vegas gym last week, that it will still take place on Dec. 31 in Tokyo, but will just be an exhibition, with no judges, no official record, and no kicking.
"I'm in the entertainment business, Mayweather said. "That's what I go out there to do. I love to do this. I'm working out to put on a show for three rounds."
His 20-year-old challenger seemed fine with the new format.
"I'm going to use my weapons against him," Nasukawa said through an interpreter.
First Announcement Surprise to Mayweather
When the bout was initially announced the first week of November in a press conference in the downtown Tokyo district of Roppongi, Mayweather and Nasukawa were in attendance. The details were not disclosed, and reporters wanted to know if it would feature straight boxing, kickboxing, or an MMA-type contest.
Other particulars were also not divulged, such as how many rounds, what type of gloves, and what weight Mayweather and Nasukawa were supposed to be at. When pressed for those details, Mayweather was ambiguous.
"We'll talk about that, we'll get that situated within the next couple weeks," Mayweather said. "As far as the weight class, we're not really worried about that. When it's all said and done, it's all about me going out there and displaying my skills against another skillful fighter."
When the 41-year-old Mayweather returned to the states, he suddenly had changed his mind about fighting someone half his age, and possibly tarnishing his 50-0 undefeated record.
"I want to sincerely apologize to my fans for the very misleading information that was announced during this press conference and I can assure you that I too was completely blindsided by the arrangements that were being made without my consent nor approval," Mayweather said three days after the press conference.
Can't Stay Away From Ring
This is not the first time since his Aug. 26, 2017 fight with Conor McGregor, in which he said he was retiring, that he has had intentions to fight again. In September, there were reports that Mayweather was planning on a rematch with Manny Pacquiao after the fight in December.
When that buzz seemed to fizzle, Mayweather hinted at a fight with UFC lightweight champion Khabib Nurmagomedov. He was also previously linked to a UFC fight with McGregor, but that to failed to materialize.
One boxer that would like a piece of Mayweather is Canelo Alvarez. Fresh off his rematch victory with Gennady Golovkin in September, the Mexican boxer said he would like to avenge the 2013 fight, where he lost by majority decision.
"It's a big fight for boxing fans and it would help boxing," Alvarez said. "What he did lately has hurt boxing and hurt its credibility. I'm different now, I have more experience and more confidence in the ring. It would be a different result, I can assure you of that."