The COVID-19 outbreak from Los Alamitos' July 4 card claimed another jockey Sunday when Flavien Prat tested positive for the coronavirus.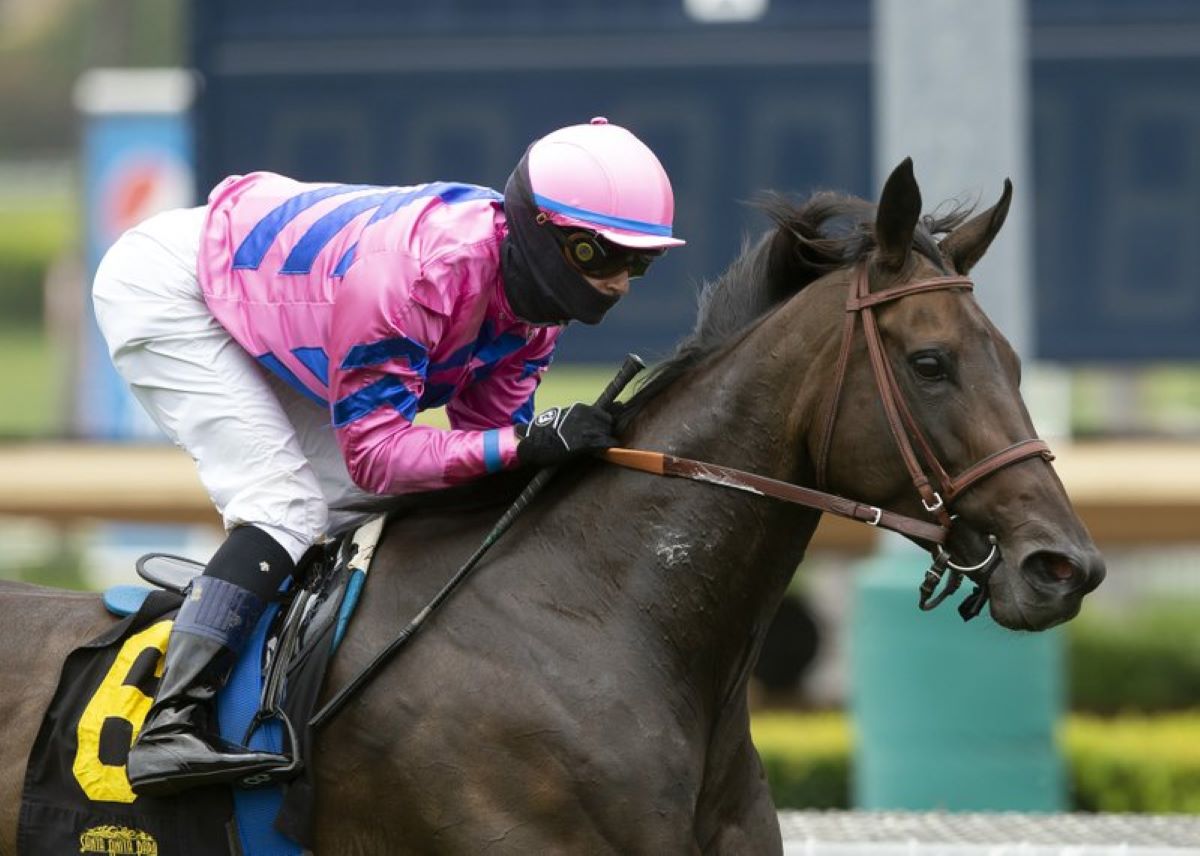 Prat, the West Coast's leading rider, just captured the Santa Anita Park riding title. He's also the fourth jockey from Los Alamitos' Independence Day card to test positive, joining Martin Garcia, Luis Saez, and Victor Espinoza on the sidelines. Four other jockeys around the country have also tested positive for coronavirus, including Eduard Kennis Rojas Fernandez, a quarter horse jockey at Los Alamitos, Javier Castellano, Gerard Melancon at Lone Star Park, and an unidentified jockey at Santa Anita who was turned away before he could enter the facility.
"It's not his fault or anybody else's fault. It all stems from Los Alamitos—that's where the fault lies because Los Alamitos did not do their job last week," Prat's agent, Derek Lawson, told Bloodhorse.
Prat rode at Del Mar on Friday before flying to Kentucky to ride six mounts on Keeneland's stakes-packed Saturday card. He returned to Southern California late Saturday for Del Mar's Sunday card. Under that track's protocols, Prat faced mandatory testing, since he left the state. Del Mar's medical partner, the Scripps Clinic, administered a nasal swab around noon PT.
Results Were Prompt and Forthcoming
Prat was already at Del Mar when Scripps personnel contacted him 90 minutes later with the positive results. That happened an hour before his first of eight scheduled mounts on Sunday. He left the track immediately. Track officials said Prat didn't visit the jockeys' room during his brief time at the facility.
Lawson said Prat was asymptomatic. The agent also said Prat will be put under a doctor's care while he's in his 14-day quarantine. Del Mar officials say Prat could return as soon as July 24 if no symptoms occur. In the meantime, track officials said all jockeys and jockeys' room personnel will undergo mandatory testing before Del Mar resumes racing Friday.
The positive test takes Prat off 2019 Pacific Classic winner Higher Power in Saturday's Grade 2 San Diego Handicap, the third coronavirus-related jockey change affecting that race. Replacing Luis Saez aboard likely favorite Maximum Security is Abel Cedillo. Meanwhile, Victor Espinoza yields the reins to Midcourt to Juan Hernandez, who replaced Prat aboard favored Super Patriot in Sunday's Osunitas Stakes.
Prat's Horses Win Every Fourth Race in 2020
Prat's absence leaves a gaping hole in the Southern California jockey colony. He ranked fifth in North American jockey earnings last year with nearly $19.7 million. Prat surpassed a 20% win percentage every year since 2017 and this year, he's winning races a quarter of the time (98 for 386). That's a stellar win percentage for any jockey.
Since 2016, Prat's mounts have hit the board at least 50% of the time. That figure is nearly 60% this year (226 for 386). He owns Breeders' Cup wins in the 2016 Turf Sprint (aboard Obviously), the 2017 Dirt Mile (Battle of Midway), and the 2019 Juvenile (Storm the Court).
He won the 2019 Kentucky Derby aboard Country House when that 65/1 shot was elevated to the title following Maximum Security's disqualification.
Earlier this year, Prat won six races in one day at Santa Anita. He captured the Santa Anita winter-spring riding title in a runaway, winning 90 races. Last year, he won his second Del Mar summer riding title in three years.