Rafael Fiziev won his sixth straight fight on Saturday, scoring a fifth-round knockout over former champion Rafael dos Anjos in their lightweight main event clash.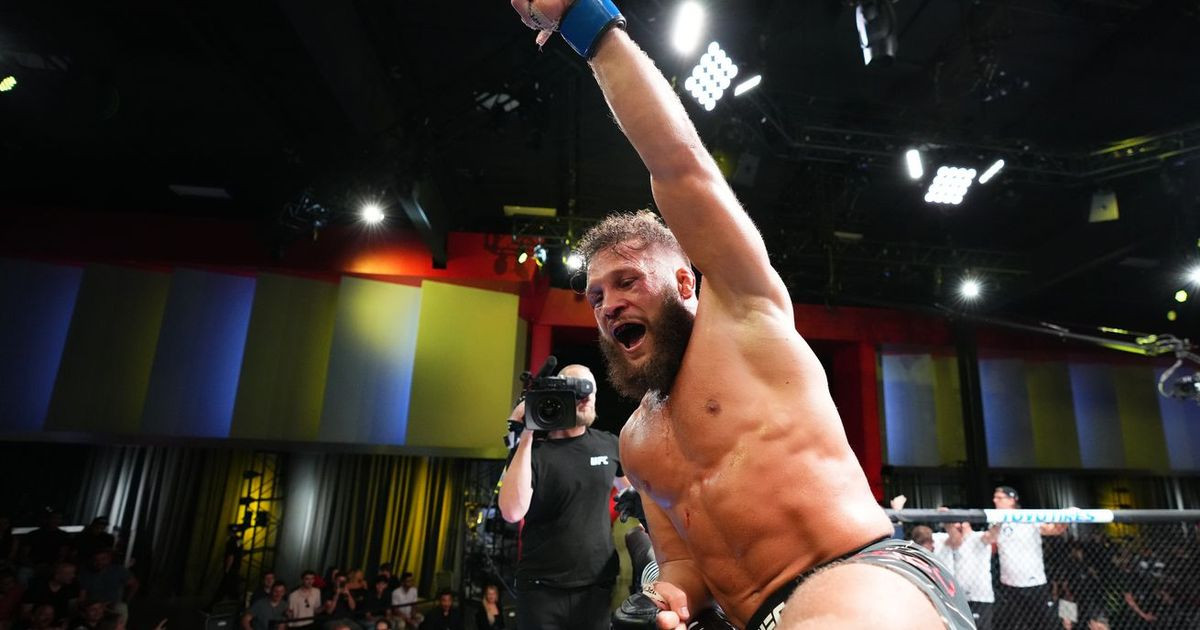 Fiziev hit dos Anjos with a powerful left hook 18 seconds into the final round to finish off the fight. DraftKings Sportsbook posted Fiziev as a -190 favorite ahead of UFC on ESPN 39.
Fiziev calls out Nadal, Gaethje after win
While the finish was dramatic, Fiziev was up 39-37 on two of the three scorecards heading into the final round. He stifled dos Anjos' attempted takedowns and landed hard strikes throughout the fight.
"My wrestling is not so bad like everyone thinks," Fiziev said afterward. "If somebody takes me down, I'm ready to stand up. He takes me down again, I'm ready to stand up again."
Fiziev (12-1) has gone out of his way to avoid ambitious callouts after big wins. After beating dos Anjos (31-14), Fiziev did find a big name to challenge – though not an MMA fighter.
"Now we know who the best Rafael is in the UFC," Fiziev said in the Octagon. "Now we know, and now I want to make a challenge: Who is the best Rafael in sport? Rafael Nadal, come here."
Later on, Fiziev made a more realistic callout.
"You know I want to fight with [Justin] Gaethje," Fiziev told reporters after the show. "That's a good match for you and me. If you're ready, and you're not scared, don't talk shit, and let's go."
Fiziev is now riding a six-fight winning streak.
Volkanovski needs surgery for broken thumb
UFC featherweight champion Alexander Volkanovski tweeted that he suffered a broken left thumb in his title defense against Max Holloway last week at UFC 276. He said he will need surgery to repair the injury.
Broke my thumb in the second round, but that don't stop us!
Having surgery today and will be out for 12 weeks. Looking forward to getting back out there, thanks to everyone for the support 🙏🏽💯 pic.twitter.com/XvwLd223vL

— Alex Volkanovski (@alexvolkanovski) July 8, 2022
"Having surgery today and will be out for 12 weeks," Volkanovski tweeted on Thursday. "Looking forward to getting back out there, thanks to everyone for the support."
Volkanovski (25-1) battered Holloway over five rounds in their title fight, winning every round on all three cards. The champion said he broke his thumb in the second round of that bout.
Chris Wade blasts PFL playoff pay scale
Featherweight top seed Chris Wade sounded off on how the Professional Fighters League is paying him in the playoffs, saying he's taking about a 30% pay cut compared to his regular-season fights.
Wade finished as the runner-up in the PFL featherweight division in 2021. He told ESPN that he earns only a fixed purse for the playoffs and that he's considering not competing in the PFL playoffs this year if he can't reach a new agreement with the promotion.
"It's not sustainable for a lot of us as fighters," Wade told ESPN. "As a fighter, you have to look at what's worst-case scenario. God forbid, the fight doesn't go your way. You go over to a different country, you pay taxes, paying $1,200 a pop for cornermen to fly over, for hotel rooms."
Wade said that the PFL threatened to replace him with an alternate in 2021 if he didn't accept the pay reduction. He told ESPN that fighters have different agreements with the promotion, with some getting bonuses or different pay scales for the playoffs. The PFL declined to comment to ESPN about the issue.