On Tuesday, the new Champions League season kicks off with some top games on offer for football fans around the world. The new season comes with some major talking points that will interest fans as well.
Superstars Lionel Messi and Cristiano Ronaldo changed clubs and are set to make their debuts in new shirts on the Champions League stage. Manchester City failed to sign Harry Kane, but added more magic to their already top-class midfield with the $140 million transfer of Jack Grealish from Aston Villa.
Dortmund managed to fend off a host of Europe's biggest spenders queuing for highly valued Erling Haaland, while PSG stood firm despite Real Madrid's astronomical bid for Kylian Mbappe on deadline day. The Parisian side has a stellar attack this season, with Messi, Neymar, and Mbappe leading the line.
Newcomer Sheriff Tiraspol from Moldova is one of the biggest surprises in the competition's history. They were drawn in the same group as Real Madrid, Inter Milano, and Shakhtar Donetsk.
The Champions League starts in style, with FC Barcelona and Bayern Munich clashing at Camp Nou on Tuesday evening. On the same night, last season's winners, Chelsea, host Zenit Sankt Petersburg from Russia, while a Ronaldo-less Juventus travels to Sweden to play Malmo.
Memphis! #BarçaBayern @ChampionsLeague pic.twitter.com/XhoUB6EnAd

— FC Barcelona (@FCBarcelona) September 14, 2021
Barcelona vs Bayern
The clash of titans promises to be an all-out attack game. The favorites in Group E, which includes Dynamo Kyiv and Benfica Lisbon, meet at the Nou Camp for an early thriller. For Barcelona, it will be the first Champions League outing since Messi's departure. Bayern went through a small revolution themselves, appointing Julian Nagelsmann as their coach. Bayern's previous manager, Hansi Flick, left to take charge of the German national team, with 34-year-old Nagelsmann joining from RB Leipzig.
Barcelona is at +225 to keep the points in Catalonia, while a Bayern win is at +100. A draw stands at +275.
Champions League nights. ✨👌#CHEZEN | #UCL pic.twitter.com/jIPYnBlKvN

— Chelsea FC (@ChelseaFC) September 14, 2021
Is Lukaku enough for Chelsea's attack?
Romelu Lukaku left Inter for a second chance at Stamford Bridge. Chelsea paid $135 million to sign him seven years after letting him join Everton. Lukaku started his new life at Chelsea in electric form, netting three times in three outings. Despite winning the Champions League last season, coach Thomas Tuchel was unhappy with the productivity of his frontmen. Tammy Abraham and Olivier Giroud were both let go. Abraham signed with Mourinho's AS Roma, while Giroud joined AC Milan. Lukaku is in the form of his life, but can the 28-year-old Belgian attacker push Chelsea to glory again?
Chelsea is at +800 to win the Champions League for the second year in a row. PSG, Manchester City, and Bayern Munich are all in front of the West-London club in the bookies' ranks.
🔛 @ChampionsLeague #UCL | #CLUPSG pic.twitter.com/S4oDYj3VXJ

— Paris Saint-Germain (@PSG_inside) September 14, 2021
Messi vs Ronaldo
The rivalry between Leo Messi and Cristiano Ronaldo will wear new clothes this season, once the golden duo changed teams during the latest transfer window. Messi's transfer to PSG made the Paris club the favorite to win the UEFA Champions League, at +360, ahead of Manchester City, which stands at +370. Ronaldo's move to Old Trafford contributed to Man. United's progress odds-wise too, with the Red Devils now the sixth favorites to lift the trophy. United sits at +1400, just behind Liverpool (+1000), but in front of Real Madrid (+1600).
PSG makes fans around the world dream of enchanting football. Messi, Neymar, and Mbappe take the credit for that.
🎥 ¡San Siro a ras de césped!#UCL pic.twitter.com/eiTVjjKINf

— Real Madrid C.F. (@realmadrid) September 14, 2021
Inter vs Real Madrid
Inter sold Lukaku to Chelsea, Achraf to PSG, and lost Christian Eriksen because of his heart problems. At the same time, Antonio Conte left his managerial seat. Lazio's former boss, Simone Inzaghi, replaced him. Inter's financial problems meant no big transfer activity at Meazza this summer.
The situation was similar at Real Madrid where Zinedine Zidane stepped back as manager, making way for a Carlo Ancelotti return. David Alaba and Eduardo Camavinga are the only high-profile recruits. The Austrian joined on a free transfer from Bayern Munich, whereas Camavinga came out as a surprise signing on deadline day. The 18-year-old French midfielder cost Real an initial $34.1 million.
Real's finances aren't great either, with debts threatening the safe future of the club. Florentino Perez is optimistic, though, and believes everything will be fine once the transition is completed and the new Santiago Bernabeu Stadium becomes fully operational.
Until then, Real isn't even the favorite to win La Liga this season, sitting behind acting champions and city rivals Atletico Madrid.
In the Champions League, the story is always different. Real has a winning pedigree and a team full of experienced players, which always proves vital on the European stage.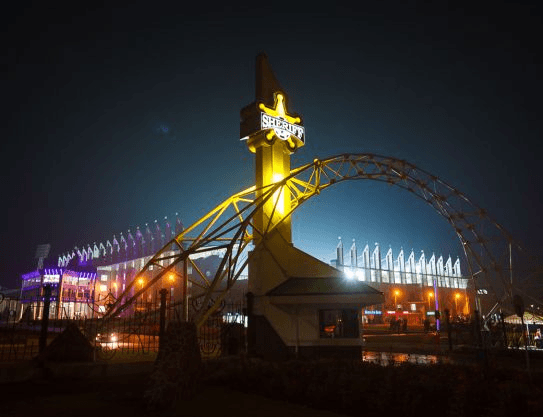 Sheriff, the surprise pack
Moldavian champions Sheriff Tiraspol come from a league battling fixed games. Moldova is the poorest country in Europe and football isn't a priority in a territory that is still a relic of the Cold War. Transnistria, the autonomous region where Sheriff comes from, has its own currency, a separate border, and still holds a Lenin statue in the center of Tiraspol. Still, Sheriff will host Real Madrid and Inter Milan at their grounds, which is virtually the most modern place in the whole town. Their first Champions League outing will be on Wednesday when Ukrainian side Shakhtar Donetsk comes to visit.
Sheriff passed four qualifying rounds to reach the group stage. Their presence in the Champions League is the biggest surprise possible at this level. Sheriff is at +100000 to win the competition.