Two of British racing's iconic figures: Queen Elizabeth II and the late jockey Lester Piggott, were absentee honorees from Saturday's Epsom Derby. But both would have found Richard Kingscote's Derby-winning ride aboard Desert Crown a masterstroke of horsemanship.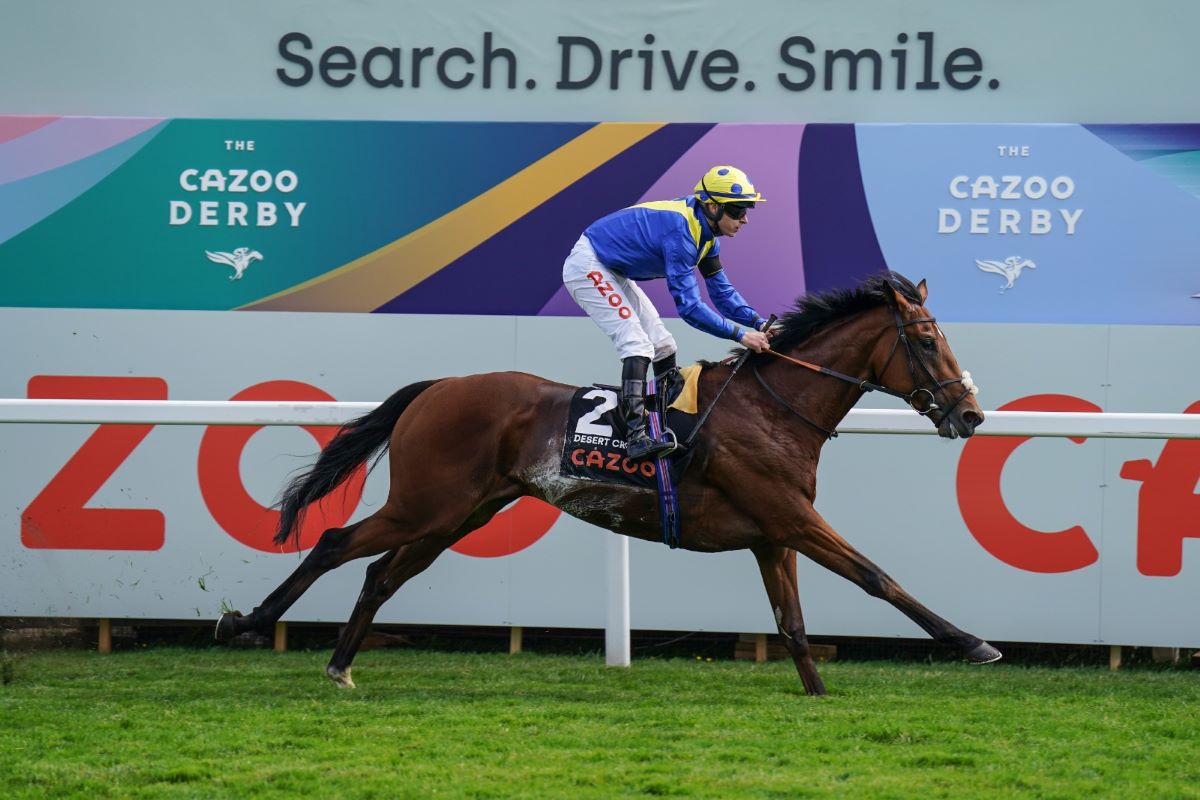 Kingscote piloted 5/2 favorite Desert Crown to the Epsom Derby title Saturday, winning his first Derby title as he gave Sir Michael Stoute his sixth Derby title as trainer.
The victory came on a day where Epsom Downs celebrated the life of England's greatest jockey, Piggott, who died last month at 86. It also came with the 96-year-old Queen – an avid owner, breeder and fan — sitting out a Derby for only the third time in her 70-year reign.
In her place was her daughter, Princess Anne, who represented her mother from the royal box. Princess Anne presented the trophy to Stoute, Kingscote and owner Saeed Suhail. On Friday, Buckingham Palace announced the Queen would not attend the Derby, which was part of her Platinum Jubilee. Instead, she watched the race at Windsor Castle. The iconic race, considered one of the most important races in Europe, was part of the Jubilee celebrations marking the Queen's 70 years on the British throne.
Desert Crown treated everyone to an ideal trip
What the Queen via TV, her daughter, and a packed Epsom Downs crowd saw was Kingscote enjoy a good start before putting Desert Crown into an ideal stalking position. Kingscote put Desert Crown behind Changingoftheguard, Star Of India, Stone Age and West Wind Blows coming into Tattenham Corner.
Coming around that corner and into the stretch, Kingscote asked for more and Desert Crown answered. They powered past the pack with two furlongs remaining, deciding matters then and there. He finished 2 ½ lengths ahead of 150/1 runner-up Hoo Ya Mal. Westover and Masekela finished 3-4.
Where did your fancy finish?#CazooDerby pic.twitter.com/cgZTBvCgMB

— Epsom Downs Racecourse (@EpsomRacecourse) June 4, 2022
"I was very happy when he got to the top of the hill. He was really (well positioned)," Stoute told reporters after the race. "He traveled and floated down the hill."
A Derby favorite with an asterisk
While Desert Crown left the Epsom gate as the favorite, he wasn't a slam-dunk. Not even after winning the Dante Stakes by 3 ½ lengths at York last month in what was only his second career start. Stoute had his concerns after Desert Crown missed a chunk of his 2-year-old season.
"His performance delighted me because he had it won a long way out," Stoute said. "He has such a good mind to go with his abilities. He was having little niggles (last year) and that's why he didn't run until the back end of last year. He had a foot problem earlier this year."
As for Kingscote, this was only his second Derby and the one he'll remember, because he'd like to forget his first one. That came four years ago aboard Knight to Behold, when he finished next-to-last. But Kingscote had a hard time getting his brain around the fact he's a Derby-winning jockey.
Stoute now has a Derby six-pack
"I think it's quite surreal because as a jockey, maybe you don't see yourself among jockeys like that and it's only through the support of other people that you're able to do it," Kingscote said after the race. "I think it took a lot of guts from Sir Michael and the owner to stick with me in a Derby, so I'm very grateful to them for supporting me and letting me ride a very good horse."
What a quote from a @CazooUK Derby winning jockey. #CazooDerby pic.twitter.com/RNHx7Gj8er

— Epsom Downs Racecourse (@EpsomRacecourse) June 4, 2022
Stoute's sixth Derby win came 12 years after his last one, with Workforce in 2010. It came 41 years after his first one, with the incomparable Shergar, who won the Derby by a still-record 10 lengths.
"He's (Desert Crown) got a lot of class and gave me a lot of confidence," Kingscote said. "But it's all about the man who trained him. He's a lovely horse and he's a lovely gentleman who trains him."