If you are in a large fantasy football PPR league and desperately need a tight end, or you might be looking for a TE sleeper, then you should consider drafting David Njoku (Cleveland Browns), Greg Olsen (Carolina Panthers), Gerald Everett (LA Rams), and/or Chris Herndon (NY Jets).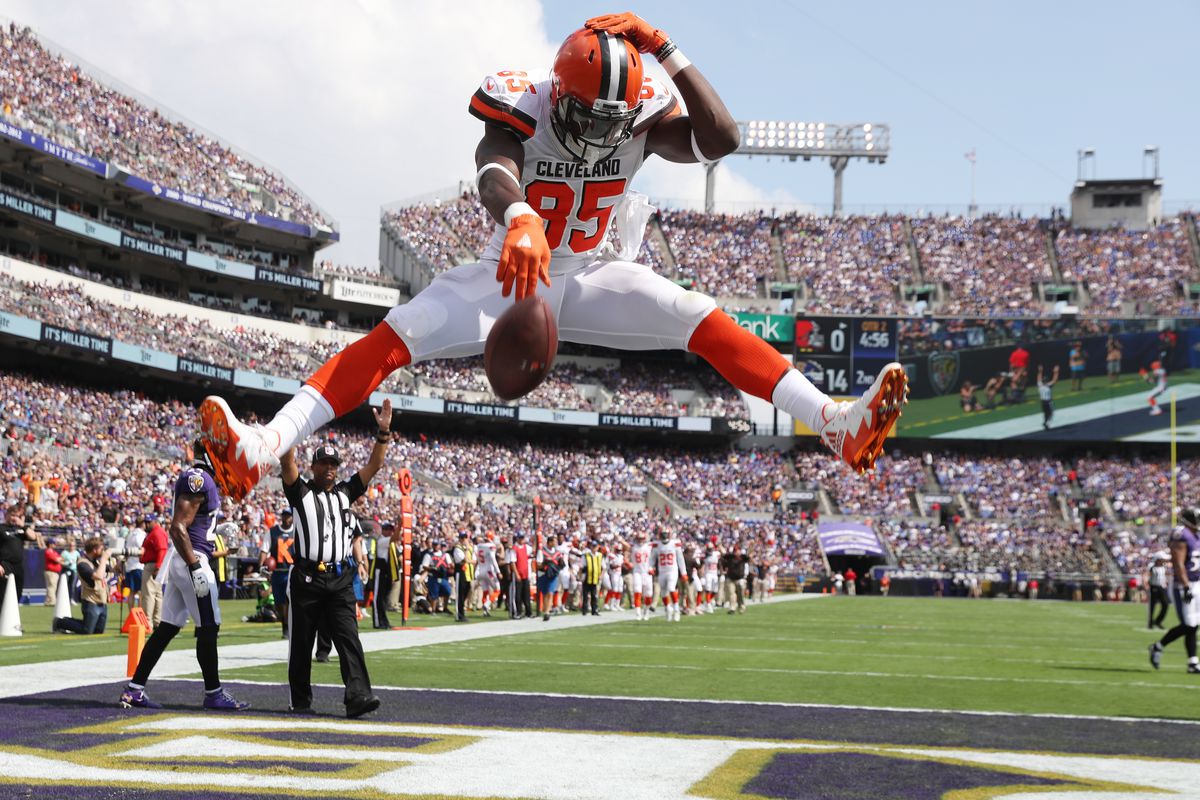 The projected top fantasy football tight ends in the NFL this season include Patrick Mahomes favorite target Travis Kelce (KC Chiefs), George Kittle (SF Niners), and Zach Ertz (Philly Eagles). There's a huge drop off after that top three.
FANTASY FOOTBALL TE SLEEPERS:
David Njoku (Cleveland Browns)
Greg Olsen (Carolina Panthers)
Gerald Everett (LA Rams)
Chris Herndon (NY Jets)
Baker Mayfield Mania is taking over Cleveland. It makes sense that if the Browns have an offensive resurgence under Freddie Kitchens, then the Browns wideouts and tight ends like David Njoku will get to share the wealth.
The LA Rams also boast a high-octane offense that shows no signs of slowing down. Gerald Everett doesn't put up massive numbers like Travis Kelce, but the TE could share in some of the fantasy football love.
Cam Newton supposedly feels like a new QB after shoulder surgery, which means Panthers TE Greg Olsen should get plenty of opportunities to put up points.
No one gives the NY Jets any respect, especially its fans. If second-year QB Sam Darnold unleashes a breakout season, then TE Chris Herndon will be a huge part of Adam Gase's new offense.
By the way, Derek Waller from the Oakland Raiders bubbled this list. Waller looked good on a recent episode of Hard Knocks, however, he's still behind Luke Wilson on the depth chart.
Old Panther: Greg Olsen
Greg Olsen, 34, is the oldest player on the Carolina Panthers and an eventual Hall of Famer. Olsen is currently fifth on the TE all-time catches list with 666 receptions.
The "old man" on the squad struggled with a foot injury that kept him out of 16 games over the previous two seasons.
"I still think from a productivity standpoint, I'm up there with anybody who has ever played," Olsen said.
In 2018, Olsen played nine games and caught only 27 balls. However, he scored four touchdowns. If Olsen and his QB Cam Newton stay healthy, then this could be a banner year for the tight end.
Gambling on the NY Jets
Any time you pick a player from the New York Jets, you risk ridicule from other fantasy owners. Then again, if you're looking for a sleeper, picking any one on the Jets is something that no one will expect.
Chris Herndon (4 TD, 39 receptions) will miss the first four games of 2019 due to an offseason DUI. Herndon might not be worth a flier in smaller leagues. Your best bet is to keep an eye on Herndon and snatch him off the waiver wire in Week 3.
Last season, Herndon started in 10 games as a rookie. QB Sam Darnold and Herndon developed a good rapport over the second-half of the season.
"For me, right now with the suspension coming, I'm treating every day like it's game day, trying to be as detailed as possible, making it as crisp as possible," said Herndon.
Now that Adam Gase is at the helm, the Jets revamped offense should provide Herndon with plenty of opportunities when he returns to the mix in Week 5.
Big Time Bounce: Everett and Njoku
The big knock against Gerald Everett, or any Rams tight end, is that head coach Sean McVay favors triple WR sets. McVay is a young coach who is not set in his ways, so tight ends could become more involved in the offense this season. In addition, last season Everett (3 TD, 33 receptions) split time with Tyler Higbee (2 TD, 24 receptions). This season, Everett looks like a solid #1.
If you think the 2019 Browns will be the greatest new innovation since TikTok, then drafts as many Browns offensive players possible. Start with David Njoku. The TE is a capable third option behind Odell Beckham and Jarvis Landry.
The Browns drafted Njoku out of Miami as a late first rounder in the 2017 NFL Draft. Njoku scored four touchdowns in his first two seasons in the NFL. Last season, he caught 56 passes for 639 yards.
 OG 2019 Fantasy Football Coverage:
Top QBs
QB Sleepers
QB Busts
Top WRs
WR Sleepers
Top 10 RBs
RB Sleepers