A handful of rookies are among this year's fantasy football WR sleepers such as N'Keal Harry (New England Patriots), Mecole Hardman (Kansas City Chiefs), and Deebo Samuel (San Francisco 49ers).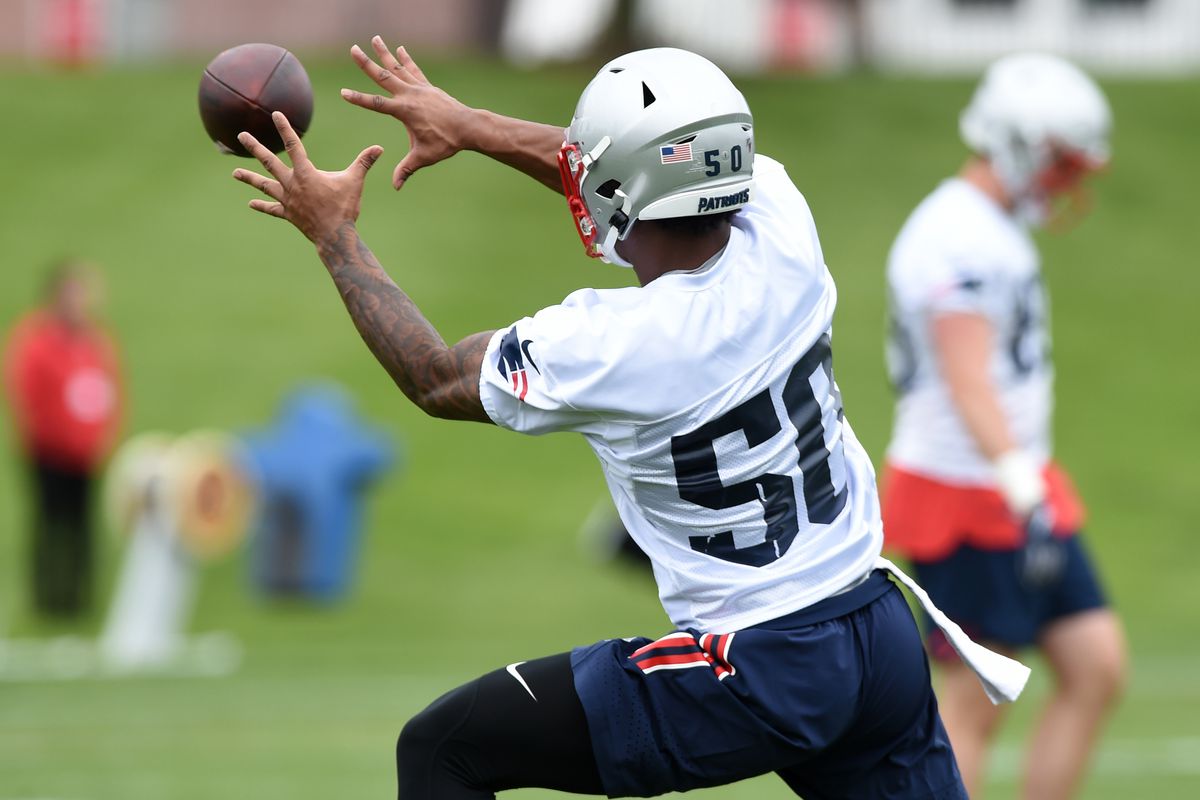 At the same time, several #2 wideouts could be primary targets on more than half the teams in the league including Stefon Diggs (Minnesota Vikings), Sammy Watkins (Kansas City Chiefs), and Josh Gordon (New England Patriots).
Everyone knows the consensus top fantasy football WR, but it's those mid-tiered wideouts and sleepers that everyone is wondering about. These are the moments when you have to trust your instinct and take a flier on someone on the verge of a breakout season.
Rookies offer up the most value in the sleepers department. New players have yet to be tested, so expectations are low. It only takes a couple of big-time performances before rookies make a name for themselves.
Some times it takes young players a season or two to develop their skills at the pro level. That's why young WRs on teams with top notch QBs have a chance to make plays… so long as the AB trusts them. Once you can build a rapport and trust with a QB, it doesn't matter what college you went to, or where you got picked in the draft, or how many years in the league a wide receiver spent.
Trust begins to develop on the practice field, but earned on the playing field during game time. Even some of the best QB-WR tandems in history often took a while to cultivate. Julian Edelman and Tom Brady are the best example. Edelman even moved to California in the offseason just to live nearby Brady in hopes he'd get invited to work out with him.
Top Rookies: Hardman, Harry, and Deebo
Speaking of Tom Brady, he's taking a liking to N'Keal Harry. The Canadian-born Harry played his collegiate ball at Arizona State. He became an All-Pac-12 WR in his last two seasons with the Sun Devils. Harry impressed Bill Belichick enough to make him the first WR drafted in the first round in over 23 years. In a short time, Harry has become a popular target for Brady in both practice and the preseason.
Mecole Hardman is no stranger to big games and air-tight secondaries. The WR from Georgia was a late second round pick by Andy Reid and the Kansas City Chiefs. The Air Raid principles came easy to Hardman and he quickly moved up the depth chart in training camp. Hardman still plays behind several amazing wideouts including TE Travis Kelce, along with Tyreek Hill and Sammy Watkins. But the way Patrick Mahomes flings the ball around, Hardman could still put up decent stats as a #3 WR option.
TOP FANTASY WR SLEEPERS:
N'Keal Harry (New England)
Mecole Hardman (Kansas City)
Tre'Quan Smith (New Orleans)
Deebo Samuel (San Francisco)
Marquez Valdes-Scantling (Green Bay)
South Carolina's Deebo Samuel caused headaches for SEC secondaries because of his blistering speed. The San Francisco Niners picked Deebo early in the second round. Samuel's stock has been steadily rising during training camp. He has already made a name for himself after an impressive 45-yard scamper against the Denver Broncos.
Runnin' through yo' block like DEEBO! @19problemz takes the reverse 45 yards to help set up the #49ers TD 🙌 pic.twitter.com/xdDdCjsccM

— San Francisco 49ers (@49ers) August 20, 2019
Meanwhile, a couple of young wideouts are on the verge of breakout seasons. As a rookie last season, Tre-Quan Smith got on Drew Brees' good side. Then again, if you can break open, Brees will find you. Smith only scored 5 TD last season, but he had a couple of Michael Thomas-like games. While all eyes are on trying to guard Thomas, Smith will be getting a lot more looks.
The Green Bay Packers took a flier on Marquez Valdes-Scantling (aka MVS) late in the 2018 NFL Draft. He played in all 16 games with the Packers and started 10 of them due to a depleted WR corp. The mercurial Aaron Rodgers trusted the rookie enough to make 38 passes including 2 touchdowns. With a full season under his belt, MVS has an opportunity to become the #2 WR behind Davante Adams
Top No. 2's: The Weed Guy and Pick a Ram
Depending on who you talk to, Stefon Diggs could be the #1 guy on Minnesota. Diggs and Adam Theilen are regarded as one of the best 1-2 WR punches in the NFL. Diggs (9 TD, 102 receptions) played hurt most of last season and still put up strong stats for a dysfunctional offense.
TOP FANTASY NO. 2 WRs:
Stefon Diggs (Minnesota)
Sammy Watkins (Kansas City)
Josh Gordon (New England)
Jarvis Landry (Cleveland)
Pick Any Rams WR: Woods, Kupp, Cooks (LA Rams)
Sammy Watkins is not as fast as the Cheetah (aka Tyreek Hill), but he's still got skills. He only played in ten games last season with the Chiefs, but still made 40 receptions with three touchdowns. If you expect Mahomes to have a bigger season than 2018, then you should expect Watkins will also have a potential career year.
Ah, the Weed Guy aka Josh Gordon. The NFL recently re-instated Josh Gordon after he failed another drug test last season and got suspended indefinitely. He seemed like a good fit with the Patriots, but he toked up during a bye week and everything went up in smoke. So long as Gordon stays away from bong rips and dabs, he'll have a chance to put up some sick numbers after a full season with Tom Brady. The big gamble is whether or not he can stay away from toking doobies during the regular season.
Jarvis Landry now gets to play alongside Odell Beckham and Baker Mayfield. That trio could make a lot of people happy in Cleveland. He also rejoins former LSU teammate ODB. Landry has a chance to make big plays with ODB drawing the opposition top defender(s). Landry scored five touchdowns last season with 81 receptions. He'srecored 110-plus catches twice with the Miami Dolphins in his young career, so he can handle volume.
The Rams lost their #1 WR last season when Cooper Kupp went down with a knee injury. He might not be back to his old form, but it's really hard to gauge who will be the top WR or the #2 or #3. At this juncture, you can pick any of the top three Rams: Robert Woods, Cooper Kupp, and Brandin Cooks. They are all capable selections as a worthy #2 so long as Jared Goff makes good decisions and the Rams crank out a ton of points. All three of them will have plenty of chances to make big plays.
Do not forget to check out other 2019 fantasy football coverage including the Top WR, Top QB, Best QB Sleepers, and avoid QB Busts.