If you have the #1 pick in your fantasy football draft, which RB do you pick, Saquon Barkley or Christian McCaffrey? Barkley is probably the better player, but the New York Giants are a weird team. McCaffrey has the benefit of a younger QB with the Carolina Panthers, plus Cam Newton recently had shoulder surgery and he says he hasn't felt this good since his rookie season.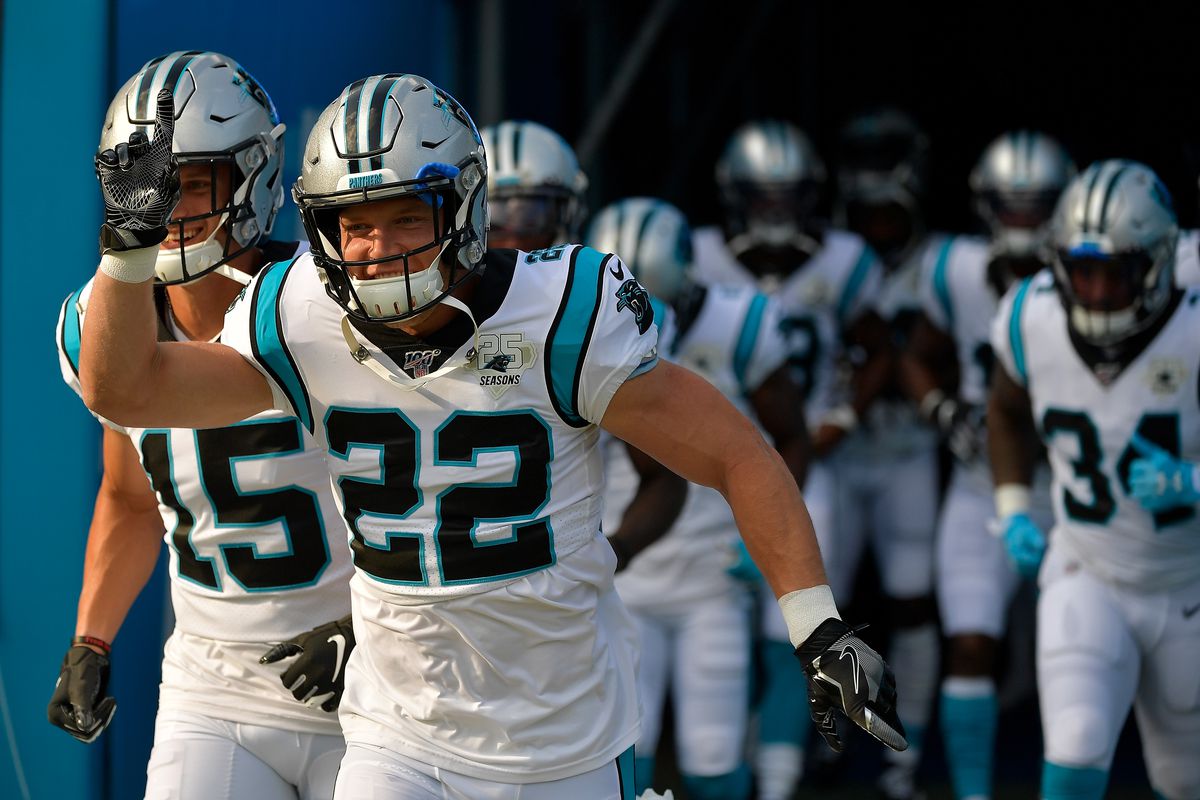 Saquon Barkley and McCaffrey will garner the majority of top overall picks in fantasy football leagues. Alvin Kamara, Ezekiel Elliot, and Todd Gurley round out the Top 5 overall fantasy football RB selections. Also, among the Top 10 are the likes of David Johnson, Kerryon Johnson, James Conner, Dalvin Cook, and Le'Veon Bell.
Top Backs: McCaffrey or Barkley?
In total, Saquon Barkley generated 2,028 total yards and 15 touchdowns for a bad team. Saquon Barkley was a total steal last year as one of the top RB in your fantasy football draft. Barkley ran for 1,307 rushing yards with 11 rushing scores and those stats alone would probably garner him Rookie of the Year status. However, he also added 731 receiving yards, 91 receptions, and 4 touchdowns. Barkley will be the G-men's top receiver once again, especially if Eli Manning continues to check down to him.
Christian McCaffrey (1,965 total yards, 13 TD) will be the conservative pick this year, especially if you have zero faith in Eli Manning and the Giants. Cam Newton had a rough season last year due to a shoulder injury, and McCaffrey still posted a sensational season. In his sophomore season in the NFL, McCaffrey posted 107 catches with 6 receiving scores. He also ran for almost 1,100yards and added 7 rushing touchdowns.
TOP 5 FANTASY RB:
Saquon Barkley (NY Giants)
Christian McCaffrey (Carolina Panthers)
Alvin Kamara (New Orleans Saints)
Ezekiel Elliot (Dallas Cowboys)
Todd Gurley (LA Rams)
Alvin Kamara (1,592 total yards, 18 total TD) will have the backfield at the Superdome in New Orleans all to himself this season. He was second in the league with 14 rushing touchdowns last year in only 15 games. He averaged 4.6 yards per run in 2018 and a whopping 6.1 yards per carry in 2017. Kamara is a popular target for Drew Brees. He added 81 receptions in both of his seasons with the Saints.
Who's Zeke? Hey, Jerry Jones tried to be funny. Or was he throwing shade at the star RB who is currently holding out of training camp. If Ezekiel Elliot (2,001 total yards, 9 total TD) and the Cowboys agree on a deal, then he's worthy of a Top 5 spot. However, if we have another Le'Veon Bell situation, then things will get ugly in Dallas. I'd hate to have the third pick right now because you're forced to make a decision about Zeke.
Todd Gurley said he was playing "sorry" in the playoffs last year. That's slang for "crap" but everyone knows his knee was bothering him more than he led on. Hey, he's a tough dude and tried to play through the pain. He still scored a league-leading 17 rushing touchdowns in only 14 games. He also added 59 receptions and 4 more receiving scores.
Could a healthy Gurley prevented the Patriots from winning another title? The Rams made too many errors that led them to their demise, but an unhealthy Gurley definitely set them back a bit. Then again, even with a poor overall performance on offense, the Rams were still close. A healthy Gurley translates into another Super Bowl run for the Rams. Gurley came into camp leaner and meaner than ever. He hopes shedding the weight will help his bum knee out over the long haul.
Rounding Out Top 10: Bell, Cook, Conner, Johnson and Johnson
After an ugly break up with the Pittsburgh Steelers, Le'Veon Bell got paid by the New York Jets and he's ready to lead the 'J-E-T-S, Jets, Jets, Jets!' back to the promised land. Okay, maybe a Super Bowl berth is a half-baked dream. But a playoff berth in the next two seasons is what everyone wants.
David Johnson was bust city last year with only 940 rushing yards despite playing all 16 games for the Cardinals. He averaged 3.6 yards per carry for a last-place squad in Arizona. 7 rushing scores (he added 3 TD receptions). DJ had an awful season with the Cardinals. But could you really blame him with rookie Josh Rosen struggling and DJ still recovering from wrist surgery? Two seasons earlier, he posted 2,100-plus combined yards with 20 total touchdowns and 16 rushing scores. The big question is how he will thrive under Kliff Kingsbury's Air Raid?
Dalvin Cook from the Minnesota Vikings got screwed last year in John DeFilippo's pass-heavy offense with just 2 rushing touchdowns (he also scored 2 TD receptions). He played only 11 games but managed 4.6 yards per carry and over 920 all-purpose yards. The Vikes asked Gary Kubiak to help they tweak their playbook. Hopefully, Cook gets to show off his goods after playing just 15 games in his first 2 NFL seasons.
James Conner, the next man up in the Steelers rotation last season, thrived the moment the second-year back got the call (13 total touchdowns, 12 rushing). With Conner playing so well, the Steelers held firm by not negotiating with Le'veon Bell. If Conner was not that good, would Bell still be playing for the black and gold? Last season, Conner churned out over 1,500 combined yards of offense and added 55 receptions.
Too bad Kerryon Johnson did not play somewhere other than Detroit. The rookie out of Auburn turned heads with 5.4 yards per carry in 10 games of action with the Lions. He added 4 total scores with 854 total yards from scrimmage. Kerryon Johnson also has the added benefit of CJ Anderson mentoring him. CJ Anderson came out of nowhere last season for the Rams to replace Todd Gurley at the end of the season. Anderson also got significant playing time in the postseason because of his ability to learn on the fly and break down game film. Anderson is helping Johnson in the film room, but it will be up to the second year back to get the job done in the trenches. He's got the skills and a great mentor.
Do not forget to check out other 2019 fantasy football coverage including the Top QB, Best QB Sleepers, QB Busts, Top WR, and Best WR Sleepers.