Barcelona hosts Real Madrid on Wednesday in the first El Clasico of the La Liga season, a match that's taking place two months after it was originally scheduled due to widespread protests in Catalonia.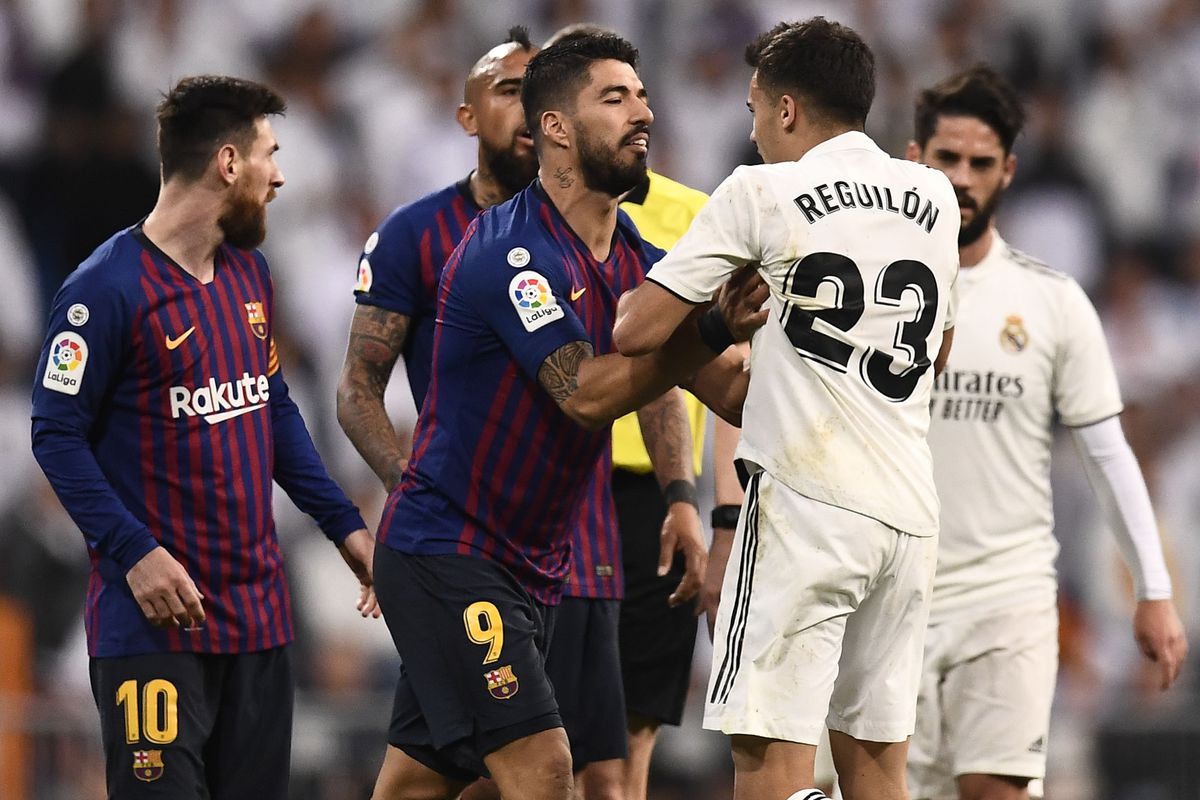 The hope is that football will take center stage when the two La Liga leaders hit the field, but Wednesday's game at Camp Nou may prove to be a staging ground for protests over the conviction of nine Catalan separatist leaders earlier this year.
La Liga Title Race Deadlocked
Barcelona and Real Madrid are each on 35 points, four points ahead of Sevilla with a game in hand at the top of the table. Barca currently sits in first place, based on its slightly better goal differential.
FanDuel Sportsbook has Barcelona installed as the -145 favorite in El Clasico, with Real Madrid (+370) facing an uphill battle to get anything out of its visit. Those odds haven't fazed Madrid manager Zinedine Zidane, who says his squad has everything it needs to deal with Barca.
"We know that we face a great team and that they have Messi, but we also have our weapons," Zidane told reporters at a pre-match press conference.
The El Clasico name now applies to any match between Barcelona and Real Madrid, though their matches in La Liga are the ones that traditionally bear that name. The two sides have met in 242 competitive matches since 1902, with Barcelona holding a narrow 96-95 edge in the series. The two clubs have long been seen as symbols of two different identities: Barcelona for Catalans, and Real Madrid aligned with the central Spanish establishment.
Will Protests Disrupt El Clasico?
Officials expect the game to go off without much trouble, but aren't taking any chances. The teams are staying in the same hotel, and will travel to the stadium together as part of a security plan designed to reduce the chance of disruptive protests.
"That's something different for us," Zidane told reporters. "We've been told that we have to leave together, and that's what we'll do. There's nothing else to explain. The important thing is that the game goes on."
Barcelona manager Ernesto Valverde told reporters he believes the game could have been played on the original date, and that he has no doubt the match will be successful on Wednesday. Catalan protest group Democratic Tsunami is planning demonstrations in several locations near the arena – and likely in the stadium as well – but Valverde isn't concerned.
"Fans can express themselves freely as long as they show respect to everyone," Valverde said at a Tuesday press conference. "I don't know what will happen after that game was suspended, but football should be something that unites us, not separates us."
While Wednesday's match could set the tone for the rest of the La Liga season, Valverde has been adamant that one game this early in the campaign won't determine the league winner, especially considering how tight the standings are at the moment.
"We are very close compared to the last Clasicos. Regardless of the difference in points, in these games everything is matched by what El Clasico means," Valverde said. "In these games everything is equal. Here Real Madrid is a team that usually plays well and faces the matches with great intensity."