Eddie Rosario struggled to find success at the plate in the early weeks of the 2022 season. A visit to the doctor revealed that his problems are far more serious than anyone realized.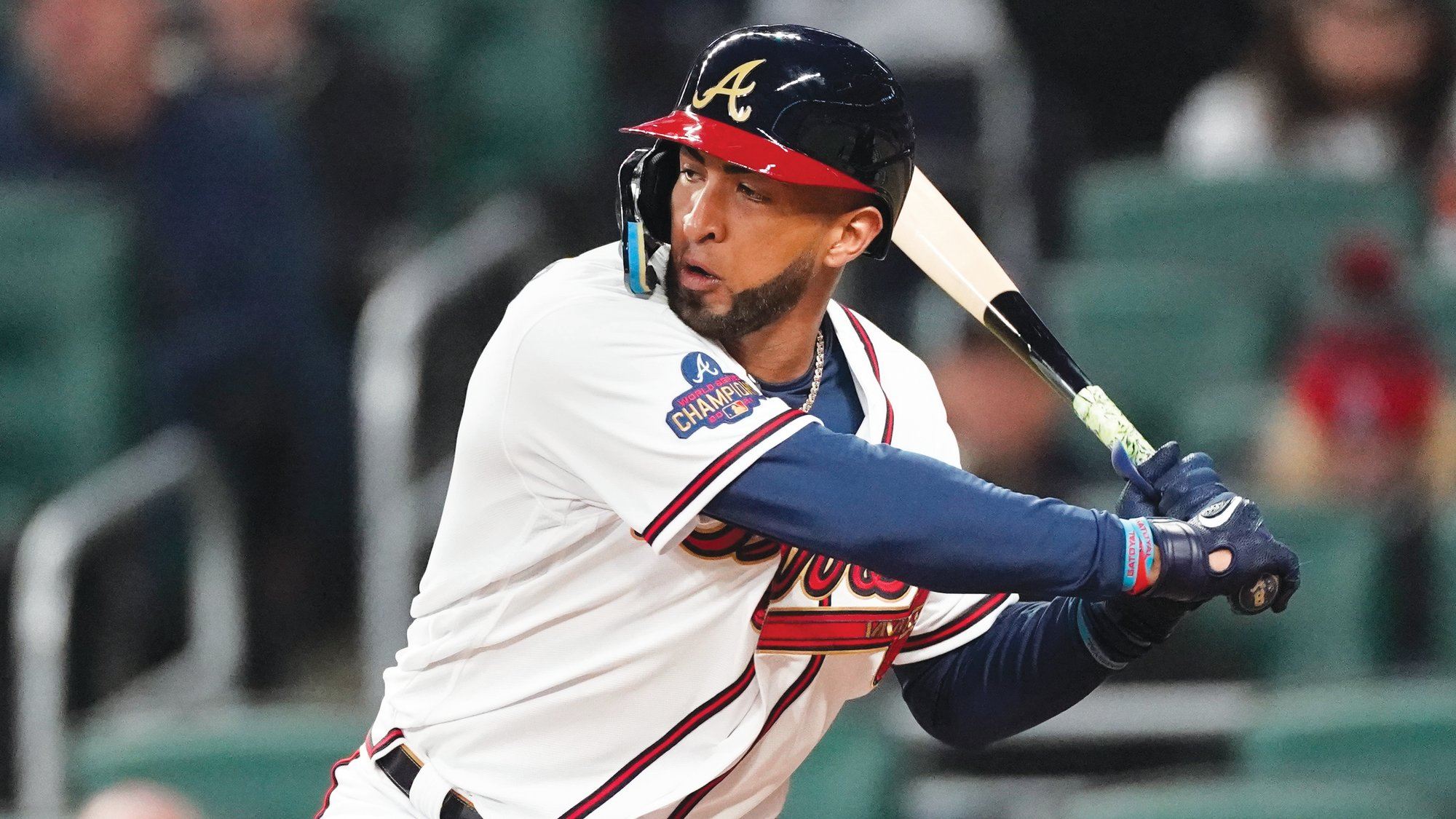 Rosario will miss eight to 12 weeks as he recovers from a laser procedure on Wednesday to correct blurred vision in his right eye.
Vision issues contribute to slow start for Rosario
Over his first 15 games, Rosario hit just .068 with three hits, including one double. That was a disappointingly slow start for the 30-year-old who starred for the Braves in the playoffs last season.
On Sunday, Rosario told Braves officials that he was struggling with his vision, though he remained available at the time, even pinch-hitting later that day against the Marlins. Manager Brian Snitker initially assumed that Rosario would just need to update his vision prescription.
Instead, a retinal specialist found swelling in Rosario's right eye on Monday. Atlanta placed Rosario on the 10-day injured list retroactive to Monday, but expect him to miss far more time than that.
Rosario has also made three errors in the field this year. In one recent game, Rosario simply missed a fly ball in right field in San Diego.
"If your vision is off a little bit, it's a lot in this sport," Snitker told reporters. "You start thinking back to the fly ball that he missed, that might have been something to it."
The Braves called up reliever William Woods to take Rosario's roster spot. Currently, Atlanta doesn't have another healthy outfielder on its 40-man roster.
Acuna return could soften blow for Braves
However, Ronald Acuna Jr. is well on his way to returning. Acuna should start for the Triple-A Gwinnett Stripers tonight, with the plan for him to play seven innings. He will soon attempt to play a full nine innings and could return to the majors in the near future.
By the end of the season, Atlanta will want both Acuna and Rosario playing to their full ability. Rosario won the 2021 National League Championship Series MVP for his performance against the Dodgers. He battled 14-for-25 in the series with three home runs and nine RBIs to help the Braves reach the World Series, which they would go on to win.
Atlanta has started the year 8-10, sitting five games behind the New York Mets in the NL East standings. The Braves opened the year as a slight favorite over the Mets in what was expected to be a tough two-way race for the division title.
New York's hot start has changed that dynamic a bit. DraftKings Sportsbook now rates the Mets as the -140 favorites to win the NL East ahead of the Braves (+210). Atlanta remains a -250 pick to make the playoffs and a +1200 choice to win the World Series this year.