The natural thing to do looking at the field for Saturday's Grade 3 Matt Winn Stakes at Churchill Downs is to fix your eyes on two familiar names that leap off the page at you.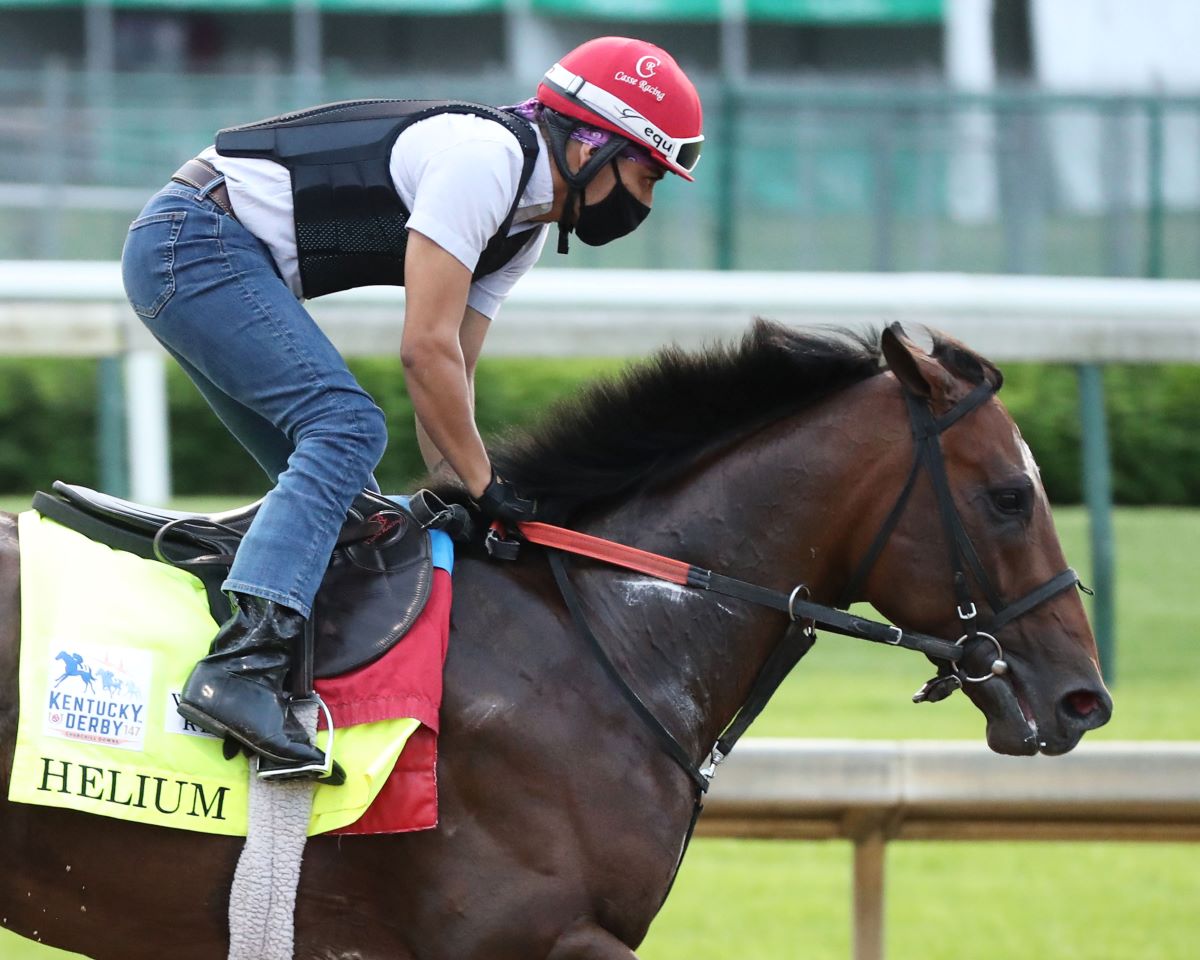 O Besos and Helium.
Look familiar, do they? Well, they should, considering both finished in the top half of the Kentucky Derby five weeks ago. In fact, O Besos finished fifth in the 19-horse field – at 41/1. Among his victims was Midnight Bourbon, who O Besos got by 2 ½ lengths. The same Midnight Bourbon who finished second to Rombauer two weeks later in the Preakness Stakes.
Three places and five lengths behind O Besos came 38/1 Helium. That was the Ironicus product's first loss in four races. It came after he pressed the early pace and hung with the leaders through one mile. Helium was less than three lengths behind at the mile mark, but hit the wall for Julien Leparoux and had nothing left over the last two furlongs. O Besos was one of the horses picking off the tired colt in deep stretch.
Helium lifts up this race's profile
Regardless, Helium comes into the Matt Winn your second favorite (5/2 on the morning line). The 1 1/16-mile Matt Winn headlines a seven-stakes Stephen Foster Preview Day card at Churchill Downs. The race turns loose eight 3-year-olds in a late spring test of where they'll be coming into the summer sophomore classics such as the Haskell and the Travers.
Not to mention second-tier events like the Ohio Derby, Indiana Derby and West Virginia Derby. Those are likely destinations for many in this field.
In fact, O Besos' trainer, Greg Foley, said the June 26 Ohio Derby is a likely next stop for the closer and 2/1 morning line favorite. Despite his strong Derby and Louisiana Derby finishes, where O Besos furiously rallied for third, Foley passed on the last two Triple Crown jewels.
"We love running at Churchill and this race gives us plenty of options going forward," Foley told Churchill Downs. "He worked an easy half-mile (in 49 seconds) Monday morning and is doing well from the Derby. We can lead him over for the race right from Barn 11."
Could the Matt Winn be O Besos' breakout race?
Even with all the love O Besos gets, he remains winless in graded stakes races. As the typical deep closer, O Besos' one-dimensional speed puts him at the mercy of whatever pace this field puts forth. His name recognition as a top-five Derby horse puts his likely odds into underlay territory.
That last sentence describes Helium even better. He's a more versatile horse, displaying his tactical speed en route to a 15/1 theft of the Grade 2 Tampa Bay Derby. Trainer Mark Casse elected to cash in his Derby qualifying chips at that point. He trained Helium for eight weeks into the Derby, rather than send him into another Derby prep.
"He ran a solid effort in the Derby," Casse's assistant, David Carroll, told Churchill Downs. "I think he will be able to sit a better trip in the Matt Winn from just off the pace and I think he matches up with this field better."
Elsewhere in the field, you find Oaklawn Stakes winner Fulsome (5/2), who figures to draw money and attention courtesy of the sizzling trainer/jockey tandem of Brad Cox and Florent Geroux. That pair is on a 25% win clip. Fulsome beat fellow Matt Winn rival Game Day Play (8/1) and stablemate Warrant by only 1 ¼ lengths in that Oaklawn Stakes win. But he increased his speed figures every race of his six-race career.
Grade 3 Matt Winn Stakes/Churchill Downs
Morning Line (Jockey/Trainer)
Ready to Pounce, 15/1 (Brian Hernandez Jr./Neil Pessin)
Helium, 5/2 (Julien Leparoux/Mark Casse)
O Besos, 2/1 (Marcelino Pedroza/Greg Foley)
Southern Passage, 20/1 (Corey Lanerie/Dale Romans)
Fulsome, 5/2 (Florent Geroux/Brad Cox)
Hello Hot Rod, 20/1 (Francisco Arrieta/Caio Caramori)
Sittin On Go, 8/1 (Joe Talamo/Dale Romans)
Game Day Play, 8/1 (David Cohen/Robertino Diodoro)
The other familiar name is Sittin On Go (8/1), who trainer Dale Romans wheels out again for a route race. Pushing go on a two-turn race hasn't gone well for Sittin On Go. He hasn't finished better than sixth and only once – in the Grade 2 Kentucky Jockey Club last November – has Sittin On Go finished within 10 lengths.
The pick: Fulsome. Do not be surprised if Helium wins and be less surprised if O Besos hits the board. But because of their Derby resumes, neither of them offer anything remotely resembling value. And as much as we love O Besos, the pace here isn't likely to open his graded stakes account.