After riding Baaeed to his ninth consecutive victory, Jim Crowley was in awe. After watching his charge capture the Group 1 Sussex Stakes by 1 3/4 lengths, trainer William Haggas was relieved.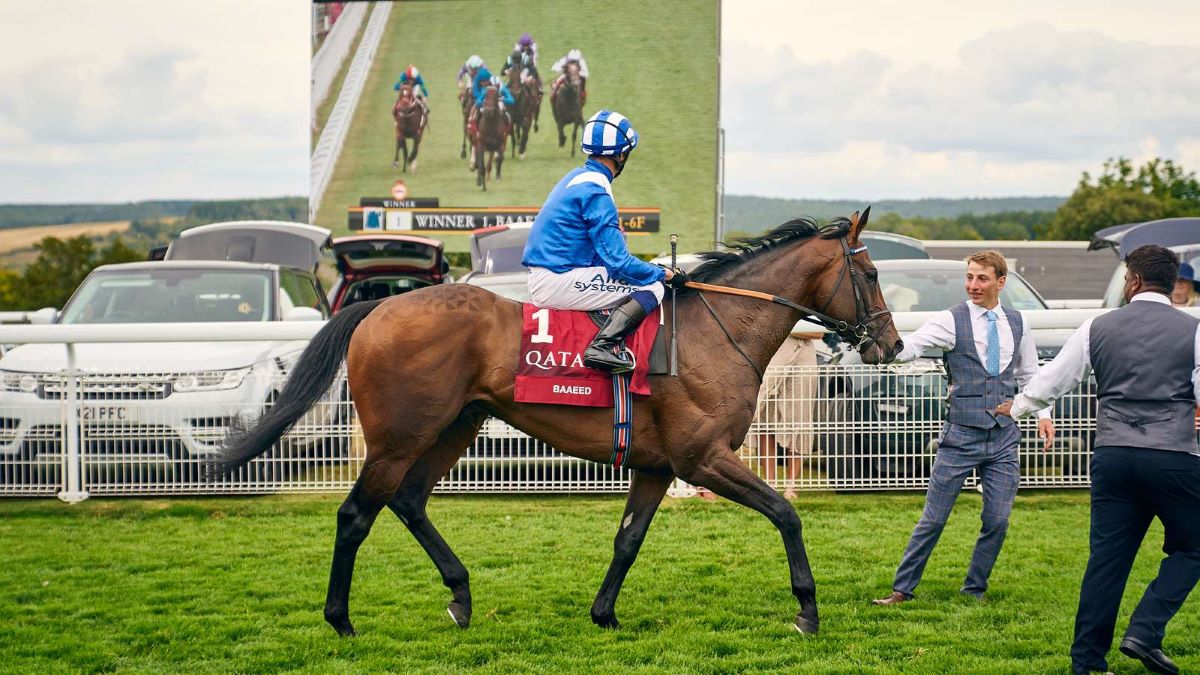 These are the reactions perfection — and the tightrope navigating that entails in horse racing — bring out in a stellar Thoroughbred's connections. And make no mistake, Baaeed is not only a stellar Thoroughbred. He's the best in the world.
Baaeed ran his record to 9-for-9 Wednesday with his victory in the one-mile Sussex Stakes at Goodwood. Going off as the 1/6 favorite, Baaeed stopped the clock in 1:37.28. That brought the son of Sea the Stars his fifth consecutive Group 1 victory and his second Breeders' Cup Challenge Series score. Earlier, he clinched an automatic berth in the Breeders' Cup Mile for his Queen Anne Stakes victory at Royal Ascot.
"Baaeed just does what he has to. He is like his sire," Crowley said after the race. "Just before the winning line, he pricked his ears and shut down with me. Baaeed is never going to be exuberant and win by 10 lengths, but the feeling I got off him between the three- and two-furlong pole, no horse can give you that feel.
"I have never known a horse like him before. In the winner's enclosure here, it's like he was out having a pick of grass in the morning. He's so relaxed. He has taken great strides and can do more than win the way he is doing it."
Baaeed took his time taking this race
Haggas will take wins like Wednesday and run with them. He watched Baaeed spot Japanese horse Bathrat Leon the lead through the first five furlongs. Chindit and Modern Games — last year's Breeders' Cup Juvenile Turf winner — pressed as Crowley bided his time near the back of the pack.
That time came coming into the stretch. Crowley wheeled Baaeed outside, then flipped the switch. Baaeed rocketed past Modern Games, the 9/1 second choice, with a quarter-mile to go and that was that. Filly Alcohol Free (13/1), the defending Sussex Stakes champion, finished third.
"He was a little bouncy. He is a 4-year-old colt and he knows it," Haggas said. "Little things like being drawn next to Alcohol Free, the only filly in the race, does make you think. But actually once he gets going and once all the saddling is out of the way, he is a very professional horse."
Baaeed stretching out looking for No. 10
Baaeed is the No. 1-ranked horse in the latest Longines World's Best Racehorse Rankings. While that poll is skewed toward European horses, there's no getting around any horse winning five consecutive Group 1s.
Haggas said that Baaeed's likely next start takes him beyond his mile comfort zone, to the 1 1/4-mile Juddmonte International Stakes at York Aug. 17. Should Baaeed win that, he'll pick up an automatic berth in the flagship Breeders' Cup Classic. That gives Haggas and his owners choices aplenty.
"I said to Jim in the paddock, we've got him for two more races after this, so let's just enjoy him and make the most of him," Haggas said. "Because he will most likely go to stud at the end of the year and I'll spend the rest of my training career trying to find the next one."