As the calendar turns to March – a mere two months out from the Kentucky Derby – Circa Sports and William Hill Nevada pared 53 horses from their Derby futures boards. There are 150 horses remaining.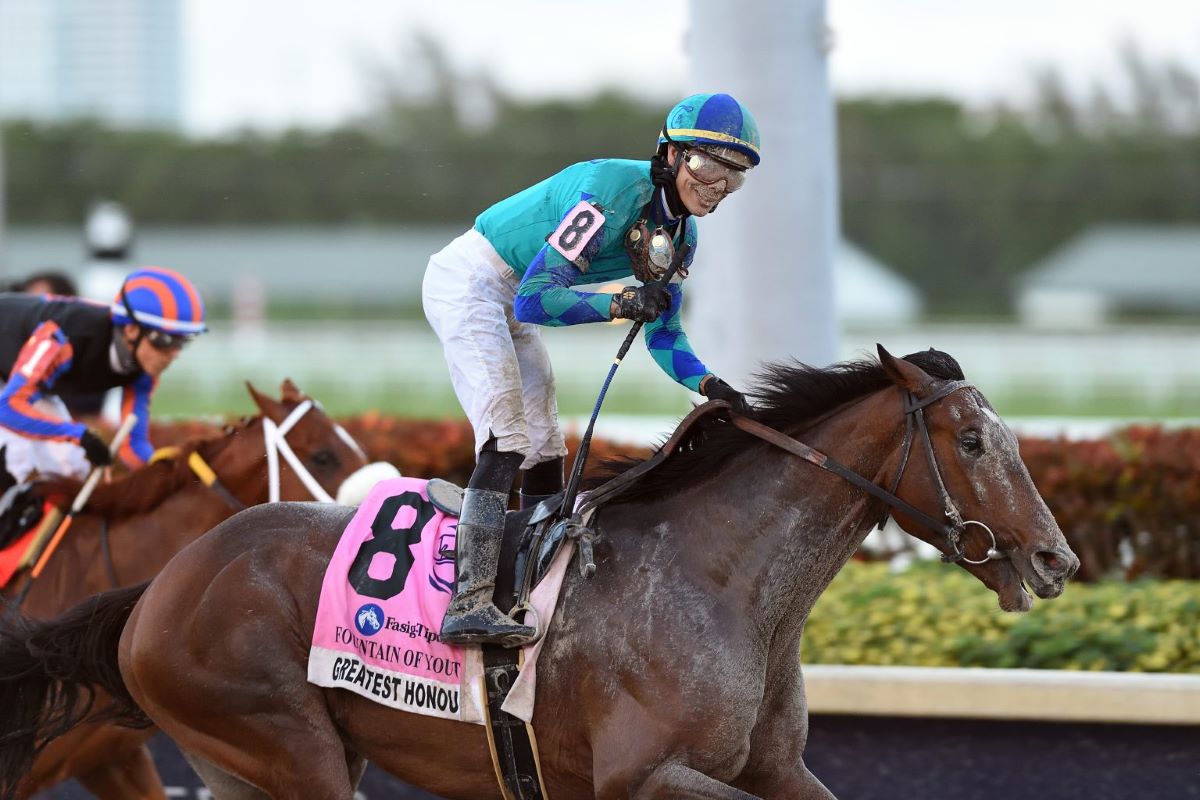 The value on many of the favorites? The books sliced that away long ago.
Witness Essential Quality. Just when you thought his odds couldn't get lower, the Champion 2-Year-Old won his 2021 debut – romping to a 4 ¼-length victory in Saturday's Grade 3 Southwest Stakes in the Oaklawn Park mud. He now sits at 6/1 at Circa Sports and a subterranean 4/1 at William Hill Nevada. He's the 8/1 favorite on MyBookie's overseas book.
Greatest Honour isn't far behind on Derby futures boards. Not after he put the field behind him at the Grade 2 Fountain of Youth on Saturday. Circa whittled him from 11/1 last week to 7/1 this week. William Hill whacked him further, down to 5/1. Greatest Honour sits at 10/1 at MyBookie.
Lots can happen between now and Derby Day
Keep in mind, we are still two months (61 days to be exact) from the May 1 Run for the Roses. To take 4/1 or 5/1 on a horse this far out is a massive underlay, value-wise. There's too much that can happen between now and the first Saturday in May.
Even putting the minefield factor aside, the morning-line Derby favorite is going to be in the 5/2 or 3/1 neighborhood come Derby week. The second and third favorites are going to be around 4/1 or 7/2.
But action is action and it keeps coming in on those two, and on Life Is Good. The first-among-equals in Bob Baffert's 3-year-old armada is down to 7/1 at Circa and 9/2 at William Hill. He's 10/1 at MyBookie, after being 13/1 last week.
Three separate themselves on Derby futures boards
"We have taken consistent action on the top-three – with Life Is Good being the other – and feel they are clearly the three favorites at this point," Circa Sports Risk Supervisor Paul Zilm told OG News via text. "Essential Quality and Greatest Honour have basically qualified for the Derby at this point, barring injuries or something else that may sideline them. Thus, their resumes and that fact give them the slight nod over Life Is Good. Of course, this coming week, Life Is Good has the chance to make his case for favoritism."
That Derby futures case presents itself at Saturday's Grade 2 San Felipe Stakes at Santa Anita, where Life Is Good will be the morning-line and race favorite. The field for that race includes stablemate Medina Spirit (45/1 at Circa, 16/1 at William Hill and MyBookie), along with Roman Centurian (45/1 Circa, 30/1 William Hill, 33/1 MyBookie), The Great One (30/1 Circa, 16/1 William Hill, 33/1 MyBookie) and Dream Shake (20/1 at both Circa and William Hill), who makes his stakes debut.
Zilm said three other horses took significant action: Risk Taking, Collaborate, and Known Agenda. Risk Taking was "north of 100/1 before the Withers," according to Zilm. He's now 45/1 at Circa and 25/1 at William Hill.
Sneaking money in under the wire
Collaborate, who broke his maiden by 12 ½ lengths on the Fountain of Youth undercard, opened at Circa at 175/1. He was 65/1 last week and Zilm said a sharp bettor got a limit bet on him at that price while he was turning for home. Zilm didn't wait for Collaborate to cross the finish line before dropping him to his current 30/1 price. He's 50/1 at William Hill.
"I opened him prior to his (Feb. 6) debut at the request of a guest at 175/1 and took a couple [of] sharp bets before his debut," Zilm said. "Even though he didn't win his debut, you could tell this was a horse to keep an eye on, and I moved him on air, and still took action."
---
2021 Kentucky Derby Futures-Top Contenders
| | | |
| --- | --- | --- |
| | Circa Sports | William Hill Nevada |
| Essential Quality | 6/1 | 4/1 |
| Life Is Good | 7/1 | 9/2 |
| Greatest Honour | 7/1 | 5/1 |
| Concert Tour | 16/1 | 10/1 |
| Caddo River | 16/1 | 15/1 |
| Dream Shake | 20/1 | 20/1 |
| Mandaloun | 22/1 | 16/1 |
| Hot Rod Charlie | 25/1 | 30/1 |
| Prevalence | 27/1 | 22/1 |
| The Great One | 30/1 | 16/1 |
| | | |
| --- | --- | --- |
| Collaborate | 30/1 | 50/1 |
| Highly Motivated | 35/1 | 20/1 |
| Known Agenda | 35/1 | 35/1 |
| Rock Your World | 40/1 | — |
| | | |
| --- | --- | --- |
| Medina Spirit | 45/1 | 16/1 |
| Risk Taking | 45/1 | 25/1 |
| Roman Centurian | 45/1 | 30/1 |
| Proxy | 45/1 | 45/1 |
---
Known Agenda, meanwhile, kept Zilm busy. He opened in the mid 200s, only to plunge under 100/1 before the Sam F. Davis Stakes at Tampa Bay Downs. After finishing a disappointing fifth, Zilm took Known Agenda back up to just shy of 200/1. Those are pipe-dream odds now after Known Agenda captured an allowance by 11 lengths last weekend with a career-high 103 Equibase Speed Figure.
"We took a little bit of action prior to his allowance win this weekend and since, have taken consistent action, which has forced us to lower him to 35/1, which is where he is at now," Zilm said.
Soup and Sandwich served on futures boards
Four new horses appeared on Derby futures boards this weekend, with two of those bringing intriguing stories along. The first is Soup and Sandwich (70/1 Circa, 100/1 William Hill). This Into Mischief progeny gets his name from his owner, Campbell's Soup heiress Charlotte Weber. Undefeated in two starts, albeit against a combined seven horses, Soup and Sandwich got his spot on the board after winning a two-turn allowance at Tampa Bay Downs.
The second is Hush of a Storm, who opened at 125/1 at Circa. He joins the board after winning the John Battaglia Memorial Stakes at Turfway Park last Friday. That Listed Stakes race was a Derby prep, so 10 Derby points come along with the win as the 6/1 third choice. Hush of a Storm will run the Grade 3 Jeff Ruby Steaks on March 20, which gives 100 points to the winner.