The Cleveland Cavs just woke up a sleeping giant. Jamal Murray, long overdue for a monstrous performance, dropped 50 points against the Cleveland Cavs in a much-needed win for the Denver Nuggets (16-13).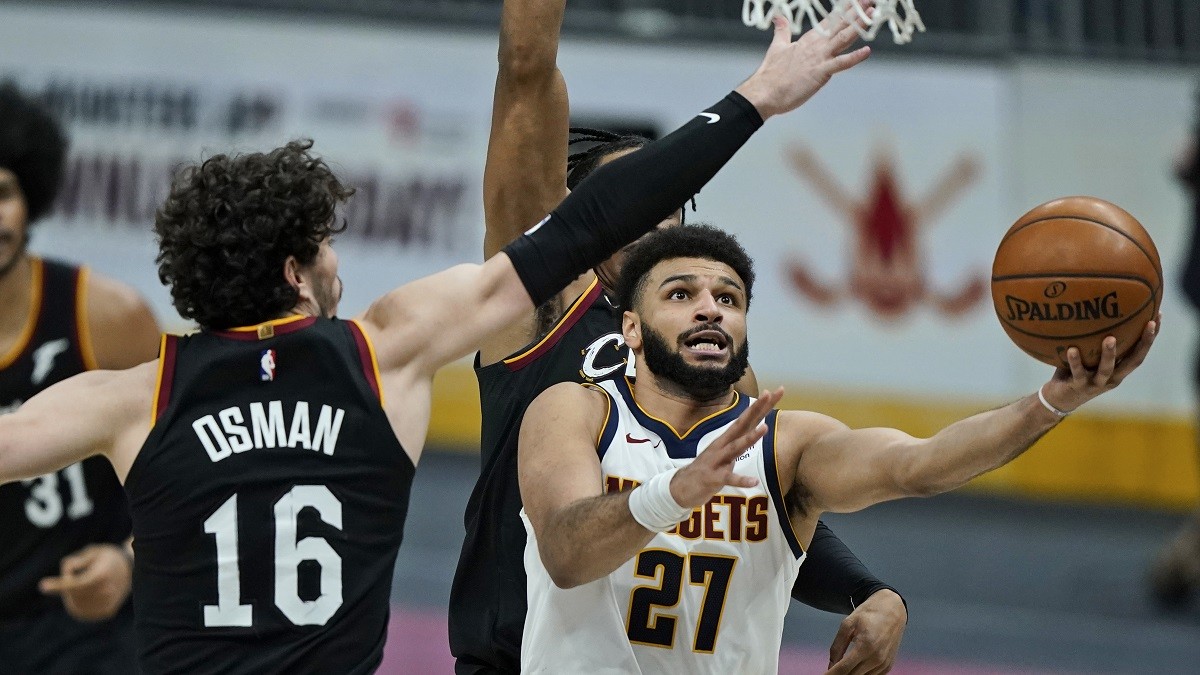 The Nuggets ended a two-game skid and Murray set a new regular-season high. Murray put on a shooting clinic against the Cavs and missed only four shots despite the numerous double teams. He knocked down 21-for-25 shots, including 8-for-10 from 3-point range. He did not attempt a single free throw, which set an NBA record for fewest attempts in a 50-point game.
"You could see it in his eyes," said teammate Nikola Jokic. "When that happens, our job is easy because all we have to do is just feed him the ball."
Murray notched his third 50-point game of his career, but it was the first time he did it during the regular season. During the 2020 playoffs, Murray lit up the Utah Jazz with a pair of 50-point games.
Nuggets fans hope this is the long overdue wake-up call that both Murray and the Nuggets needed as they reach the midpoint of the season.
Murray in the Trey Zone
Murray and the Nuggets got off to slow start to the season after their deep run in the 2020 NBA playoffs. Prior to this week, Murray scored 30 or more points only three times this season. Two of those games occurred in the first week of January. He also had four games in which he was held to 11 or fewer points.
Murray was caught in a shooting slump at the start of February. During his down cycle, he shot 6-for-23 from 3-point land, or just 26% compared to his career success rate of 36%.
However, in the last three games, Murray has been unstoppable from downtown shooting 17-for-28 with a 60% success rate. He scored 35 points the other night in a gut-punch of loss against the Washington Wizards. Despite the loss, Murray showed signs of waking up when he shot 5-for-10 from downtown, while adding 9 rebounds and 6 assists.
Against the slumping Cleveland Cavs on Friday night, Murray shot 80% from 3-point range against the Cavs with eight treys on only two misses.
.@BeMore27 is UNCONSCIOUS 🔥🔥🔥🔥 pic.twitter.com/3xzNiQvHDs

— Denver Nuggets (@nuggets) February 20, 2021
50 and 50
During the 2020 NBA playoffs inside the bubble at Disney World, Murray averaged 26.5 ppg for the Denver Nuggets. He unleashed a pair of 50 points games against the Utah Jazz in the opening round of the Western Conference playoffs. He knocked down nine treys in both of his 50-point gems.
Game 4 of the Jazz/Nuggets series was one of the most exciting games of the postseason inside the NBA Bubble. Donovan Mitchell dropped 51 points in the victory, while Murray exploded for 50 in the loss.
In Game 6, Murray unleashed 50 points for a second time that series and the Nuggets survived a do-or-die elimination game to force a Game 7. Murray averaged 31.6 ppg in the Utah series and made a name for himself as a bona fide scoring threat in the playoffs.
In the Western Conference Finals, the Lakers did a much better job at defending Murray. He did not inflict any significant damage as the Lakers held him to just 25 ppg, but he still hit several ridiculous shots. Both Murray and the Nuggets looked gassed at that point in the postseason and they were knocked out by the Lakers in five games.
Although Murray showed flashes of awesomeness this season, he only averaged 19.4 ppg and had not scored more than 36 points in a game. Fans were eagerly waiting for a big night from Murray and finally got one.
For more stellar scoring performances, check out our series called NBA High Guys.