Denny Hamlin conserved just enough fuel to outlast teammates Erik Jones and Martin Truex Jr. to win at Pocono Raceway on Sunday after an overtime restart.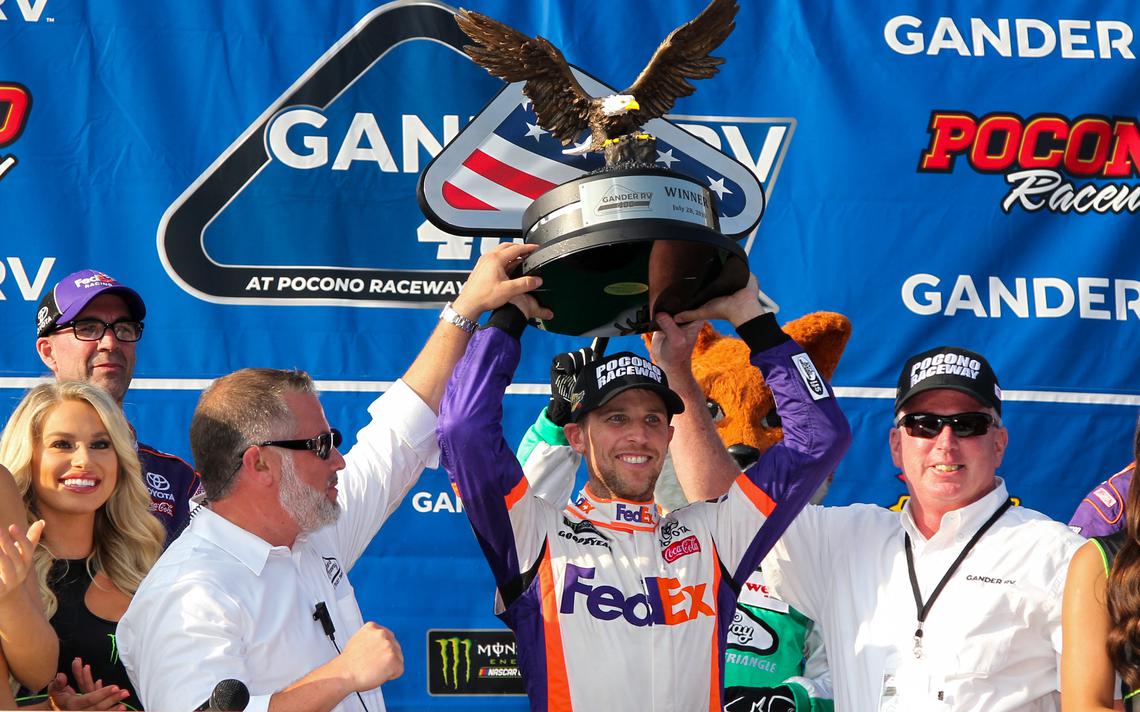 The win was the third on the season for Hamlin, who now has five career victories at Pocono.
Hamlin Rebounds After Close Call in New Hampshire
All three of the Joe Gibbs Racing teammates who finished at the top of the standings had pitted relatively early, and tried to save fuel for their final runs at the checkered flag. While Hamlin was in third place after a Lap 119 restart, he passed Truex on Lap 142, then worked his way past Jones a couple laps later to secure a lead he wouldn't relinquish.
The victory gave Hamlin a bit of redemption for his narrow runner-up finish to Kevin Harvick last weekend at New Hampshire Motor Speedway.
"You just want to know that you're a race winner," Hamlin said after the race. "You just want to know that you can contend for wins. Yeah, you're looking for momentum, but you're just looking for wins week in and week out."
The victory also keeps the 38-year-old Hamlin right near the top of the playoff standings. If the season ended today, he'd enter the postseason in fourth position, starting 13 points behind Kyle Busch. That has Hamlin thinking about a NASCAR Cup Series championship, the one accolade that he has yet to earn in his storied career.
"I feel as long as we keep putting the effort in what we're doing, I have as good a shot as any," Hamlin told reporters.
Hamlin credited crew chief Chris Gabehart for coming up with a fuel strategy that let him with just enough to get to the finish line.
"Honestly, I knew that I did everything I could to save fuel there once I got out front," Hamlin told reporters. "So proud of the whole team for putting me on a great strategy there, pit stops, everything. This was a perfect team effort this weekend."
Results Critical for Drivers on Playoff Bubble
With just have races remaining in the regular season, drivers and fans have begun taking a close look at the playoff bubble. The driver most impacted on Sunday was Jones, who used his runner-up finish to move up to 13th in the driver standings.
"Honestly, we started the race so far off today, I wasn't sure how we were going to run," Jones said after the race. "Good to get another top-three run. We've just got to break through. Once we get that first [win], I think we can click a few off here."
With all of this year's race winners – with the exception of Xfinity driver Justin Haley, who is currently not postseason eligible – ranking in the top 16 in the NASCAR Cup Series standings, the playoff scenarios are simple for now: stay in the top 16, and you're in the postseason.
For now, that puts Clint Bowyer and Ryan Newman on the bubble, as they are tied for 15th position with 532 points. On the outside looking in is Jimmie Johnson with 520 points, with 18th-placed Daniel Suarez also in contention with 501 points. There's also the possibility of the bubble tightening late, as any top 30 driver can clinch an automatic playoff spot by winning a race.
While the race for the final playoff spots will provide plenty of drama over the final weeks of the regular season, it is the names at the top of the standings who are expected to contend for a title this year. Unibet has Kyle Busch (3/1) as the favorite to win the 2019 NASCAR Cup Series championship, ahead of Truex (4/1) and Harvick (5/1). Denny Hamlin is in the mix as well, fetching 9/1 odds according to the bookmaker.