Denny Hamlin outraced two of his Joe Gibbs Racing teammates in a two-lap overtime session to win his second career Daytona 500 title on Sunday.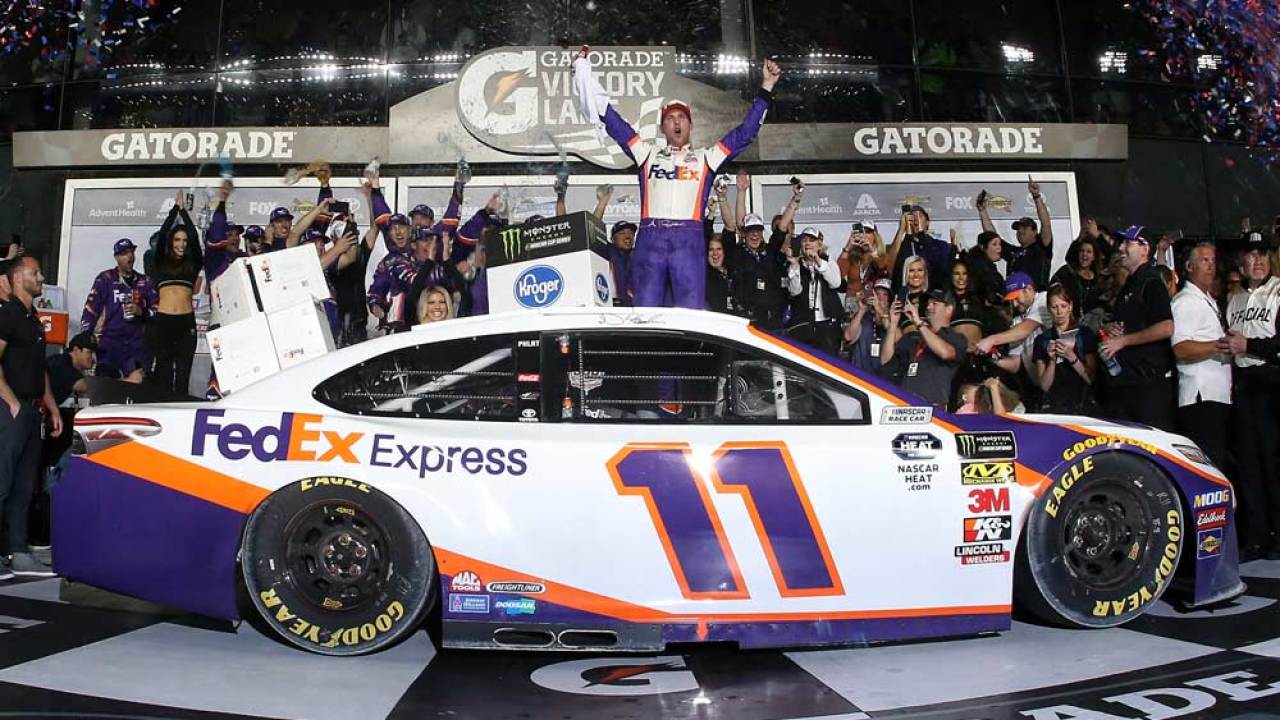 The win marked Hamlin's 32nd career victory on the NASCAR Cup Series, and his first on the series since 2017.
Hamlin Hangs On After Final Restart
Hamlin and Kyle Busch dueled for first following a restart on Lap 199 of a scheduled 200, with Hamlin surging ahead to take the lead just before a nine-car wreck forced overtime.
Hamlin chose to take the top lane when the action restarted on Lap 206. He then pulled down in front of Busch and held the lead over the course of two laps, ultimately holding of his teammate by .138 seconds.
"It was just one of those days where I felt like it was meant to be," Hamlin said in an interview after the race. "Hats off to Kyle as well. I know he was eagerly wanting his first victory in the Daytona 500, but today we just weren't going to be denied."
While Busch was undeniably disappointed to miss out on his first Daytona 500 victory, he didn't regret how the overtime laps played out.
"Strength in numbers," Busch said after the race. "We were trying to protect at least one of our cars being able to get to Victory Lane, and I felt like we were able to do that with being able to do that with being able to do what we did on that last restart."
Joe Gibbs Racing Sweeps Podium
Joe Gibbs Racing pulled off the first sweep of the top three positions in the Daytona 500 since 1997, when Hendrick Motorsports accomplished the same feat. Hamlin and Busch were joined by teammate Erik Jones to complete the podium on Sunday.
The accomplishment meant even more coming just five weeks after the death of J.D. Gibbs, the president of Joe Gibbs Racing.
"J.D.'s name is on that car," team owner Joe Gibbs said after the race. "J.D. found [Hamlin]. What happened here is really unreal. I just thank the Lord for letting us be a part of this."
While most of the race was run relatively cleanly, a handful of late wrecks caused chaos down the stretch.
After a restart with 10 laps remaining, Paul Menard turned Matt DiBenedetto into the wall, starting a chain reaction that ultimately involved 21 cars in the accident.
Menard took the blame for that wreck, but two more cautions would come following that collision, causing multiple delays during the climactic moments of the race.
Hamlin Has Early Lead in Playoff Race
The win puts Hamlin at the top of the playoff standings early in the season. He also shares the lead in the driver standings with Joey Logano, seven points ahead of Busch.
Hamlin's victory has positioned him as an early contender to win the 2019 NASCAR championship. Busch (9/2) remains the favorite according to William Hill, with Kevin Harvick (5/1) a clear second choice ahead of a group of drivers that includes Hamlin (10/1), Martin Truex, Jr. (8/1), Logano (7/1), Kyle Larson (8/1), and Brad Keselowski (9/1), among others.