Denny Hamlin outraced Kevin Harvick by just over three seconds to win Sunday's Pocono 350, reversing Saturday's finishing order for the top two drivers at Pocono Raceway.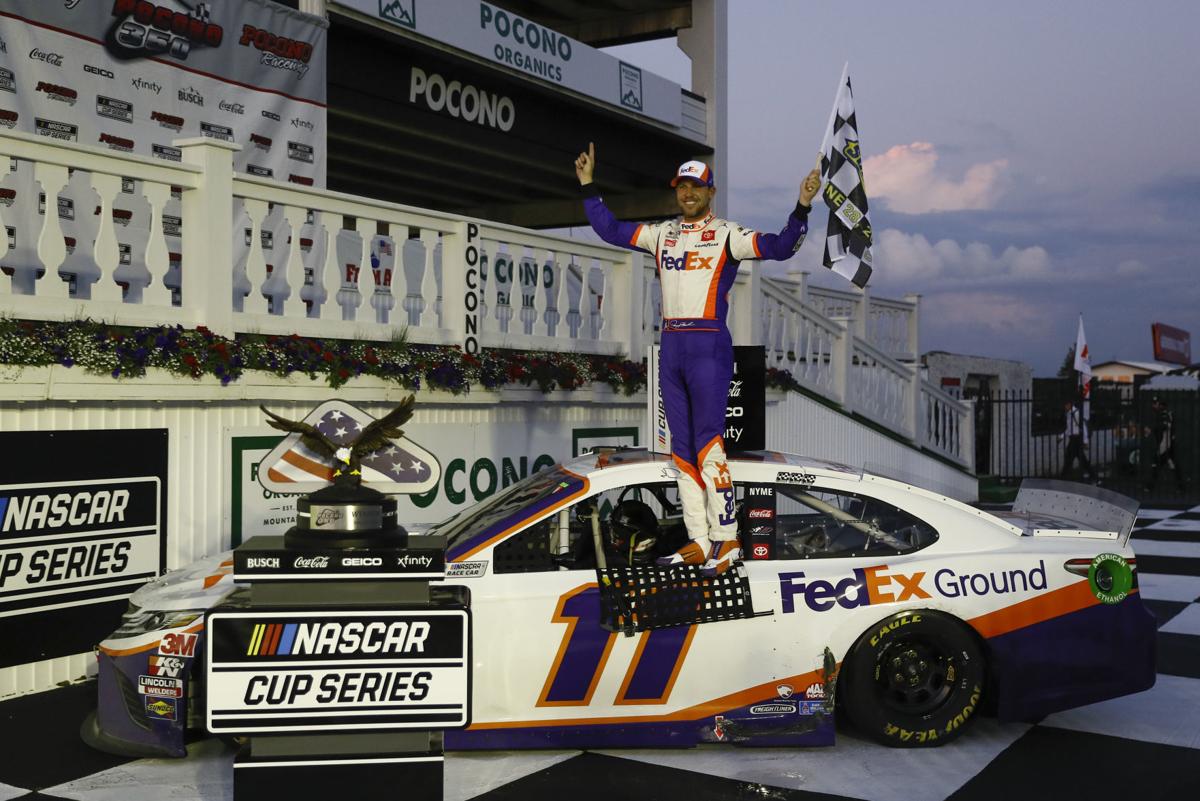 Harvick took first place on Saturday in the Pocono Organics 325, winning by .761 seconds over Hamlin.
Hamlin's Strategy Pays Off After Clean Finish
Hamlin came back to win on Sunday, as NASCAR held its first-ever single-weekend doubleheader at the same track.
Sunday's race stretched into the evening, as rain delayed the finish. But even the weather couldn't stop Hamlin and Harvick from continuing to establish themselves as the two leading drivers of the 2020 NASCAR Cup Series season.
Hamlin now has four wins in 15 starts, while Harvick has three. Hamlin has now won six times at Pocono Raceway during his career.
Sunday's race came down to late pit decisions. Harvick pitted for the final time on Lap 105 of 140, giving up the lead. Rather than follow, Hamlin stayed out on the track to build as large a lead as possible. Though he eventually made a pit stop on Lap 120, he came out of the exchange two seconds ahead of Harvick, and was able to overtake new leader Martin Truex Jr. after he went to pit road five laps later.
"I was hoping for no caution," Hamlin said after the race. "I knew we had the car, and I was just kind of maintaining my gap right there – didn't want to make any mistakes like I did at Bristol and gave that win away. I just tried to work through the traffic the best I could, and obviously, [crew chief Chris Gabehart] was paying attention to the strategy there and made the right call."
Harvick found himself struggling to fight through lapped traffic, an issue that allowed Hamlin to build his decisive lead.
"Our car was actually better today than it was yesterday," Harvick told reporters. "We had to run in a lot of traffic there, and Denny kept ticking off laps."
Harvick: Doubleheaders Would Make Drivers 'Super Happy'
Harvick also praised the doubleheader format, saying he'd like to see it tried again in future NASCAR Cup Series seasons.
"I think everybody would be super happy with a much shorter season and multiple doubleheaders," he said.
Despite his great results on the weekend, Hamlin still believes he might have been able to get even more out of Pocono.
"I hate to feel disappointed in a second and a first, but man, I felt like I should have won both races," Hamlin said.
Erik Jones took third place, with Chase Elliott and Aric Almirola rounding out the top five.
Harvick and Hamlin have emerged as two of the leading favorites to win the 2020 NASCAR Cup Series Championship. William Hill lists Harvick as the +500 favorite for the title, with Hamlin and Elliott right behind him at +550.
After Sunday's win, Hamlin has his eyes squarely on making a run at the championship – though he recognizes that he'll need to take it one step at a time.
"We just want to get to the final four with a chance," Hamlin said after the race.