The first thing savvy racing fans notice about Saturday's Grade 1 Hollywood Derby at Del Mar is the clash between East and West horses, trainers and jockeys. If there was ever a turf war over where North America's best turf runners reside, well, the Hollywood Derby should provide the answer.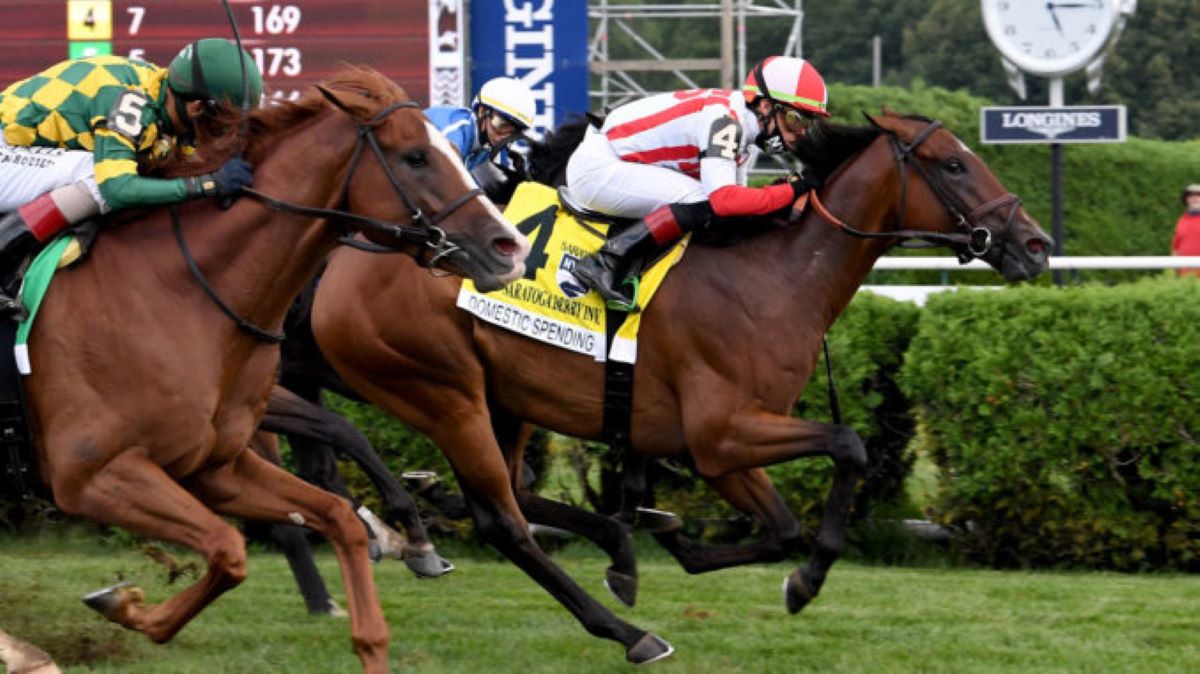 With five graded stakes winners from each coast aboard for the nine-furlong ride, the 1 1/8-mile Hollywood Derby headlines closing weekend for the Bing Crosby Season at the San Diego area seaside track. It is one of three graded turf stakes on Saturday's nine-race card. The Hollywood Derby caps a day where Del Mar's nine races average more than 10 horses per event.
Hollywood Derby
Morning Line (Jockey)
Kanderel, 30/1 (Geovanni Franco)
Smooth Like Strait, 7/2 (Umberto Rispoli)
Scarto, 10/1 (Manny Franco)
Taishan, 12/1 (Mario Gutierrez)
Storm the Court, 8/1 (Juan Hernandez)
California Kook, 20/1 (Ricardo Gonzalez)
Strongconstitution, 20/1 (Abel Cedillo)
Domestic Spending, 5/1 (Irad Ortiz Jr.)
Get Smokin, 12/1 (Mike Smith)
Decorated Invader, 3/1 (Joel Rosario)
Lane Way, 20/1 (Drayden Van Dyke)
Gufo, 4/1 (Flavien Prat)
When it comes to "going Hollywood," the $300,000 Hollywood Derby holds such a pull that even New Yorkers take Horace Greeley's advice and "go west." This explains how you get noted East Coast trainers Chad Brown, Christophe Clement and Thomas Bush to send some of their best grass runners west.
It also explains why New York-based jockeys such as Irad Ortiz Jr., Joel Rosario and Manny Franco followed the sun west. Waiting for them on their home turf are West Coast mainstays Mike Smith, Flavien Prat and Umberto Rispoli. Smith is a Hall of Famer, Prat and Rispoli are among the best turf riders in North America, while Ortiz is the reigning, two-time Eclipse Award-winning jockey.
Home-Turf Advantage vs. Favorite Status
While West Coast entrants hold the home-turf advantage, the eastern invaders hold favored status. That begins with Clement's two-headed Grade 1 winners Decorated Invader (3/1) and Gufo (4/1).
The aptly named Decorated Invader is both decorated and an invader. He owns five victories and two seconds in nine starts, along with more than $503,000 in career earnings. The Declaration of War progeny won his first three races of 2020, before finishing fifth by barely 2 ½ lengths in the Saratoga Derby and second in the Grade 2 Hill Prince to Get Smokin.
And he's an invader. This is only Decorated Invader's second race outside the Eastern Time Zone. He finished fourth in the 2019 Breeders' Cup Juvenile Turf at Santa Anita.
Gufo and Decorated Invader Share More Than a Stable
His stablemate, Gufo, meanwhile, owns four wins and a photo-finish second this year. Like Decorated Invader, Gufo is the son of Declaration of War. And like his stablemate, Gufo doesn't stray from the East Coast. This is his first trip outside New York, Florida or Delaware.
Not that this bothers Gufo. He has yet to finish out of the money in seven races: five wins, a second and a third. The second came earlier this year to Domestic Spending in that Saratoga Derby, where his lethal closing speed was neutered when he ducked inside in deep stretch and Domestic Spending held him off by a neck.
Last time out, Gufo reasserted his authority with a length victory in the Grade 1 Belmont Derby. That came with a career-tying best 106 Equibase Speed Figure. Prat in the irons further cements this connection.
Domestic Spending Defines 'Momentum Runner'
As for Domestic Spending (5/1), that Saratoga Derby victory in the black-type race was his third in four career starts. It came with a 107 Equibase and displayed for all his locomotive running style. The gelded offspring of English sire Kingman is the classic turf horse: he's glacial slow early and torridly fast late, riding a quick turn of foot and momentum to the winner's circle.
Put aside the fact Domestic Spending lost to Decorated Invader in the Grade 2 Hall of Fame at Saratoga in July and ignore for the moment he hasn't run since that Aug. 15 victory at Saratoga. The fact turf maestro Chad Brown shipped Domestic Spending here speaks volumes.
Brown isn't one to dally on the West Coast. If he ships a horse west, he's playing for keeps.
Smooth Like Strait Charged With Defending Western Turf
Also coming west is Bush's Get Smokin (12/1). He's 1-for-7 this year and 2-for-10 lifetime. But this year's victory came over Decorated Invader in the Hill Prince last month, where he held off his rival in deep stretch and prevailed by a neck.
Leading the West Coast turf warriors is multiple-stakes winner Smooth Like Strait (7/2), who won three of his last four races. That includes capturing the Grade 2 Twilight Derby at Santa Anita last month and the Grade 3 La Jolla Handicap in August at Del Mar, where he's won two of three lifetime.
Finishing behind Smooth Like Strait in the La Jolla – his first turf contest – is a familiar name: Storm the Court (8/1). Last seen finishing sixth in the Kentucky Derby, Storm the Court seeks his first victory in seven 2020 races and his first since shocking everyone with his 2019 Breeders' Cup Juvenile win at 45/1.
The Pick: Gufo. It's payback time. He should have beaten Domestic Spending at the Saratoga Derby. And he should this time, considering Gufo owns the best finishing kick in the field, strong form and a great turf rider like Prat at the controls. Anywhere near 4/1 is outstanding value here.