This Degen Game of the Week matchup between the two worst teams in the NFL is so ugly, there's a possibility it ends in a 0-0 tie. The Miami Dolphins (0-4) are outright tanking and losing games on purpose to secure the #1 pick in the 2020 NFL draft, while the Washington Redskins (0-5) are simply inept, and have a top-bottom structure that's so toxic that former All-Pros become a mere shell of themselves the moment they put on a Redskins uniform.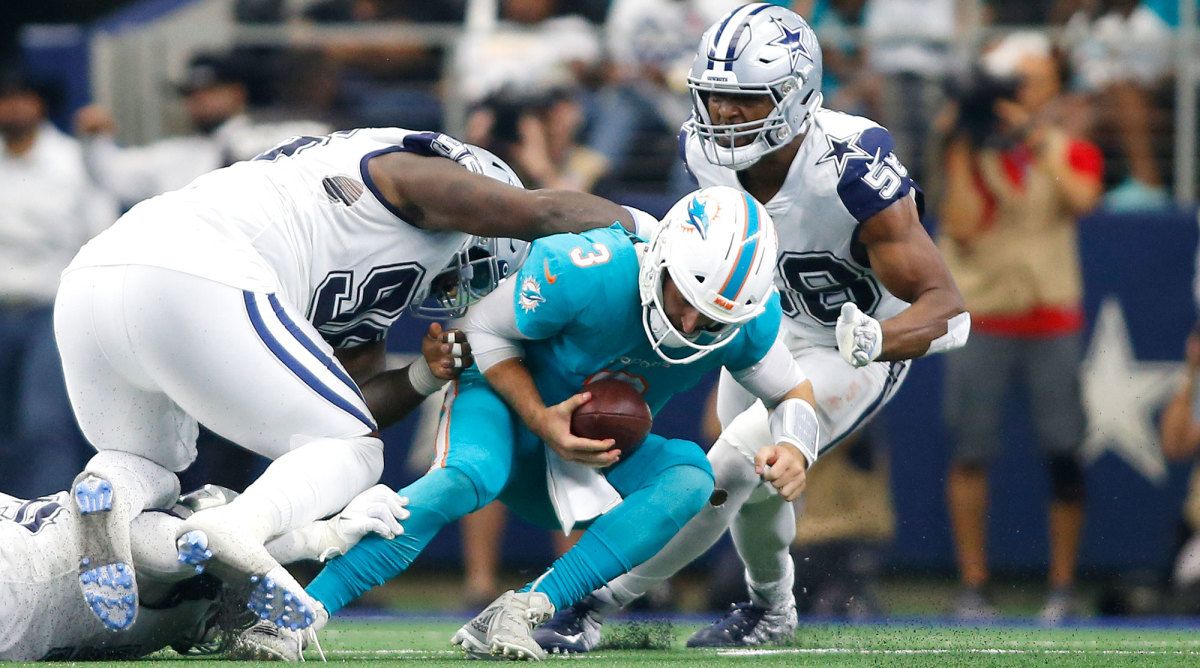 In a Dolphins and Redskins game this ugly, why would anyone actually bet on it? It's sort of what Sir Edmund Hillary said to a reporter who asked why he wanted to climb Mt. Everest; "Because it's there."
Robert Hunter, the great poet and lyricist from the Grateful Dead, recently passed away. He wrote the Dead's iconic song "Truckin'" with Jerry Garcia. There's a line that always stood out, "Sometimes you get shown the light in the strangest of places if you look at it just right."
Garcia and Hunter were avid card players, but I doubt Hunter would ever be value shopping with a bet on the Degen Game of the Week between the Dolphins and Redskins in the Winless Bowl.
Fade the Fish
The Dolphins are also 0-4 against the spread. Bet against the Dolphins, and you win. Seems so simple right? The tanking Dolphins are good for future business for the owners, but bad for current business if you're a bookie.
'Nine-and-a-half-fingered' Vinnie Tattaglia, a long-time bookmaker in New York City, says "If you stink, then you stink. But stinking on purpose is dishonorable. They're doing a disservice to the Miami fans. Doing a disservice to bookies. Doing a disservice to America. But most of all, they're doing a disservice to themselves as so-called professionals."
The Dolphins have been a pain in the arse for bookies, especially in Las Vegas. If underdogs weren't winning so much this year, they'd be taking a bath on the Dolphins. At this rate, the Dolphins will go 0-16.
The #LOLJets are 0-4, but at least they're 2-2 ATS. Heck, even the Redskins showed up for one game, and went 1-4 ATS.
Miami averages 6.5 points per game, one of the worst stats in NFL history. They were shutout once, and scored 10 points twice, but that's their high-water mark. The Dolphins defense allows more than 40.7 points per game. No opponent scored fewer than 30 points against them.
Over the last three weeks, the Skins averaged 8.3 points per game. The total in this game is 42 points, which seems absurd when you think about how awful these guys have been. The under seems to be the way to go in the Winless Bowl.
Toxic Swamp
Washington owner Dan Snyder told head coach Jay Gruden come to work at 5am on Monday, and then fired him. That's cold-blooded. Then again, everyone expected Gruden would lose his job last year. It never happened, and Snyder let him finish out the season. Once Gruden and the Skins started 0-5, Snyder really had no choice.
The Skins are bad, but another kind of bad. It's sort psychology, and sort mysticism. Part curse, part bad mojo that comes from swimming in a toxic pool of Snyder's smarminess. There's a bad vibe in DC with a death pall hanging over the franchise. It's not the kind of stuff that fantasy nerds and stat geeks can measure. Even the metrics dorks will tell you, the math says the same thing. The Skins are bad. It's in their heads, and on the field.
Of course, the problem will never be solved. When an owner is part of the problem, there won't ever be a viable solution because an owner would never fire themselves. That's the problem with the Knicks and their despised owner, James Dolan. Money is money. The owner is the real reason Kevin Durant and Kyrie Irving didn't want to play for Knicks. They loved NYC and opted to play for the Nets in Brooklyn instead.
The Skins will continue to be stuck in their current spin cycle of ineptitude. Any sane free agent avoids the DC swamp because no one wants to play for a tyrannical, billionaire man-child.
Saving Private Haskins
Bill Callahan took over for Gruden. Callahan's first move was to protect the future franchise quarterback. He told reporters that rookie Dwyane Haskins was not ready to play in the NFL. Instead, he'd start one of the other veterans on the team, Case Keenum or Colt McCoy. Both vets are already banged up, and damaged goods.
Why throw an unprepared rookie to the wolves, only to risk injuries for a team that's on a road to nowhere? In a season in which quarterbacks are getting injured at an alarming rate, especially backups (e.g. Trevor Siemen, Mason Rudolph), Haskins would be a sitting duck.
Sometimes, when a team fires a coach, they'll be fired up and win the next game. The Browns were stuck in a losing cycle last year, but then looked halfway decent when they fired their coach. Maybe Washington will be fired up, and want to take out their frustrations in Miami.
At the same time, the Redskins are so bad, they might not win another game this season. The Miami game is their only shot at a win. In one sense, this could be Washington's Super Bowl… albeit in the Winless Bowl and the Degen Game of the Week. Heck, the tanking Miami Dolphins and Washington Redskins in Week 6 might end up the winner for Degen Game of the Year.