It looks like that wide receiver Deebo Samuel will be in attendance when minicamp opens for the San Francisco 49ers today even though he requested a trade in April.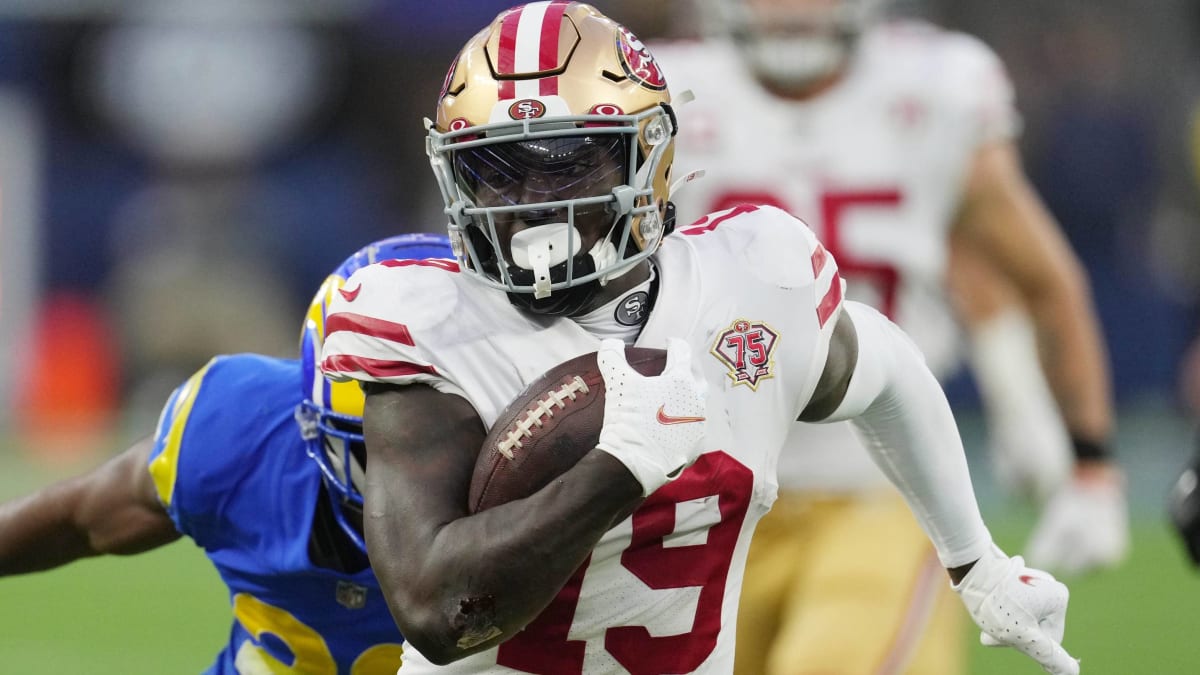 If Samuel skipped the mandatory minicamp, the 49ers would issue a fine worth nearly $96,000.
Samuel is still under his rookie contract and will earn nearly $4 million in 2022, plus another $900K as part of an initial signing bonus. He earned $2 million last year, including the spread-out signing bonus.
Head coach Kyle Shanahan and ex-offensive coordinator Mike McDaniel tapped Samuel to play running back when their backfield was decimated with injuries.
During the 2021 season, Samuel led the NFL with 19.2 yards per catch. He caught 77 passes for 1,405 yards and six touchdowns, and ranked #5 overall in passing yards. He finished the season with 1,845 all-purpose yards, including 365 rushing yards and eight rushing touchdowns. His eight rushing scores set an NFL record for the most rushing touchdowns by a wide receiver.
In three postseason games, Samuel tallied 291 total yards from scrimmage with one rushing and one receiving touchdown. He caught 10 passes for 154 yards and rushed 27 times for 137 yards.
As a triple-threat option in 2021, Samuel became only the third player in NFL history to record 1,000 receiving yards and at least five touchdown receptions and five rushing touchdowns.
Deebo: 'wants the bag'
With several other top wideouts like Tyreek Hill and Devante Adams getting paid ridiculous contracts, Samuel hinted that he'd skip the minicamp if the 49ers don't trade him or offer him a contract extension on par with his peers.
Over the offseason, 49ers general manager John Lynch indicated the team isn't interested in dealing Samuel. So, it looked like Samuel would sit out of team activities until the 49ers gave him a well-deserved raise. He skipped the offseason conditioning program.
"We need to figure it out," said Shanahan in April. "I'm hoping he's a Niners forever, or at least as long as I'm here."
Two top wideouts switched teams in the offseason. The Miami Dolphins acquired Hill in a trade with the Kansas City Chiefs and then offered the speedster a contract extension worth $30 million a season. In an unexpected twist, the Green Bay Packers lost Adams when he decided to leave the confines of Lambeau Field and sign with the Las Vegas Raiders. Adams will earn roughly $28.5 million per season with the Raiders.
With numbers like that tossed around, Samuel believes the 49ers disrespected him by not offering him a lucrative contract extension.
The 49ers lost to the LA Rams in the NFC Championship. The Niners head into this upcoming season at +1600 odds to win Super Bowl 57.