New England Patriots starting center David Andrews may miss the entire 2019 season after being hospitalized with blood clots in his lungs, according to NFL sources first cited by The Athletic.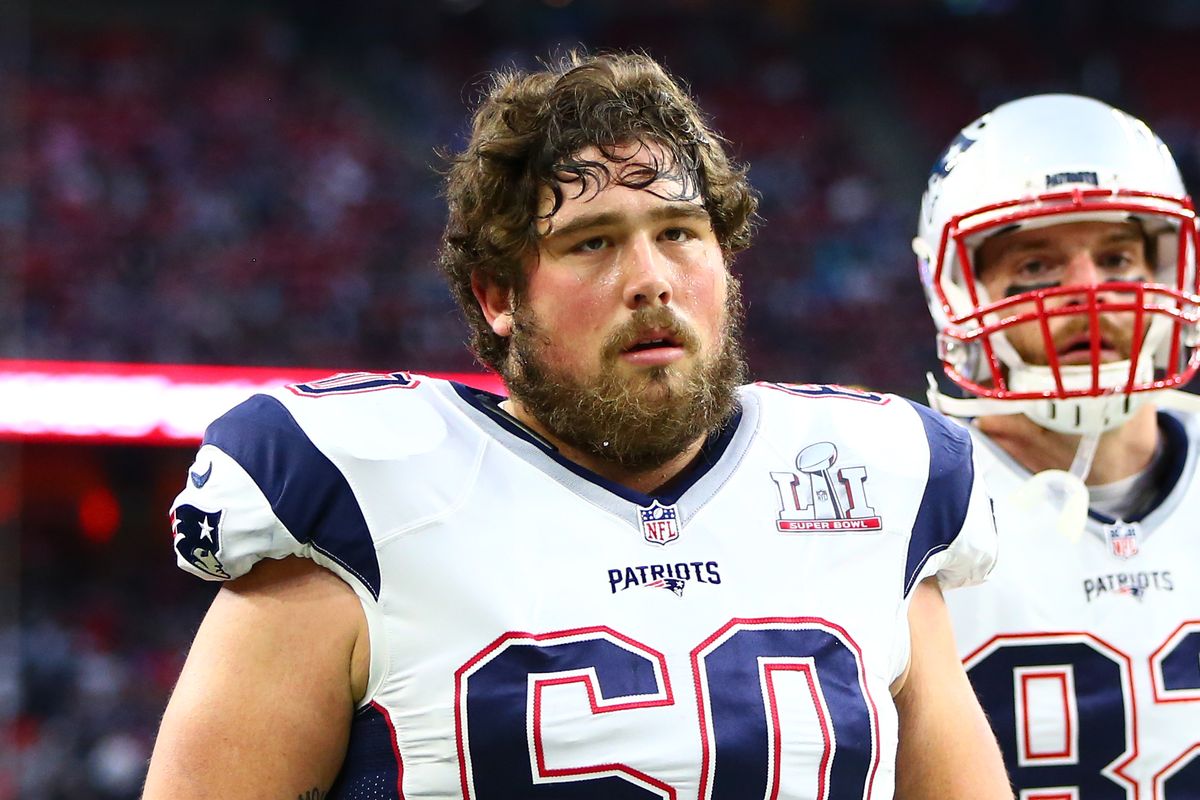 According to ESPN, Andrews was hospitalized for testing, and was released on Monday night. He played in New England's preseason game vs. the Carolina Panthers on Thursday, but has not been at practice over the past two days.
Karras, Ferentz Could Fill In at Center
Andrews has been a stable presence in the Patriots offensive line, starting in 57 games during his four-year NFL career. He has been the regular starter for New England since 2016, developing a steady partnership with quarterback Tom Brady during that time.
On Monday, before details were known publicly about Andrews' condition, Patriots offensive line coach Dante Scarnecchia told reporters that the team would deal with injuries on the offensive line without bringing in new talent at this point.
"We got what we got," Scarnecchia said. "The cavalry, they're not coming over the hill. But we have good players. I like the guys we got."
At center, the next man up is likely to be Ted Karras. A fourth-year veteran out of Illinois, Karras has started five games for New England over his first three seasons, though three of those came at right guard. He has played regularly, appearing in every game in 2016 and 2017, as well as 13 games last year.
Also in the mix could be James Ferentz, a fifth-year player out of Iowa who has yet to make a start in the NFL. Ferentz appeared in two games for New England last year, and earlier played for the Denver Broncos and Houston Texans.
Andrews Has Special Relationship with Brady
But replacing Andrews will be a difficult proposition. Both Brady and New England head coach Bill Belichick have routinely praised Andrews, giving him a little bit of limelight at a position that is often overlooked by casual football fans. Brady has said that the center sees the game similarly to him, making it easier to distribute blocking assignments before the ball is snapped, while Belichick once said that Andrews has "a good instinct for the position."
It's still unclear how much time Andrews might miss, and a short absence likely wouldn't put much of a dent into the Patriots' Super Bowl hopes. But if he does have to miss the whole year, the loss of one of New England's most dependable pass blockers might show against elite competition during the playoffs.
For now, oddsmakers aren't acting like they're too worried about the loss of Andrews. FanDuel Sportsbook still has the Patriots as the +700 top choice to win the Super Bowl this season, ahead of the Kansas City Chiefs (+800), New Orleans Saints (+900), and Los Angeles Rams (+1100). New England is also a -1150 favorite to make the playoffs, with a league-best over/under win total of 11.