There wasn't a lot of creativity involved in putting Creative Minister in the 147th Preakness Stakes. Not unless you consider cutting a check for $150,000 to supplement his entry to be a creative act.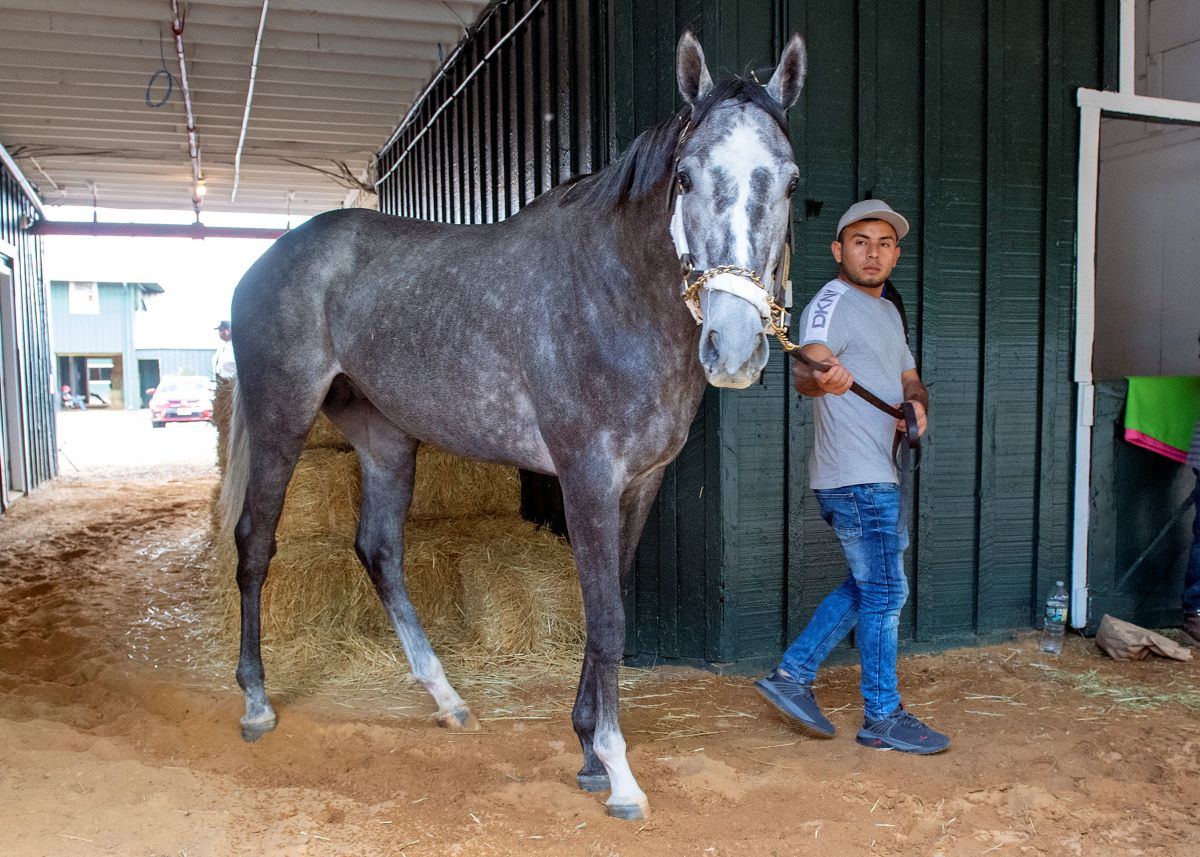 It cost 150 large to put Creative Minister into the Pimlico Race Course starting gate because the colt didn't make his debut until March 5, five weeks after the initial January 29 deadline to nominate 3-year-olds for the Triple Crown.
Nominating a colt then costs $600. Waiting until March 29 — the deadline for late nominations — would have cost Creative Minister's connections $6,000. But at that time, he only had that debut race on the CV: a neck loss in a Gulfstream Park maiden special weight.
Since then, Creative Minister raced two more times. And, since then, Creative Minister is undefeated. He won an April 9 Keeneland maiden special weight by 1 1/2 lengths on the Blue Grass Stakes undercard, which opened some eyes.
Fast money, fast horse
But what opened more — not to mention the pocketbooks of majority owners Greg Back and Paul Fireman — was what Creative Minister did in his third outing. In an allowance race on the Kentucky Derby undercard, Creative Minister rolled to a nearly three-length victory.
That was impressive, especially the way he came from way off the pace after hopping at the start. Also impressive was the 108 Equibase Speed Figure Creative Minister registered over the 1 1/16 mile trek.
When Back saw the 108 Equibase, he talked to trainer Kenny McPeek who owns 10% of Creative Minister, who had another conversation about the horse's future just an hour earlier.
'Put him in the Preakness'
"I don't remember who the guy was, but he said, 'Well, put him in the Preakness,'" Back told the Maryland Jockey Club. "I turned to Kenny and said 'Preakness!" He hemmed and hawed just a little bit and said, 'You know what? if you're willing to pay the fee, I think he could have a chance.' Then, we researched everything and found out how much the fee was, and we made the decision."
Back said that 108 Equibase was the deciding factor. Not only is it the top Equibase among the nine horses in the Preakness, but it surpassed Rich Strike's 106 from his Kentucky Derby victory.
"He ran that incredible race in the allowance, and Kenny said, 'This horse has as much talent as my other stakes horses. If you guys want to go, we can go,'" Back said. "I mean, the speed figure did everything for me. I knew he was a talented horse. But when you start running a 108, you can compete with anybody."
Creative Minister interesting to bettors
Horseplayers seem to agree. Creative Minister is gaining a reputation as the "wise-guy" horse, the sleeper who could wake up tickets. He opened at +1,495 on Circa Sports' Preakness board earlier this week. As of Wednesday, Creative Minister dropped to 9/1 at Circa, the same as his morning-line odds at Pimlico.
Back, who sold a trucking company five years ago, owns 45% of the colt. So does Fireman, the founder and former owner of athletic apparel giant Reebok before selling that company to Adidas for $3.8 billion in 2005.
Creative Minister cost $180,000
That means the pair are kicking in $67,500 each to supplement Creative Minister into the Preakness field. McPeek's in for the remaining $15,000. That fee – only $30,000 less than they paid for the horse — goes into the Preakness purse, meaning the nine horses are racing for their share of $1.65 million.
For Back, Fireman, and McPeek to make their investment back, Creative Minister will have to hit the board.
"How many times do you get to go to the Preakness with a horse that is actually gaining respect," Back said. "I'm a gambler at heart … I think we have a very good chance to hit the board, and I actually think he can pull it off. It just depends if some of these other horses get tired and he can make the run he likes to make."