After ensuring fans and reporters that running back Ezekiel Elliott would have a deal and end his holdout, owner Jerry Jones is backtracking. Jones said Wednesday on a local radio show that Elliott might not be signed and ready to play by the team's Sept. 8th opener against the New York Giants.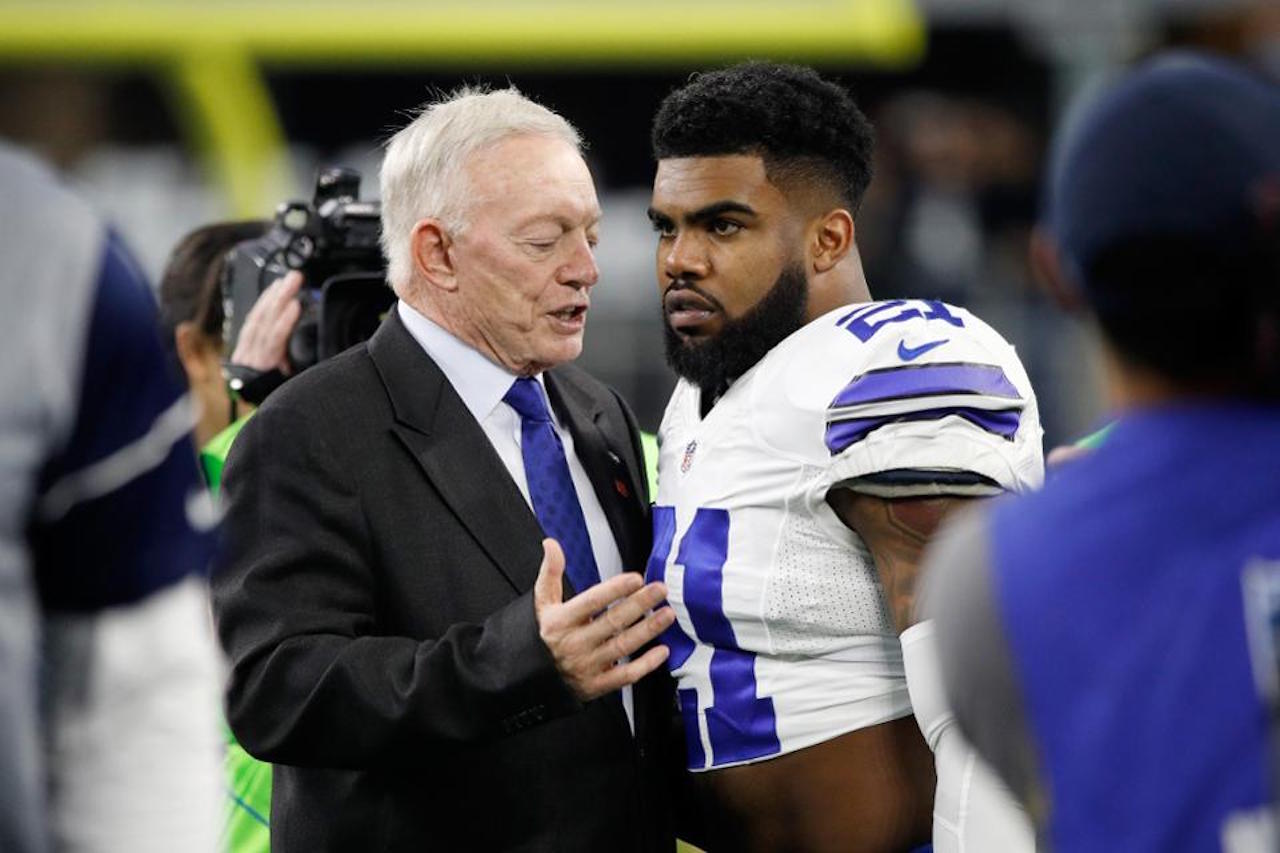 "We have to be prepared to play without any given player," Jones said. "We may very well play without a player that's not coming in on his contract. We'll play and play well."
The team is favored at home by seven points to the Giants. The two organizations are both in the NFC East, and Dallas won both meetings last year.
Steve Jones, Jerry's son, still believes the team can get Elliott in uniform by the first game. In Elliott's absence, back up Tony Pollard has impressed coach Jason Garrett. Still Jerry Jones isn't too concerned if the team's star running back isn't ready by the opener.
"We've got a marathon here," Jones said. "We want Zeke when we get to the playoffs. We want Zeke when we're in the dog days of this season. A fresh Zeke, if we got to the end, would be great."
New England Gobbles Up O-Linemen
The New England Patriots needed to beef up their offensive line, and did so Wednesday with a pair of trades. The first was to acquire tackle Korey Cunningham from the Arizona Cardinals, reportedly for a sixth-round draft pick. The second was with Baltimore. The Patriots received guard Jermaine Eluemunor for an undisclosed draft pick.
Coach Bill Belichick has to do some shifting around with the news that starting center David Andrews was hospitalized with blood clots in his lungs. It is uncertain when, or if, he will return. Backup center Ted Karras will take over for him. Karras had seen time at guard, but now has to give up those duties.
Eluemunor has experience at both guard and tackle. He was taken in the fifth round in 2017. He has played in 17 games with three starts, but became expendable by the glut of Ravens offensive linemen.
Cunningham has played both tackle positions, and will probably be listed as a back up for left tackle Isaiah Wynn, and right tackle Marcus Cannon.
Kareem Hunt Denied Team Access
Cleveland running back Kareem Hunt knew he wasn't playing for the first eight games of the season, but on Wednesday found out he won't be anywhere near his teammates. The NFL denied the team's request to have Hunt in the training facility. League spokesman Brian McCarthy said Wednesday in an email to The Associated Press that Hunt is not permitted inside the team's facility starting Saturday afternoon.
Hunt was suspended for half the season for physical altercations with a then girlfriend while a member of the Kansas City Chiefs. Kansas City waived Hunt in December, but Cleveland signed him three months later.
The 24-year-old Cleveland native had been practicing and playing in preseason games, but knew he wouldn't be able to join his teammates once the season started in two weeks. Quarterback Baker Mayfield was disappointed Hunt won't be a part of the team for two months.
"It hurts him not to be around there because if you can be around your teammates, that can help you keep a positive attitude, and that definitely helps," Mayfield said. "So that's tough to hear."
Clowney Wants Out of Houston
Edge rusher Jadeveon Clowney reportedly is furious that the Houston Texans have been shopping him around, and now has demanded a trade, according to Ian Rapoport of NFL Networks. The sixth-year player was given the franchise tag by Houston, which didn't please him at all. He held out of camp, but was ready to rejoin his team, until apparently he found out about the team trying to trade him.
Clowney fired his agent, and now is back to holding out. Whether he will come back to Houston is now completely up in the air.