Cleveland Indians starting pitcher Corey Kluber fractured his right forearm while pitching against the Miami Marlins on Wednesday night, when Brian Anderson hit a line drive back to the mound in the fifth inning.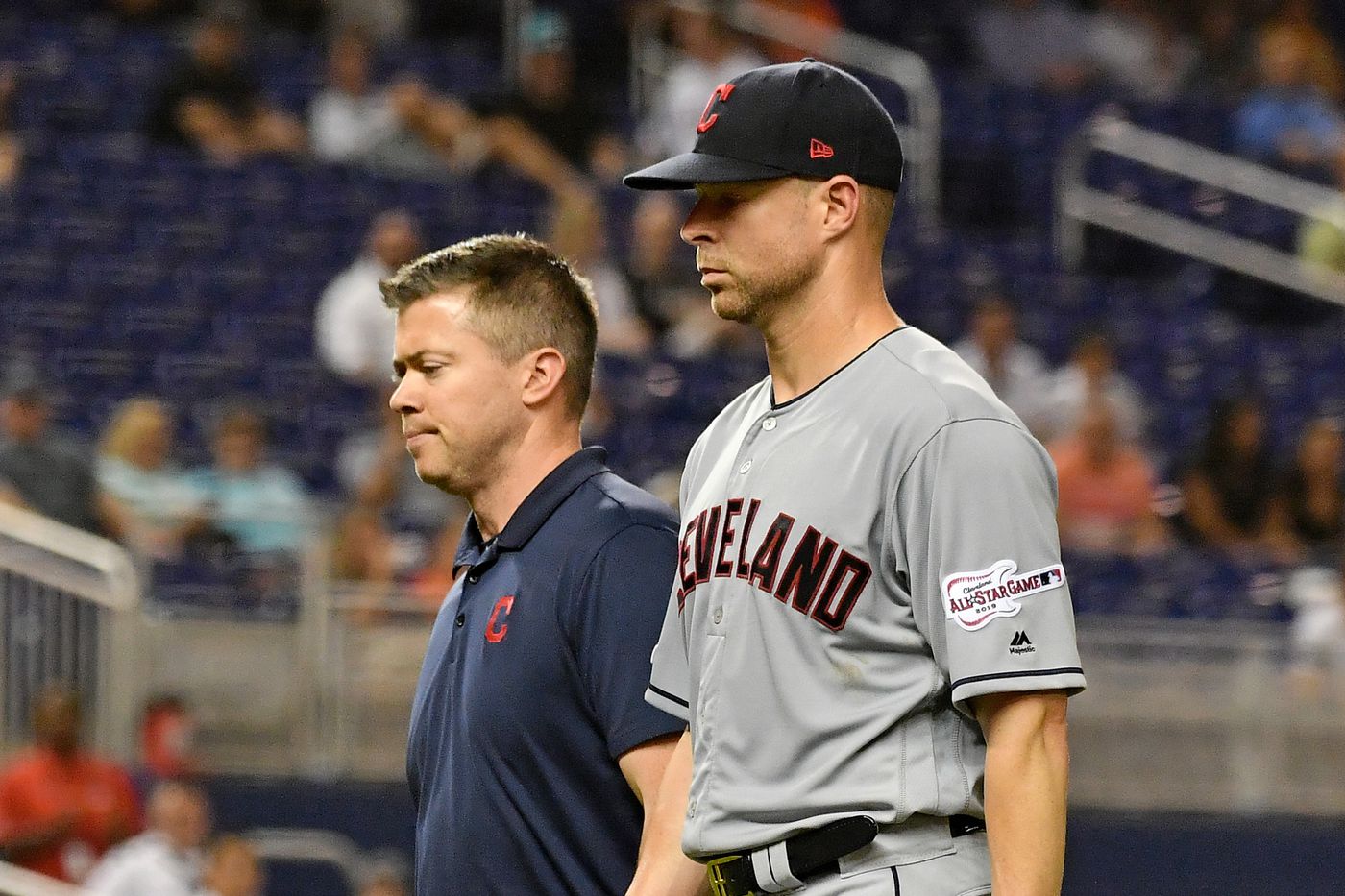 The Indians say that Kluber will be re-evaluated in Cleveland on Thursday in order to get a better idea of how much time he might miss, though similar injuries have cost other players two months or more in the past.
Kluber Injury 'Looked Ugly'
The injury occurred in the fifth inning, with the Marlins leading 3-1. After the ball struck Kluber on his pitching arm, he attempted to field it and swat it over to first base with his glove, but Anderson still reached on an infield hit.
Kluber was then taken out of the game after having thrown 4.2 innings and allowing three runs on eight hits. The Marlins would go on to win 4-2.
Kluber didn't speak to the media after the game, but teammates said it was difficult to see one of their team leaders go down with what looked like a serious injury.
"I've never seen him show any emotions on the mound, but today, he got hit by a line drive," catcher Roberto Perez told reporters after the game. "He was just numb. At that point, you start thinking the worst. We can't control those things. That's just part of baseball."
Manager Terry Francona said that while the team would figure out how to move on without the two-time Cy Young Award winner, he still had personal concern for Kluber.
"You worry about the guys because you care about them," Francona told reporters. "But you saw it. It looked ugly. You just worry about guys."
Cleveland Scrambles to Rebuild Rotation
Kluber was off to a slow start in the 2019 season. In his first seven starts, the 33-year-old is 2-3 with a 5.80 ERA in 35.2 innings of work. But the Indians ace is coming off of three straight All-Star campaigns, during which he went a combined 56-20 for Cleveland.
If Kluber has to miss a significant number of time, it could leave the Indians scrambling to piece together a capable starting rotation. Cleveland is already missing Danny Salazar and Mike Clevinger, both of whom have been placed on the 60-day injured list.
The Indians have a number of different young pitchers in their organization who could potentially be brought up to take Kluber's spot, including Asher Wojciechowski, who is currently 2-0 with a 0.82 ERA in Triple-A Columbus. Cleveland could also consider talking to Dallas Keuchel, who remains a free agent – though there have been no signs that the Indians are interested in pursuing the 31-year-old former Astro.
Cleveland hasn't been on fire to start the season, but they've kept afloat, currently holding a 16-13 record and sitting three games behind the Minnesota Twins. According to the FanDuel Sportsbook, the Indians are still a -270 favorite to win the AL Central, and are listed at 21/1 to win the World Series.