Which NFL head coach has the most Super Bowl wins? Love him or hate him, you have to admit, he's the GOAT, right? Bill Belichick won the Super Bowl six times — more than any other coach in NFL history. Between Belichick, Chuck Knoll (4), Joe Gibbs (3), and Bill Walsh (3), four coaches have won 16 out of 54 Super Bowls.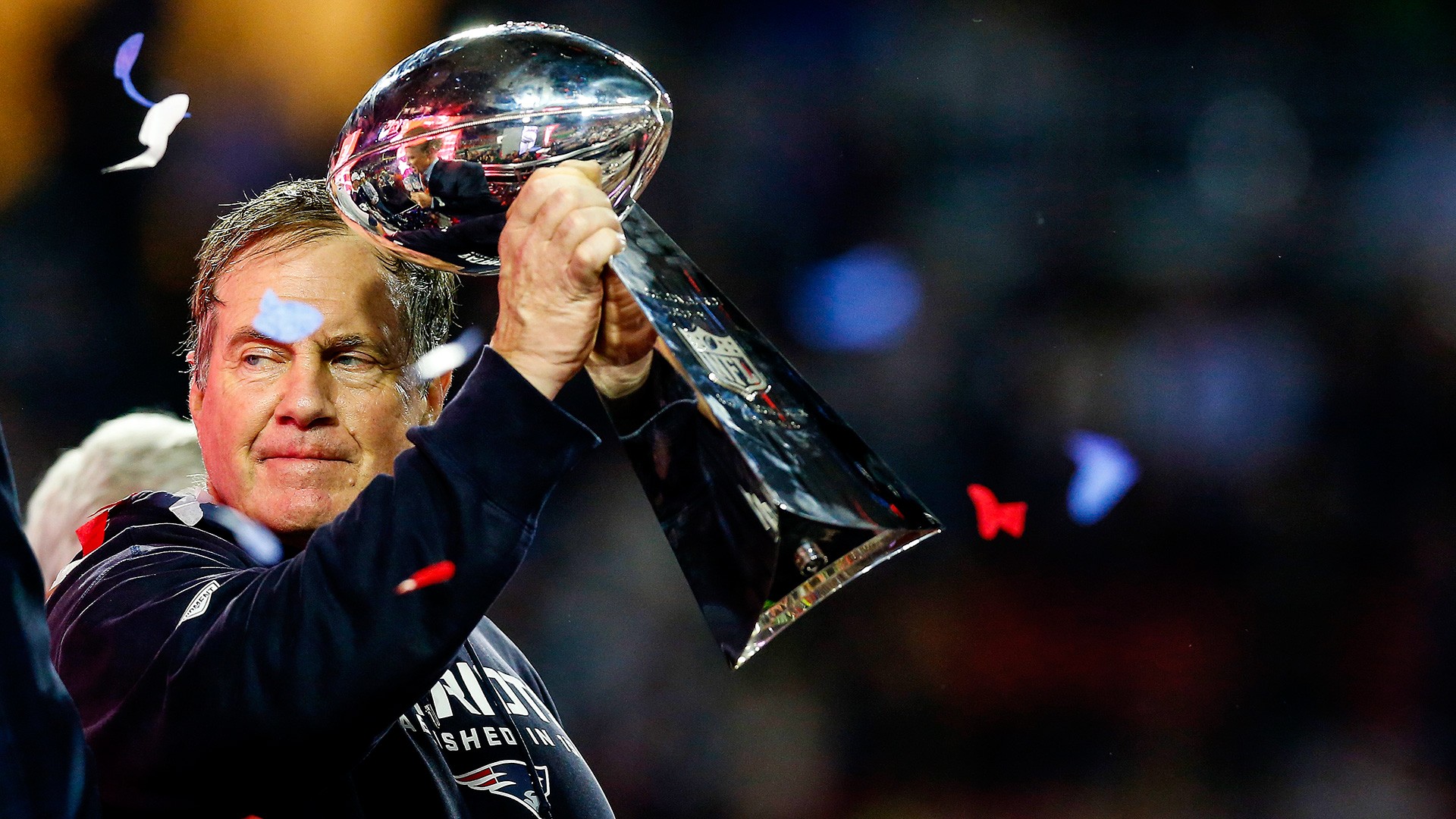 A total of 13 coaches won the Super Bowl more than once, while 20 other coaches won the Super Bowl only once.
Belichick appeared in nine Super Bowls with the New England Patriots and won six with Tom Brady. If it weren't for Eli Manning and the New York Giants, Belichick could've won eight championships.
---
MOST SUPER BOWL COACHING WINS
| | | |
| --- | --- | --- |
| Bill Belichick | 6-3 | XXXVI, XXXVIII, XXXIX, XLIX, LI, LIII |
| Chuck Noll |  4-0 | IX, X, XIII, XIV |
| Joe Gibbs |  3-1 | XVII, XXII, XXVI |
| Bill Walsh |  3-0 | XVI, XIX, XXIII |
---
Chuck Noll went a perfect 4-0 in his four appearances with the Pittsburgh Steelers. He won back-to-back championships with the 1974 and 1975 Steelers, and then again with the 1978 and 1979 Steelers.
Joe Gibbs appeared in four Super Bowls with the Washington Football Team between 1982 and 1991. He and Washington won three times.
Bill Walsh and his West Coast Offense won three titles with the San Francisco 49ers between 1981 and 1988. He created the Niners' dynasty, but could've won more if he hadn't retired after his third win.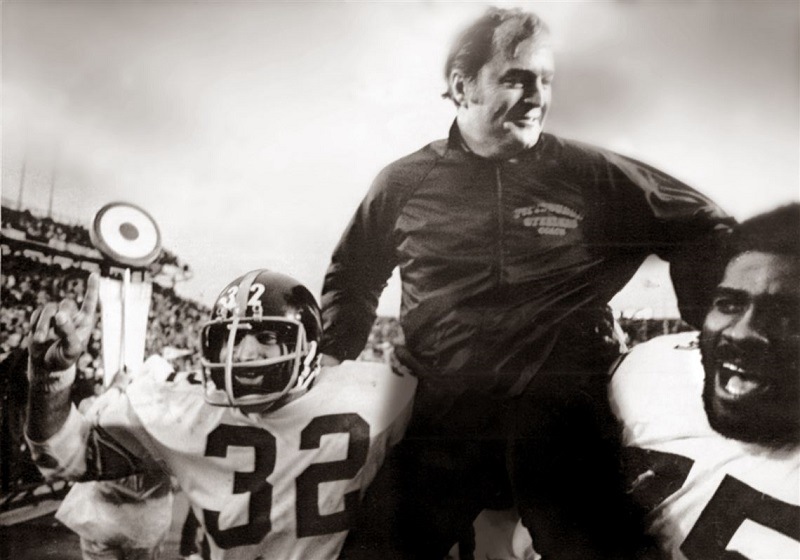 Twice, Not a Fluke
Vince Lombardi, arguably the greatest football coach of all-time regardless of championships, won the first two Super Bowls with the Green Bay Packers. Lombardi never appeared in another Super Bowl again.
After two losses in his first two appearances, Don Shula won back-to-back titles with the 1972 and 1973 Miami Dolphins. A decade later, Shula and Dan Marino won a pair of AFC Championships, but couldn't win the big game in the 1980s.
Tom Landry won two Super Bowls, yet has a losing record with three losses. Landry guided the 1971 and 1976 Cowboys to championship seasons. However, he whiffed in Super Bowl V, SB X, and SB XIII.
Bill Parcels won two championships with the 1986 and 1990 New York Giants, but lost one as the head coach of the 1996 New England Patriots.
---
COACHES WITH 2 SUPER BOWL WINS
| | | |
| --- | --- | --- |
| Don Shula | 2-4 | VII, VIII |
| Tom Landry | 2-3 | VI, XII |
| Bill Parcels | 2-1 | XXI, XXV |
| Vince Lombardi | 2-0 | I, II |
| Tom Flores | 2-0 | XV, XVIII |
| Jimmy Johnson | 2-0 | XXVII, XXVIII |
| George Seifert | 2-0 | XXIV, XXIX |
| Mike Shanahan | 2-0 | XXIV, XXIX |
| Tom Coughlin | 2-0 | XLII, XLVI |
---
Six coaches were a perfect 2-0 in the Super Bowl, including Lombardi, Tom Flores, Jimmy Johnson, George Seifert, Mike Shanahan, and Tom Coughlin. Flores won two championships with the Raiders, but in two different cities. He took the 1980 Oakland Raiders to a win in Super Bowl XV. After the team relocated to Southern California, Flores and the 1983 Los Angeles Raiders on Super Bowl XVIII.
Jimmy Johnson went a perfect 2-0 in back-to-back championship seasons with the Dallas Cowboys in the early 1990s.
George Seifert proved he wasn't a fluke when he won his second championship with the San Francisco 49ers. He inherited Joe Montana and won Super Bowl XXIV after Walsh unexpectedly retired in 1989. During the 1994 season, Seifert and Steve Young won the Super Bowl to avoid the fluke label.
New York Giants head coach Tom Coughlin went 2-0 and spoiled the New England Patriots dynasty with two Super Bowl victories.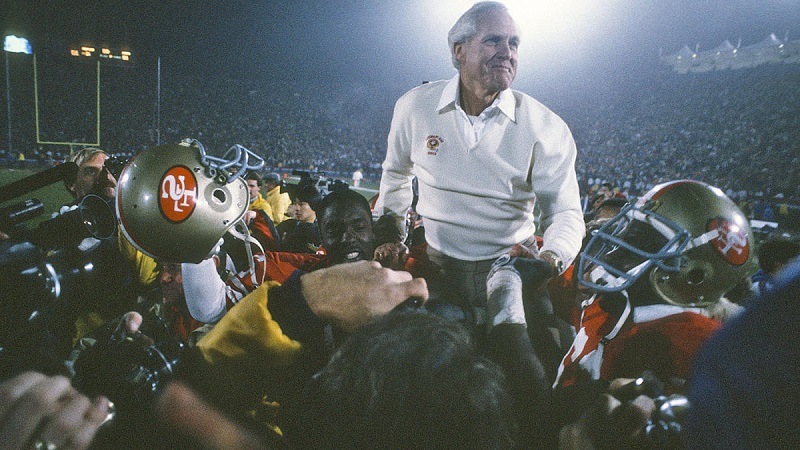 Multiple Trips, Just One Win
Andy Reid is trying to level up and join the two-timers club. He missed in his first trip to the big game with Donovan McNabb and the 2004 Philadelphia Eagles when he was upended by Belichick and Brady.
Legendary head coach Hank Stram and the Kansas City Chiefs lost the first Super Bowl, but finally secured a championship with the 1969 Chiefs.
Dick Vermeil took the 1980 Philadelphia Eagles to the Super Bowl, but lost to Flores and the Oakland Raiders. Almost 20 years later, Vermeil came out of retirement to coach the St. Louis Rams, aka the Greatest Show on Turf, to a victory in Super Bowl XXXIV.
---
COACHES WITH 1 SUPER BOWL WIN
| | | |
| --- | --- | --- |
| COACH | RECORD | SUPER BOWL WIN |
| Mike Holmgren | 1-2 | XXXI |
| Andy Reid | 1-1 | LIV |
| Pete Carroll | 1-1 | XLVIII |
| Mike Tomlin | 1-1 | XLIII |
| Bill Cowher | 1-1 | XL |
| Dick Vermeil | 1-1 | XXXIV |
| Hank Stram | 1-1 | IV |
| Sean McVay | 1-1 | LVI |
---
The Pittsburgh Steelers won two more championships in the 2000s, but under two different head coaches. Bill Cowher and Mike Tomlin are both 1-1 during their two trips to the Super Bowl. Cowher had to wait 10 years to finally get off the schneid after losing in Super Bowl XXX. He finally won in Super Bowl XL.
If Seattle Seahawks head coach Pete Carroll opted to run the ball with Marshawn Lynch instead of passing, he could have had two Super Bowl wins instead of one.
Mike Holmgren went to the Super Bowl in back-to-back years with Brett Favre and the Green Bay Packers, but he only won one of them with the 1996 Packers.
Sean McVay became the youngest coach to win a championship at age 36, but it took him his second trip with the LA Rams to pull it off.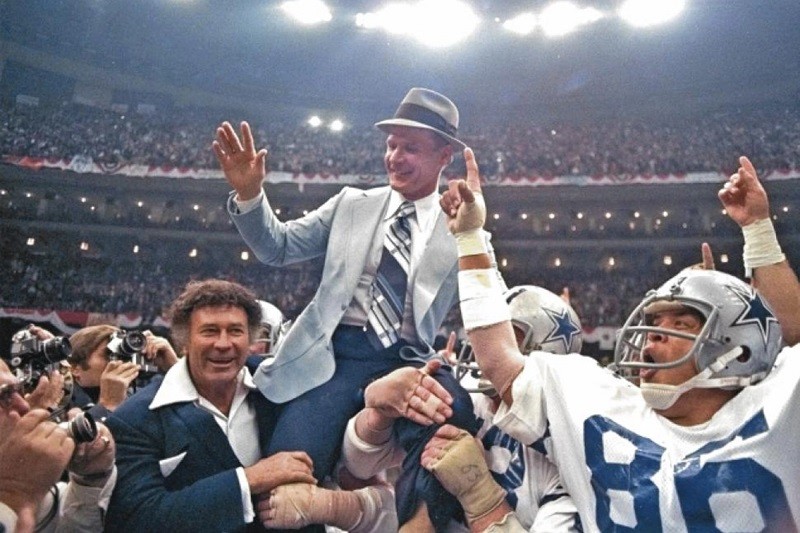 One Hit Wonders: Ditka, Chucky, and Weeb
At least 13 NFL coaches won the Super Bowl in their only trip to the championship game. Once you win a championship in the NFL, you'll always be recognized as a Super Bowl-winning head coach, no matter how bad things might go later on down the line.
Weeb Ewbank won the first and only Super Bowl for the New York Jets thanks to Broadway Joe Namath's upset over the heavily favorited Baltimore Colts in Super Bowl III. John Madden led the Oakland Raiders to their first championship in Super Bowl XI.
Doug Pederson is the last head-coach to win in his first trip to the Super Bowl. Pederson and the Philadelphia Eagles upset the New England Patriots to win Super Bowl LII.
---
COACHES THAT WON IN THEIR ONLY APPEARANCE
| | |
| --- | --- |
| Bruce Arians | LV |
| Doug Pederson | LII |
| Gary Kubiak | 50 |
| John Harbaugh | XLVII |
| Mike McCarthy | XLV |
| Sean Payton | XLIV |
| Tony Dungy | XLI |
| Jon Gruden | XXXVII |
| Brian Billick | XXXV |
| Barry Switzer | XXX |
| Mike Ditka | XX |
| John Madden | XI |
| Don McCafferty | V |
| Weeb Ewbank | III |
---
Jon Gruden and the 2002 Tampa Bay Bucs won Super Bowl XXXVII in his only appearance in the big game.
Between the 2006 and 2010 NFL seasons, three head coaches won the Super Bowl in their first and only trip to the big dance: Tony Dungy with the Indianapolis Colts, Sean Payton and the New Orleans Saints, and Mike McCarthy and the Green Bay Packers.
Bruce Arians won Super Bowl 55 as the 14th head coach who won the title on their first crack.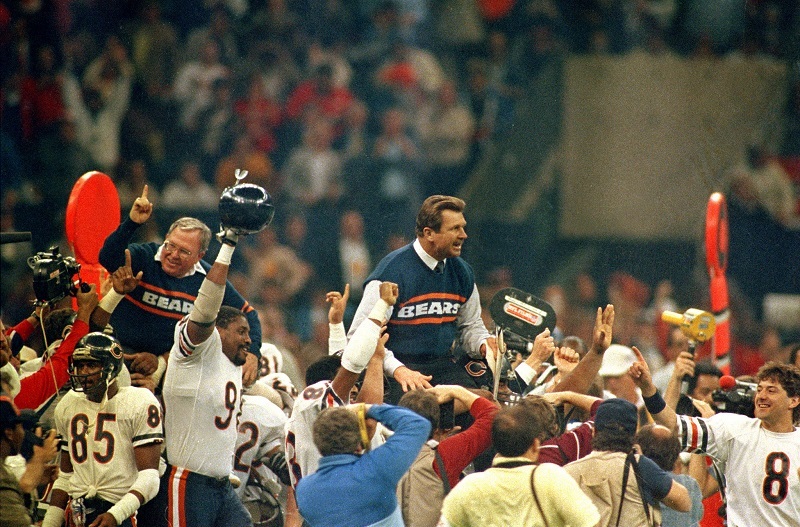 Coaching Misses
Marv Levy, Bud Grant, and Dan Reeves are all in a club that no coach ever wants to join. All three coaches appeared in four Super Bowls, yet lost all four.
Levy coached the Buffalo Bills in the late 1980s and early 1990s. Under his watchful eye, the Bills won four-straight AFC Championship games and advanced to the Super Bowl. Yet, the NFC East owned the Bills with four Super Bowl victories (NY Giants, Washington, Dallas Cowboys 2x) while the Bills settled on a runner-up finish for four years in a row.
Bud Grant took the Minnesota Vikings to four Super Bowl appearances, but never won. During a four-year stretch in the mid-1970s, Grant and the Vikings went to the Super Bowl three times, but he lost against legendry coaches such as Don Shula, Chuck Noll, and John Madden.
---
SUPER BOWL APPEARANCES WITHOUT A WIN
Marv Levy 0-4
Bud Grant 0-4
Dan Reeves 0-4
John Fox 0-2
---
Dan Reeves guided multiple teams to the Super Bowl, but he couldn't get over the hump. In the late 1980s, Reeves, John Elway and the Denver Broncos lost in the Super Bowl in back-to-back years, first to Bill Parcels and the 1986 Giants, and then losing to Joe Gibbs and Washington the next season. Reeves and Elway missed their third shot at a championship when they lost to George Seifert and the San Francisco 49ers in Super Bowl XXIV.
As head coach of the 1998 Atlanta Falcons, Reeves lost to Mike Shanahan and the Denver Broncos in Super Bowl XXXIII.
For more Super Bowl coverage, check out more of OG's content.

This post was updated on 2/14/22 after the conclusion of Super Bowl 56.