Alabama hosts Georgia in the biggest game of College Football Week 7, and will have head coach Nick Saban on the sidelines. Saban tested positive for COVID-19 on Wednesday, but has had three successive negative tests and was cleared to return for Saturday's game.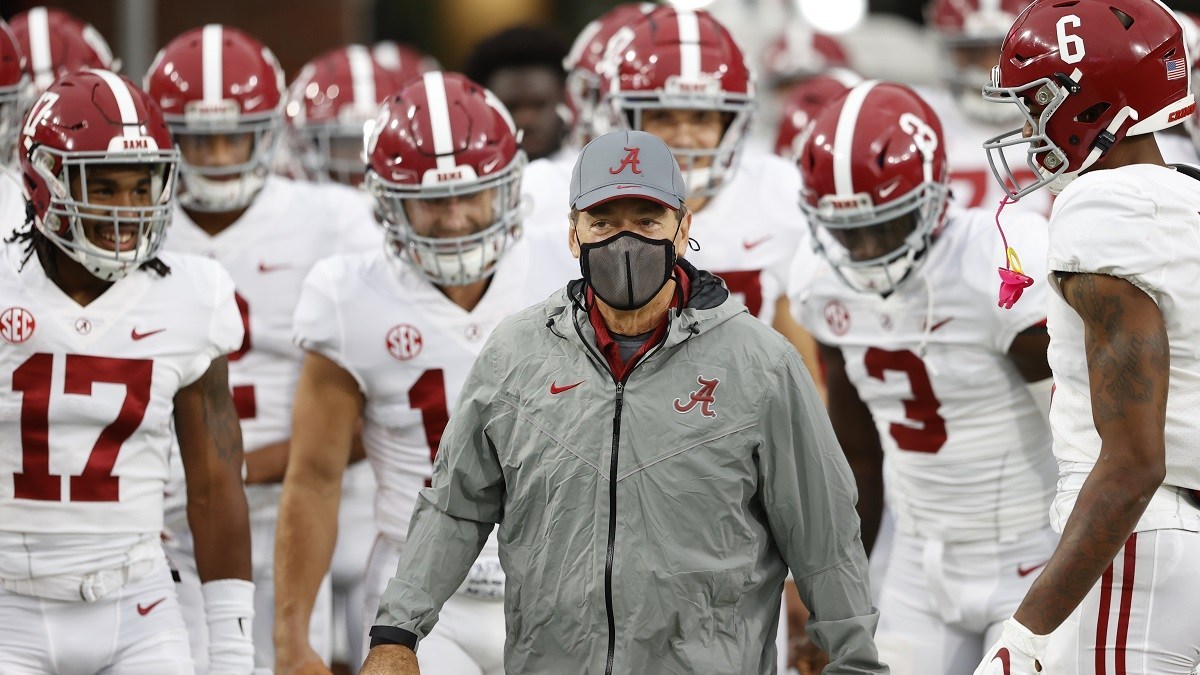 No. 2 Alabama hosts No. 3 Georgia, and head coach Nick Saban was cleared to return after testing positive for COVID-19.
North Carolina is looking to go 4-0 for the first time since 1997, but will have to win at Florida State, a team that is reeling.
Pittsburgh and Miami are coming off of tough losses, and will look to this game to get back on track.
---
Team doctors for Alabama reported that as of Thursday Saban was asymptomatic, but had to have three successive negative tests to be on the sidelines for Saturday's contest between the No. 2 Crimson Tide and No. 3 Bulldogs. His third negative test came early Saturday morning, and he left his home to rejoin the team.
College Football Week 7 Top 25 Games, Odds
| | | |
| --- | --- | --- |
| | Point Spread | Over/Under |
| No. 1 Clemson at Georgia Tech | Tigers -27 | 64.5 |
| No. 3 Georgia at No. 2 Alabama | Crimson Tide -5 | 56.5 |
| Louisville at No. 4 Notre Dame | Irish -17 | 61 |
| No. 5 North Carolina at Florida State | Tar Heels -13.5 | 64 |
| No. 11 Texas A&M at Mississippi State | Aggies -5 | 54.5 |
| Pittsburgh at No. 13 Miami | Hurricanes -13.5 | 47.5 |
| No. 14 BYU at Houston | Cougars -5 | 62.5 |
| No. 15 Auburn at South Carolina | Tigers -3 | 51.5 |
| No. 17 SMU at Tulane | Mustangs -6.5 | 64.5 |
| Kentucky at No. 18 Tennessee | Volunteers -6 | 46 |
| Boston College at No 23 Virginia Tech | Hokies -12.5 | 62 |
Source: South Point
When news of Saban's positive test hit earlier in the week, the odds for the game changed dramatically. Alabama had been a six-point favorite, but after the bombshell, the odds dropped at sportsbooks anywhere from two to 2.5 points.
When the third negative test was announced, the line went back up another point. As of Saturday morning it was at five or 5.5 points.
North Carolina, Florida State Going Different Directions
North Carolina visits Florida State and has a chance to go 4-0 for the first time since 1997. That was the last year Mack Brown was with the Tar Heels before he left to go to Texas. Now Brown is in his second go-round with UNC and leading them back to relevancy in his third year.
The Tar Heels are ranked No. 5 in the College Football Week 7 AP Top 25 Poll, the first time they have been that high in 23 years. They face a 1-3 Florida State team that is trying to avoid its worst five-game start since 1975.
Brown, however, told reporters on Monday he won't let his team get over confident.
"They got a very tough, early schedule to have to play Miami and Notre Dame on the road," Brown said. Most of us would have lost those two games. They're getting better. They're the most talented team we've played to this point."
Will Pitt or Miami Bounce Back After Loss?
Pittsburgh and Miami lost last week, and now both programs are trying to get back momentum they had before last week.
Miami got roughed up by No. 1 Clemson, and Hurricane head coach Manny Diaz said he wants his players to adjust their attitude.
"We can't just think we're Miami, and we are more talented than, say, Pitt," Diaz said. "Our players have been hearing that for many years, regardless of who the head coach has been, and it has not been serving them well. We have to have respect for who we're playing."
Pitt head coach Pat Narduzzi said even though his team lost a heartbreaker last week to Boston College when the kicker missed a PAT to force a second overtime, he believes his team will overcome that incident.
"I was very, very happy with our attitude and our effort and really toughness," Narduzzi said. "I thought we went out and played tough, which is really a mark of a Pitt football team."