Clemson lost its top ranking and Michigan could lose its head coach after the two programs were upset in Week 10. Notre Dame defeated the No. 1 Tigers, who were 5.5-point favorites. Indiana, who got four points, shocked the Wolverines.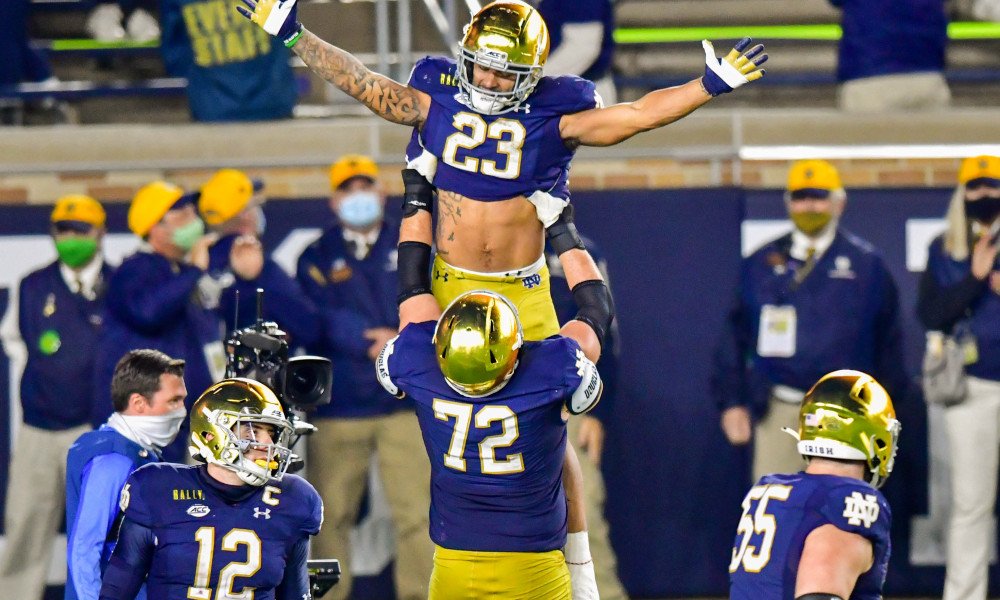 There was quite a bit of line movement during the week for Clemson, who traveled to South Bend, Indiana. The Tigers, who dropped from the top spot in the AP Top 25 to No. 4, opened as a 6.5-point favorite.
The line dropped as low as 4.5 points when it was confirmed that starting quarterback Trevor Lawrence would miss his second straight game after testing positive for COVID-19. The Irish, who went from No. 4 to No. 2 in the poll, fetched as much as +225 on the moneyline at DraftKings.
Scott Shelton at the Mirage told Covers.com that, "tickets are dead even, and there are a lot of tickets."
William Hill reported both the public and the sharps were backing Clemson, with 59% of the tickets on the Tigers, along with 63% of the money. The sportsbook won early when a bettor wagered $200,000 on Clemson -3 to lead at halftime.
Notre Dame Snaps Streaks
Fighting Irish head coach Brian Kelly faced AP top-5 teams seven times before, and never won. In fact, his team had never scored more than 27 points in those matchups. They had 33 after four quarters, en route to a 47-40 overtime victory.
Notre Dame extended its home winning streak to 23, the second-longest only to Clemson. The Irish also snapped the Tigers' 14-game road win streak.
No.4 Notre Dame hand no.1 Clemson their 1st regular season loss since 2017!

Irish win a 2OT thriller 47-40.

💰ND (+175) 💰ND +5.5. 💰o50.5#GoIrish #CLEMvsND pic.twitter.com/mI1zuHJLzG

— SportsBettingDime (@SBD) November 8, 2020
Kelly told reporters after the game that it was a huge victory for the program.
"What we're excited about, and what we're celebrating, is that we played with an incredible focus in resolve and those are things that we work on to try to be successful and win football games," Kelly said. "That's what we're celebrating, because you have to keep playing and you have to show an incredible focus and determination."
Is Harbaugh's Job in Jeopardy after Indiana Loss?
Michigan came into the season ranked No. 16, and got as high as 13th before things turned around. After dropping their second game of the season to Michigan State as a 21.7-point pick last week, they faced the Hoosiers on Saturday, favored by as many as 4.5 points before settling at four before kickoff. The last time they were favored by less than seven points against the Hoosiers was in 1988.
The Wolverines never led on Saturday and were down 24-7 at halftime. They lost, 38-21, marking the first time they were defeated by Indiana since 1987.
Harbaugh is now 2-8 in AP ranked matchups when his team is on the road — the most losses by any head coach since 2015, according to ESPN Stats & Info. Still, Harbaugh was upbeat after the demoralizing loss, telling reporters he believes in his team.
"Personal feeling is we're close to doing it," Harbaugh said. "You see it done [in practice], you see it happening, and then it's gotta take the next step of happening in the games."
Though no one at the university commented on Harbaugh, it might be too late to save his job. He's a 5/1 pick to be the first coach in the Big Ten to lose his job.
Crazy End to Liberty-Virginia Tech Game
Liberty was ranked No. 25 in the AP poll for the first time in the program's history, but was still a 17-point underdog to unranked Virginia Tech. The Flames were tied with the Hokies at 35 with three seconds left in the game when they lined up for a 51-yard field goal. The kick was blocked, and returned for a touchdown, seemingly giving Virginia Tech the victory.
But Virginia Tech called a timeout before the play, so the score was nullified. Liberty's kicker, Alex Barbir, then put the kick through the uprights for the victory.
Virginia Tech (-715 ML) blocked a FG to win the game, but VT called a TO before 🤦‍♂️

Liberty (+481 ML) then kicked a GW FG 💰 pic.twitter.com/3hwJeG3yA5

— SportsLine (@SportsLine) November 7, 2020
VT head coach Justin Fuente told reporters the upset was his fault.
"I don't believe in waiting till the last second to call a timeout in those situations because I don't like ever letting the kicker a free swing at it," Fuente said. "I hollered timeout, and I guess I waited too long. That's what I told the team – it's on me."
The Flames were +500 on the moneyline.