Three of the four top teams in the College Football Playoff rankings control their own destiny going into the last poll before the final four teams are set next week. Those that are behind the quartet know they need some help if they have any chance of playing for the national championship.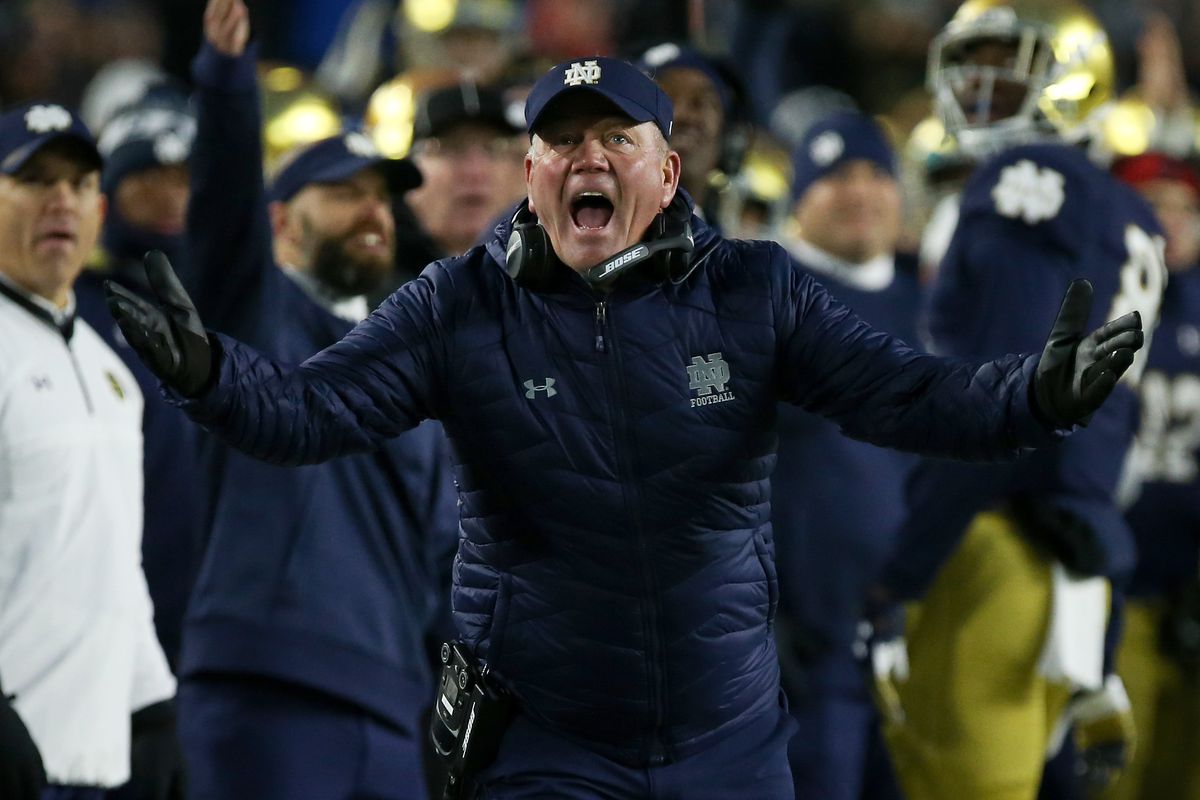 Notre Dame, who is No. 3 seems to have its position set. The Fighting Irish is an independent and doesn't play in a conference championship, like the other top 10 programs. They finished as one of four undefeated teams.
Coach Brian Kelly was on the hot seat two years ago, when the Fighting Irish finished 4-8. Athletic director, Jack Swarbrick stuck with Kelly, despite some boosters calling for his firing. Kelly rewarded his boss with a 12-0 record and the team's first appearance in the College Football Playoffs.
"It was never a question,'' Swarbrick said. "I said at midseason we weren't changing. We never even considered it. Never talked about it again.''
Alabama, Clemson Big Favorites
No. 1 Alabama and No. 2 Clemson are double-digit favorites in their conference championship games on Saturday. The Crimson Tide faces No. 4 Georgia in the SEC Championship, and opened as a 10-point pick. That number quickly went to 13, with the Mirage sportsbook bumping the line to 13.5.
Georgia coach Kirby Smart has seen how explosive his opponent is and has several concerns about Alabama.
"I'm more worried about how we are going to stop these wideouts and how to stop the quarterback," Smart said. "I'm not fatigued by this. I'm a lot more concerned with how we are going to play and where we are going to play guys and how we are going to go about doing things."
Clemson faces Pitt and the Tigers as a 23.5-point favorite. That line went up to 27.5 by Tuesday. Tigers coach Dabo Swinney was critical of his defense that allowed 35 points against South Carolina last week.
"Really just a poor night, man," Smart said. "Awareness was poor. Several busts. Missed alignments. Missed tackles. Poor technique, didn't do a good job challenging the receivers. For whatever reason, it was one thing after another. Not anywhere near our standard defensively around here. Bad news is we played our worse game defensively, and the good news is we are better than that, too."
Waiting in Vain
The bad news for No. 5 Oklahoma and No. 6 Ohio State is Alabama could lose a close game to Georgia and they still wouldn't get in to the Top 4.
There is a scenario where the Crimson Tide lose by a field goal and only fall three spots to No. 4, while Clemson, Notre Dame and Georgia all move up a spot. The Sooners and Buckeyes will need to root for a big upset by the Bulldogs. Oklahoma coach Lincoln Riley, though, isn't worried about what ifs.
"Right now I'd ask them if they understand how difficult it is to beat Texas because that's all I'm worried about," Riley said. "I get it. I get it's going to be a conversation. It was the same thing last year. We knew that we had to win this game and most years, most teams are going to have to win their conference to get into the playoff. I know that's not a surprise to anybody. I want my team's focus right there and if I'm going to do that then I've got to make sure mine is there as well."