Among her growing fan base, Coco Gauff has both ESPN and New Balance rooting for her. But that won't necessarily lessen the pressure for the 15-year-old as she heads into the US Open.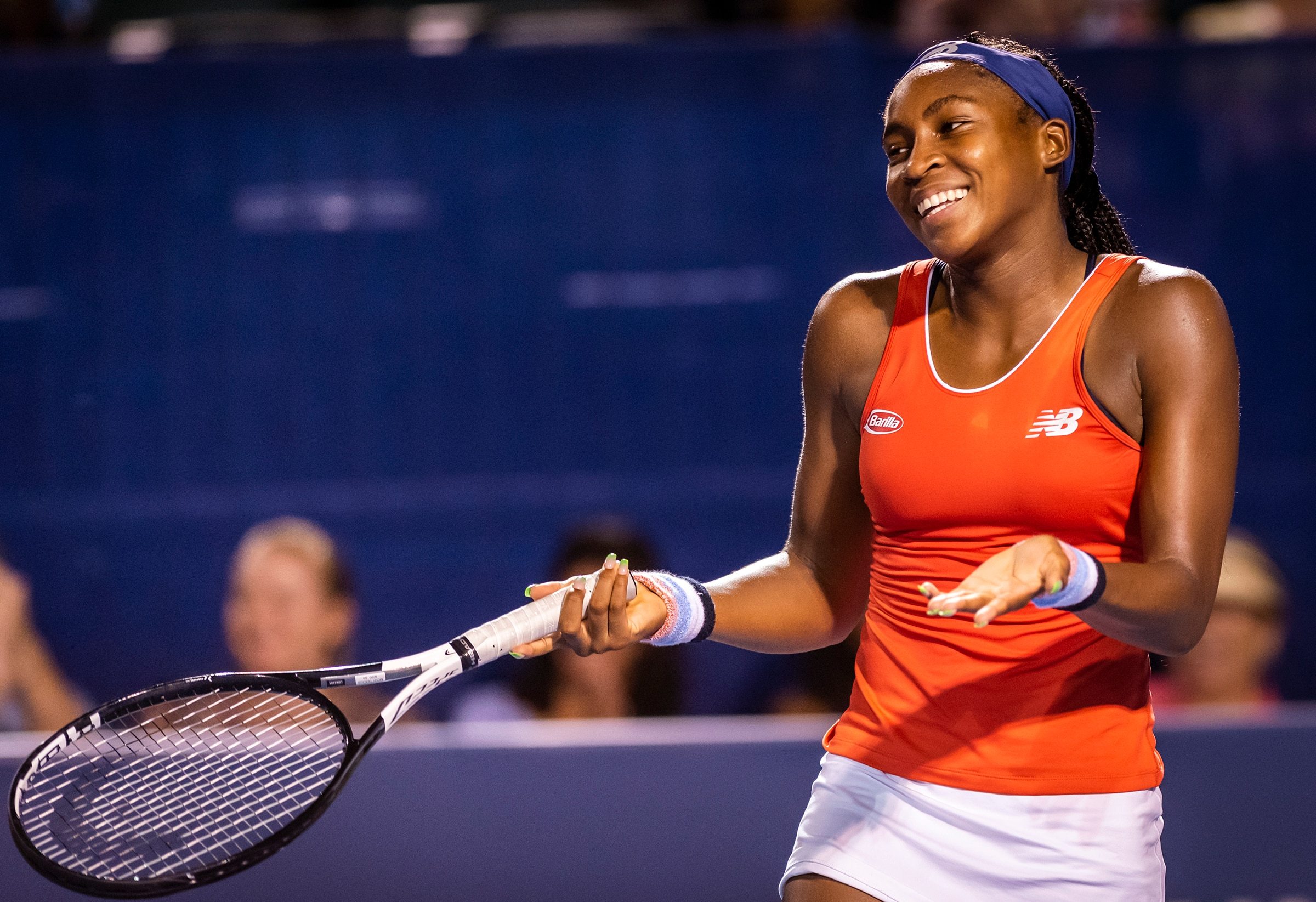 Cori (aka Coco) Gauff is a long shot in the US Open. Ranked 141 in women's tennis by the World Tennis Association (WTA), her odds of winning the Grand Slam event are roughly +3300. But she's arguably one of the best-known long shots in the field.
Coco Gauff = ESPN Ratings Gold
Earlier this year, Guaff became the youngest player ever to qualify for the main draw at Wimbledon. In her first round debut, Guaff upset veteran Venus Williams in straight sets. Predictably, Guaff's match against Venus Williams was a well-watched affair. That was obviously due to Williams' popularity. But if ESPN worried about its ratings after losing Williams, Gauff's second match allayed those fears.
Gauff was ultimately eliminated in the fourth round at Wimbledon. But all four of her matches were the most watched singles match of the day. As a result, ESPN's viewership for the first seven days of its Wimbledon coverage was up 29% from the previous year. That was also good news for the athletic wear company, New Balance.
New Balance Finds New Life with Athletes Like Gauff
For many years, New Balance was the also-ran behind Nike and Adidas. But since 2010, New Balance has become more of a player, upping its revenues from $1.8 billion in 2010 to $4.1 billion in 2018. Savvy athletic endorsements have been key to New Balance's growth spurt.
New Balance has picked up some premier athletes who felt neglected by the "big two." For instance, New Balance signed Kahwi Leonard  just six months before he lead the Toronto Raptors to their first NBA Championship. The company also focuses on up-and-comers, like Darius Bazley and Coco Gauff.
New Balance signed Bazley nearly a year before the 2019 NBA draft. Gauff signed with New Balance when she was still competing in the juniors with a WTA ranking of 874. Basically, the company has gotten very good — or very lucky — at scouting new talent.
Win or Lose, Call Me Coco
After Gauff's Wimbledon run, some hype going into the US Open was expected. But it has become so much more. Last week, Gauff edged out No.2 ranked Ashleigh Barty in a sold-out exhibition match, making headlines in all the New York newspapers. Gauff is also on the cover of this month's Teen Vogue. Meanwhile, the US Open is playing up what they've dubbed "Coco-mania." As a result, Gauff's round one match will be held in Louis Armstrong Stadium, one of the main stadium courts.
While all the added hoopla is well and good for ESPN and New Balance, it is yet to be seen whether it's good for Coco Gauff. Maybe that's the message behind her latest New Balance campaign, "Win or Lose, Call Me Coco." On Tuesday Aug. 27, Guaff will face off against Anastasia Potapova, another tennis teen sensation. If Gauff can successfully navigate her first two rounds, she will likely face the defending US Open champion Naomi Osaka in round three.
I may be the new kid, but win or lose, Call me Coco 😊 #CallMeCoco @newbalance pic.twitter.com/tyxwzpcPSF

— Coco Gauff (@CocoGauff) August 21, 2019
More Coco Gauff Related Stories:
US Open Coco-Mania: Gauff Beats Babos, Next Up McCoco Doubles
Coco Gauff Wins Nail Biter, Advances to Second Round of US Open