Clemson fans are breathing a lot easier with quarterback sensation Trevor Lawrence returning to practice on Monday after a scare during Saturday's game involving a neck injury.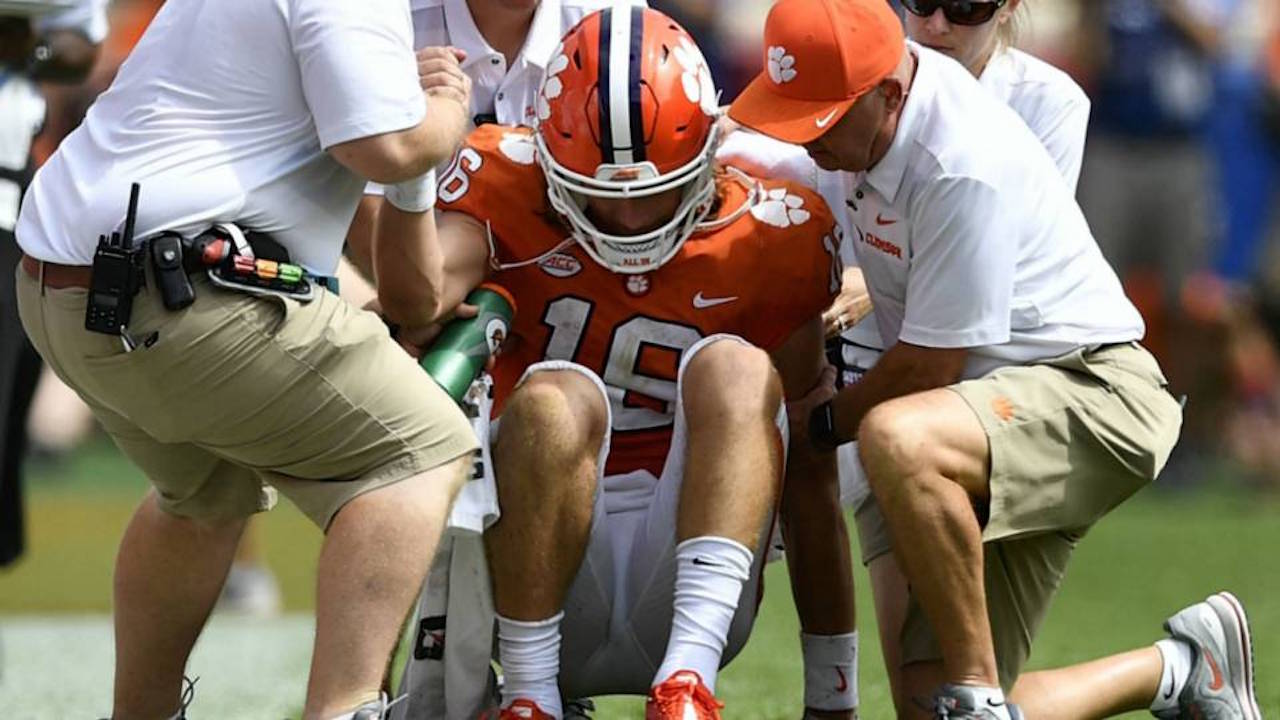 The freshman took snaps with the first team during the Tigers Monday practice and cleared concussion protocol, thus reassuring concerned observers all was going to be OK. Some feared Lawrence had suffered a concussion against Syracuse on Saturday, when was hit near his head on a run play late in the second quarter, and came off the field under his own power.
Medical tests showed no concussion, and coach Dabo Swinney said on his Monday radio show that his star player had a strained neck muscle and had already improved considerably.
"His neck's not quite as sore," Swinney said. "It was pretty sore on Sunday but everything checked out OK. He was back out there and took all the reps. He looked good."
Third Stringer to the Rescue
Though the Tigers were 25-point favorites at home to Syracuse, the game was looking like an upset alert when the Orange had a 16-7 lead at halftime.
With former starter Kelly Bryant leaving the team after being demoted, the Tigers' third option, redshirt freshman Chase Brice was pressed into duty. Brice played admirably, leading the team to a comeback that included converting on a 4th and six with just under three minutes to play.
Brice's play was a shock to many, but not to Swinney, who told reporters after the game that he had faith in his backup.
"Chase was the third guy in the spring," Swinney said. "I said many times in fall camp, y'all aren't asking me about Chase Brice. I'm telling you he can play. I'm not surprised. He will never forget this. For him to have to go in and win a game in that type of situation. More important, his teammates will believe in him. That's priceless."
Swinney said he was impressed with his team and how they came together.
"I've never been more proud of a team in my entire life," Swinney said. "I'll never forget this one. This will rank up there as one of the biggest ones I've had. I saw a team grow up. I saw a team stand up for each other and have each others' backs. It's one for the ages. It's one I won't ever forget."
Plan B Averted
With Lawrence coming back and ready to play this Saturday for Clemson against Wake Forest, where they are a 17-point favorite, the team was able to dodge a bullet in regards to what they were going to do at quarterback.
Brice was going to get the start if Lawrence couldn't go, but it was who would back him up that was a concern. Brice likes to run with the ball, startling his coach, who would rather see him slide to safety.
"Chase Brice was refusing to go down, trying to get those tough yards, and I'm like, 'Oh God,'" Swinney said.
The team wouldn't have a lot of options if Brice went out with an injury, so on Monday they were set to utilize freshman Ben Batson and receiver Hunter Renfrow.
Fortunately it didn't come to that, and Swinney can sleep a little easier.