If fans were looking for intrigue in the first edition of the college football Coaches Poll, they were severely let down. The poll released its first edition for the 2019 season and Clemson was ranked No. 1. It was the first time the Tigers were ranked atop the preseason poll. The Tigers received 59 of 65 first-place votes.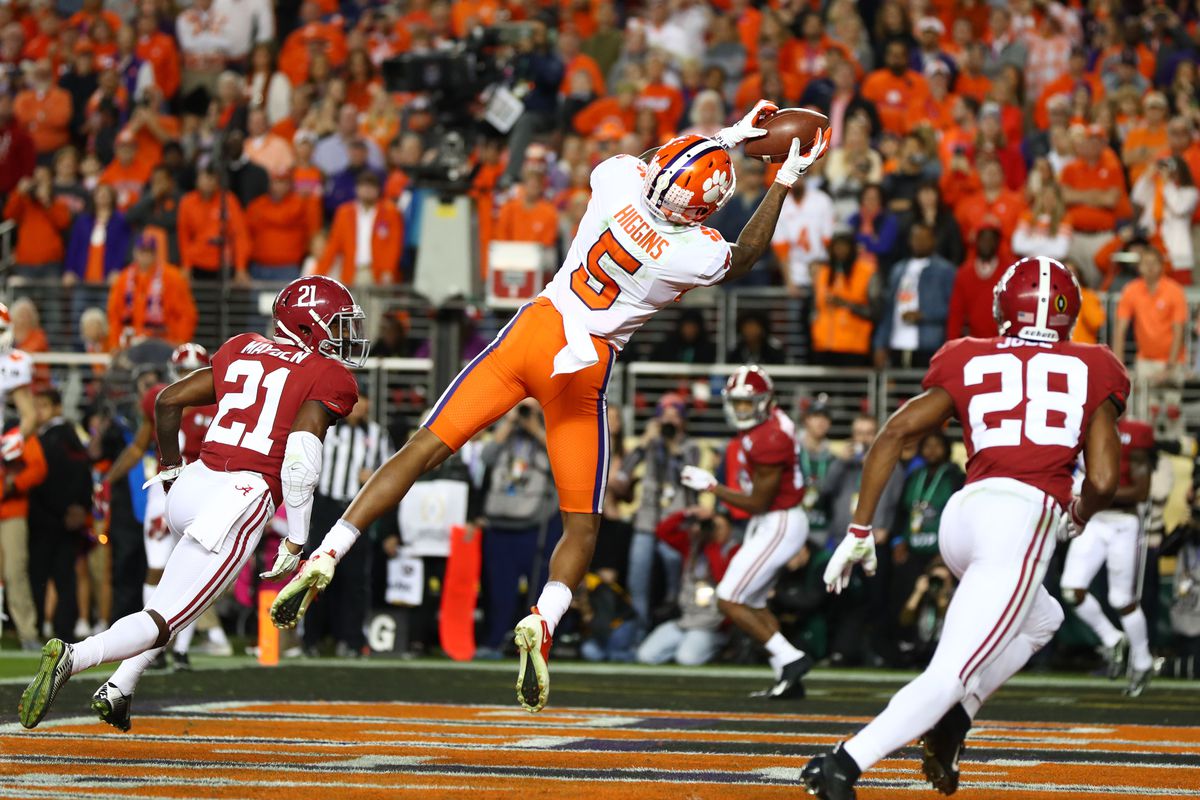 The other six first-place votes went to the team they defeated in the national championship game. Alabama is ranked No. 2. It is the first time since 2015 the Crimson Tide was not the top-ranked team in the first poll of the season.
The rankings were based on two factors. The first was Clemson's 44-16 drubbing of Alabama in the title game in January. The second was the belief of that second-year quarterback Trevor Lawrence will have an even bigger year for the Tigers.
Quarterback Battle
Lawrence, along with Tua Tagovailoa, is the overwhelming choice to win the Heisman Trophy. Both are at 3/1, while the next choice is Nebraska quarterback Adrian Martinez at 10/1.
As a freshman, Lawrence completed 259 passes for 3,280 yards and 30 touchdowns. Tagovailoa's sophomore year saw him complete 245 passes for 3,966 yards and 45 touchdowns.
Not surprisingly Clemson and Alabama are the top picks to win the 2020 national championship game. The Tigers are +225, while the Crimson Tide are at +250. Georgia is the next pick at +600.
Oddsmakers at the Westgate Las Vegas SuperBook are so confident that either Clemson and Alabama are going to win, they have offered a unique proposition bet. Either one of those teams winning is -190, while the rest of college football is at +160.
Power Conferences Well Represented
Georgia was ranked No. 3 in the poll, 119 points behind Alabama. The Bulldogs are part of six teams that are ranked. Alabama (No. 2), LSU (No. 6), Florida (No. 8), Texas A&M (No. 11), and Auburn (No. 16) are the others.
The Big 10, though, leads the conferences with seven teams. Ohio State was the highest at No. 5. They are followed by Michigan (No. 7), Penn State (No. 14), Wisconsin (No. 17), Iowa (No. 19), Michigan State (No. 20), and Northwestern (No. 25).
One team that won't be in the poll is Missouri. The Tigers Missouri are not eligible for this year's ballot. USA Today, which puts together the poll, said it is the policy of the American Football Coaches Association that its members are prohibited from voting in the coaches' poll for teams that are under major sanctions. Missouri received a postseason ban from the NCAA for violations. The last team to be excluded from the poll was USC in 2010.
The Associated Press College Football Poll will be released on August 19.
Coaches Poll                                                   Points
Clemson                                       1,619 (59 first place votes)
Alabama                                       1,566 (6 first place votes)
Georgia                                         1,447
Oklahoma                                     1,415
Ohio State                                    1,368
LSU                                               1,218
Michigan                                      1,155
Florida                                          1,103
Notre Dame                                 1,100
Texas                                          1,038
Texas A&M                                   893
Washington                                  834
Oregon                                          787
Penn State                                    699
Utah                                               642
Auburn                                          606
Wisconsin                                     436
Central Florida                              436
Iowa                                               343
Michigan State                              313
Washington State                         274
Syracuse                                       227
Stanford                                         200
Iowa State                                     169
Northwestern                                 161