Boston Red Sox starter Chris Sale became the first pitcher to strike out 17 batters in just seven innings of work, but the Sox still lost 5-4 to the Colorado Rockies in 11 innings on Tuesday night.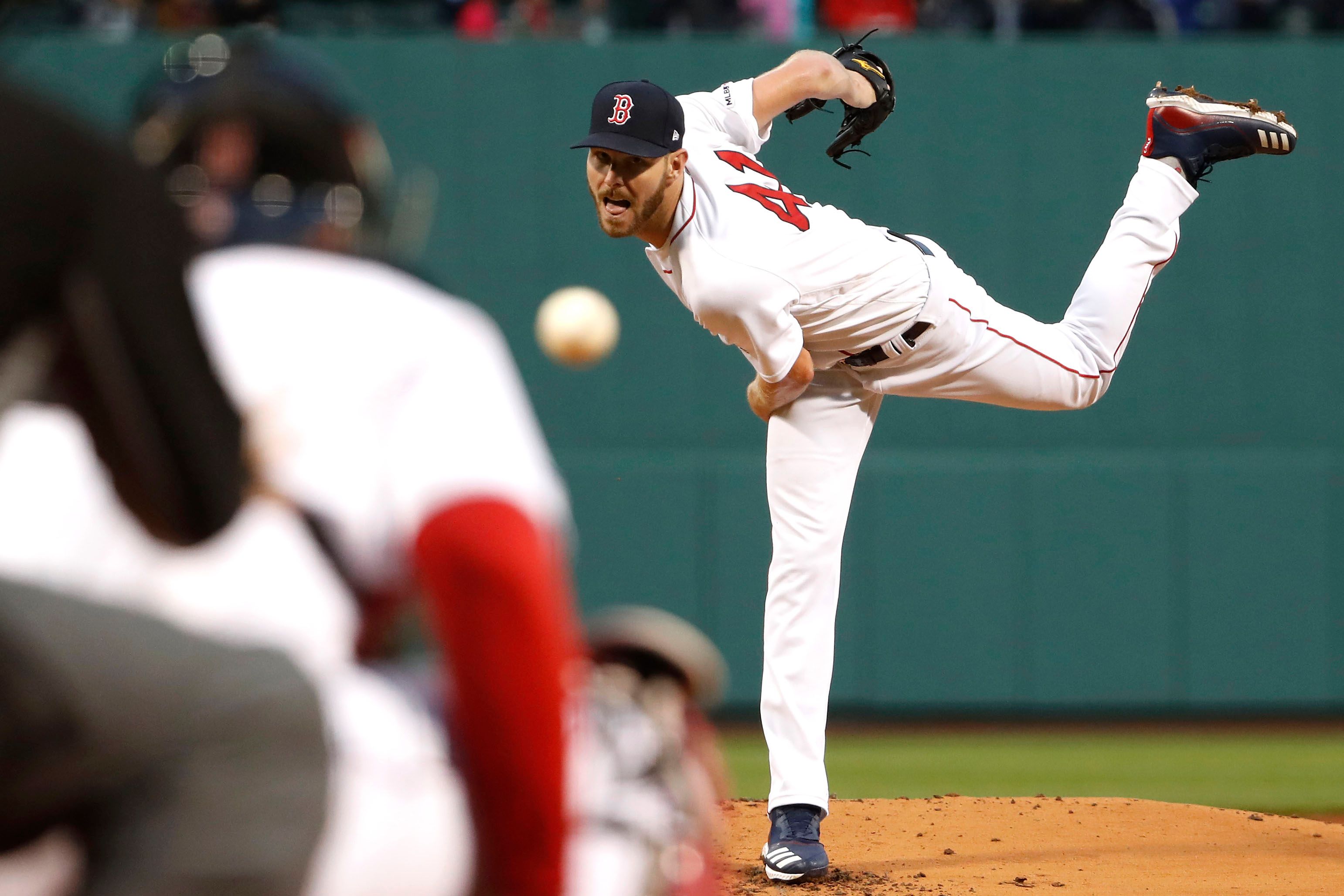 Sale was pulled after throwing 108 pitches with a 3-2 lead, then watched his bullpen fail to hold the lead before the game went to extra innings.
Sale Okay with Being Pulled
After seven innings, Sale had a realistic chance of matching or surpassing the MLB record of 20 strikeouts in a nine-inning game. That mark has been achieved five times, most recently by Max Scherzer in 2016.
But on a cold night in Boston, manager Alex Cora decided that enough was enough for his ace, and while Sale would have loved to have stayed in the game, he said he was okay with his skipper's decision.
"You've got 17 punchouts, you definitely want to go out for [another] inning," Sale told reporters after the game. "But I respect him as much as anybody on the planet and I'll never question anything he does, even in regard to that."
Sale suffered from shoulder problems last season, which has led the Red Sox to be somewhat conservative with his usage so far in 2019. Still, Sale admitted that he was rooting for his pitcher to go as far as possible on Tuesday.
"That was fun to watch. First time I've been in something like that, you know, watching the strikeouts and watching the pitch count," Cora told reporters. "We wanted him to go deep. He was amazing."
Rockies Rally for Extra-Inning Win
Sale was also showing signs of losing his dominance in the seventh inning. He gave up a two-run homer to Colorado's Nolan Arenado in his final inning, cutting Boston's lead to 3-2.
"Seven innings and 17 punchouts is great but at the same time, I had terrible timing with giving up the runs I did," Sale said after the game. "That was the one that got them back in this game and gave them a breath of fresh air."
Brandon Workman came in to pitch the eighth inning for the Red Sox, allowing a double by Chris Iannetta followed by a home run by Charlie Blackmon that gave the Rockies a 4-3 lead. A Mitch Moreland single in the bottom of the eighth plated a run for Boston, making it 4-4 and setting up extra innings.
Colorado would ultimately win the game in the 11th when Mark Reynolds singled home Trevor Story with the go-ahead run.
The loss snapped a five-game winning streak for the Red Sox, who have recovered after a slow start in April. After winning eight of their last 10, Boston now stands at 22-20, four games behind the AL East leading Tampa Bay Rays.
While the defending champions may not have gotten off to a hot start, they're still seen as a likely contender for the World Series. Boston is listed at +200 to win the AL East at FanDuel Sportsbook, just ahead of the Rays (+220) and behind the New York Yankees (+105). The Red Sox are also listed at +1300 to win the World Series, making them the fifth choice to win the title this season.