Baltimore Orioles first baseman Chris Davis, who set a new MLB record for 54 consecutive hitless at-bats, ended his nightmare slump with a bases loaded single in the first inning against the Boston Red Sox.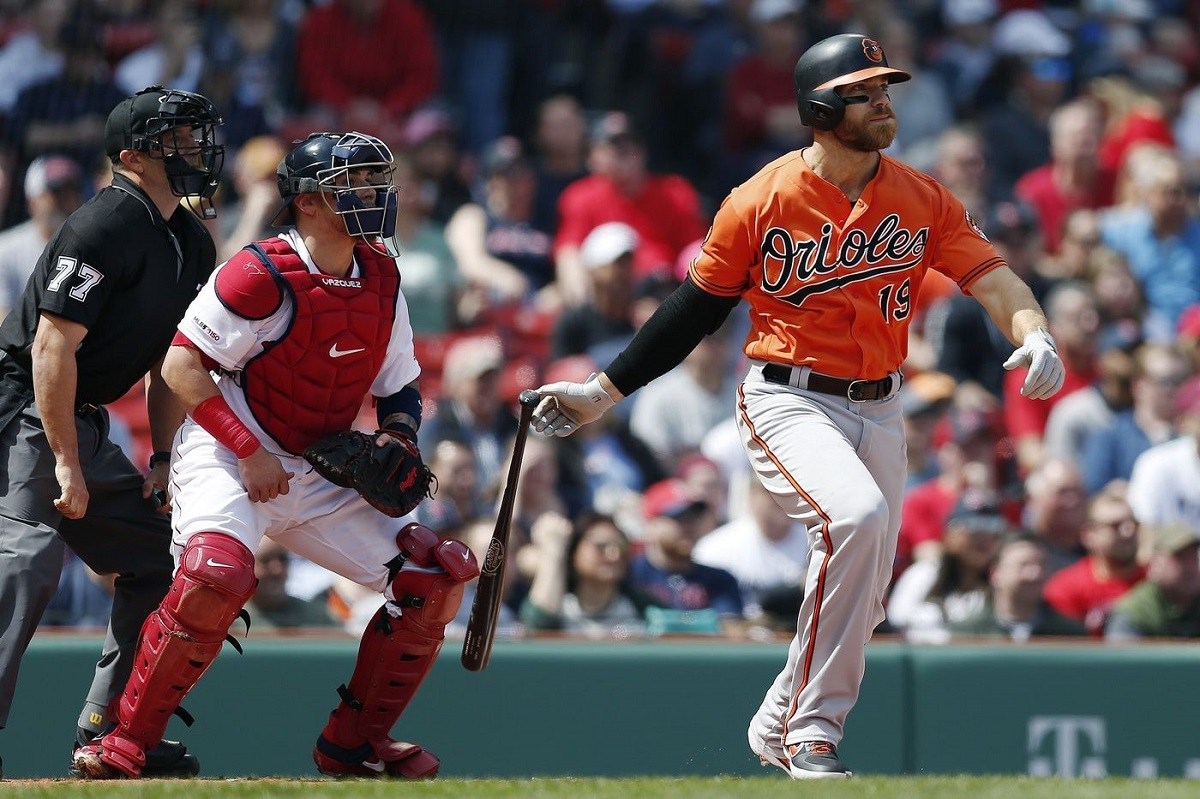 Davis finished the day 3-for-5, including a pair of doubles. The Orioles (6-9) defeated the Red Sox 9-5 and halted a four-game losing streak.
"Significant weight lifted off my shoulders," Davis happily told reporters after the game.
Davis is now hitting .079 in 13 games this season. He had last got a hit on September 14, 2018.
0-for-54
The defending champion Boston Red Sox, with only 5 wins this season, were battling the beat-up Yankees for last-place in the AL East.
The Orioles got to Boston starter Rick Porcello early and loaded the bases in the first inning. Davis stepped up to the plate and he lined the second pitch into right field for a single. Two runs scored and the Orioles bench went berserk. Even the fans at Fenway gave Davis an ovation for finally ending his hitless streak.
Davis demonstrated a little humor and asked for the ball as a souvenir.
"That's a long time without getting a hit," Davis said. "I don't know what I'm going to do with it, but obviously something special."
Davis smacked two doubles later in the game and drove in two more runs. He finished the say with three hits and four RBI.
"I tried not to let the slump dominate my thoughts, especially the last few days when I really felt better at the plate and still wasn't seeing any return," Davis said. "I was glad to see not one fall today, but get a few hits, like I really contributed to the win."
🍻 Cheers, #Baltimore!

Chris Davis knocks a 2-run single in the 1st. 💪 pic.twitter.com/E9emfDa6B5

— Baltimore Orioles (@Orioles) April 13, 2019
Huge Relief
Baltimore manager Brandon Hyde is thrilled that he no longer has to field questions about the hitless streak. For the first time all season, the first-year manager of the Orioles had something positive to say about Chris Davis.
"This guy is tough. This guy is mentally tough," said Hyde. "To persevere through that, the spotlight on him, everybody is talking about him, to see him talking about it on TV. To see him be the same guy every day and put in so much extra time. To see the results work out for him, it's a great feeling."
Davis, 33, is the oldest player on a team dominated by younger teammates. Despite the hitless streak, Davis held it together in the locker room even though his own fans booed him. Many of his teammates noticed how a true professional handled a slump. Slumps are a part of the game, which is something all players endure at some point during a season.
"Tough times don't last, but tough people do," third baseman Rio Ruiz said. "That's all you need to know about Chris Davis."
Last week, Davis broke the MLB hitless record, which previously stood at 46 consecutive at-bats by former LA Dodgers utility infielder Eugenio Velez.