The Taiwan-based Chinese Professional Baseball League once again set a first for global sports during the COVID-19 pandemic on Friday, as two ballparks welcomed back fans, albeit in limited numbers.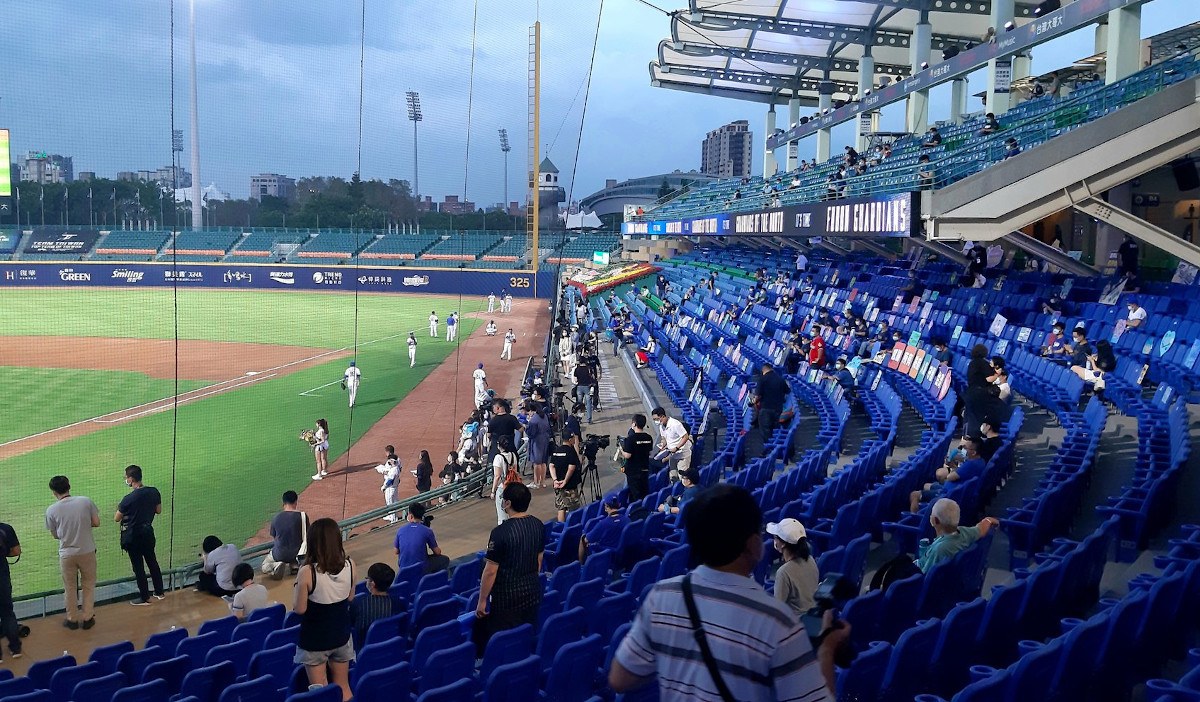 The CPBL welcomed up to 1,000 fans to each of Friday's two games, the first time that spectators watched games live since the league began play in mid-April.
CPBL Stadiums Allow for Social Distancing
The CPBL reached an agreement with Taiwan's Central Epidemic Command Center that allowed fans to attend games while still respecting social distancing guidelines.
"One month has elapsed since the start of play on April 11," the CPBL stated on its website. "With the unity and cooperation of the government and the people, the epidemic in Taiwan has eased. Welcome back fans!"
WELCOME BACK FANS!!!!

We are hoping to allow 1000 fans to our stadiums as early as May 8th!Thank you to all the frontline workers at @MOHW_Taiwan for making this possible! #CPBL #TaiwanCanHelp#baseball pic.twitter.com/SaarkBuZsg

— CPBL 中華職棒 (@CPBL) May 5, 2020
Each CPBL stadium seats between 10,000 and 20,000 fans, allowing for plenty of distance between spectators at the moment. According to ESPN, CPBL games normally average about 6,000 fans.
Fans who show up to the ballpark in Taiwan are dealing with a very different experience than your typical outing to a baseball game. Food isn't allowed in the ballpark, and concession stands are closed in the stadiums, which left some fans complaining of being hungry at the end of a three-hour game, according to the Taipei Times.
Spectators Screened Before Entry
Supporters must also go through health screenings before entering. Teams are taking the temperature of every fan before entering, and all visitors must fill out a health declaration that includes a recent travel history. Masks are also mandatory.
"Today we start with opening ballparks, but with limits and in phases," Taiwanese Minister of Health and Welfare Chen Shin-chung told the crowd before the game between the Fubon Guardians and the Uni-President 7-Eleven Lions. "Step by step, let us see if we can continue to contain the virus. To maintain a good life, let us do this together. We can have success in containing the outbreak, so let us cheer each other on."
Each spectator received a small placard which read "Congratulations on being the first fans to attend a baseball game this year."
The Korea Baseball Organization (KBO) recently followed the CPBL's lead, holding its Opening Day on Tuesday. Both of those leagues are far ahead of Japan's Nippon Professional Baseball, which has yet to announce a target date for starting its season, let alone Major League Baseball in the United States.
MLB officials have begun formulating a plan that could see spring training start as early as June 10, with Opening Day happening on July 1 or soon thereafter. That proposal has yet to be finalized or sent to the players' union for approval, and many acknowledge that the suggested timeline is ambitious given the current state of the COVID-19 pandemic in the United States.