Anish Giri needed blitz tiebreakers to get past Ian Nepomniachtchi in their third set of games on Thursday and reach the finals of the Chessable Masters online chess tournament.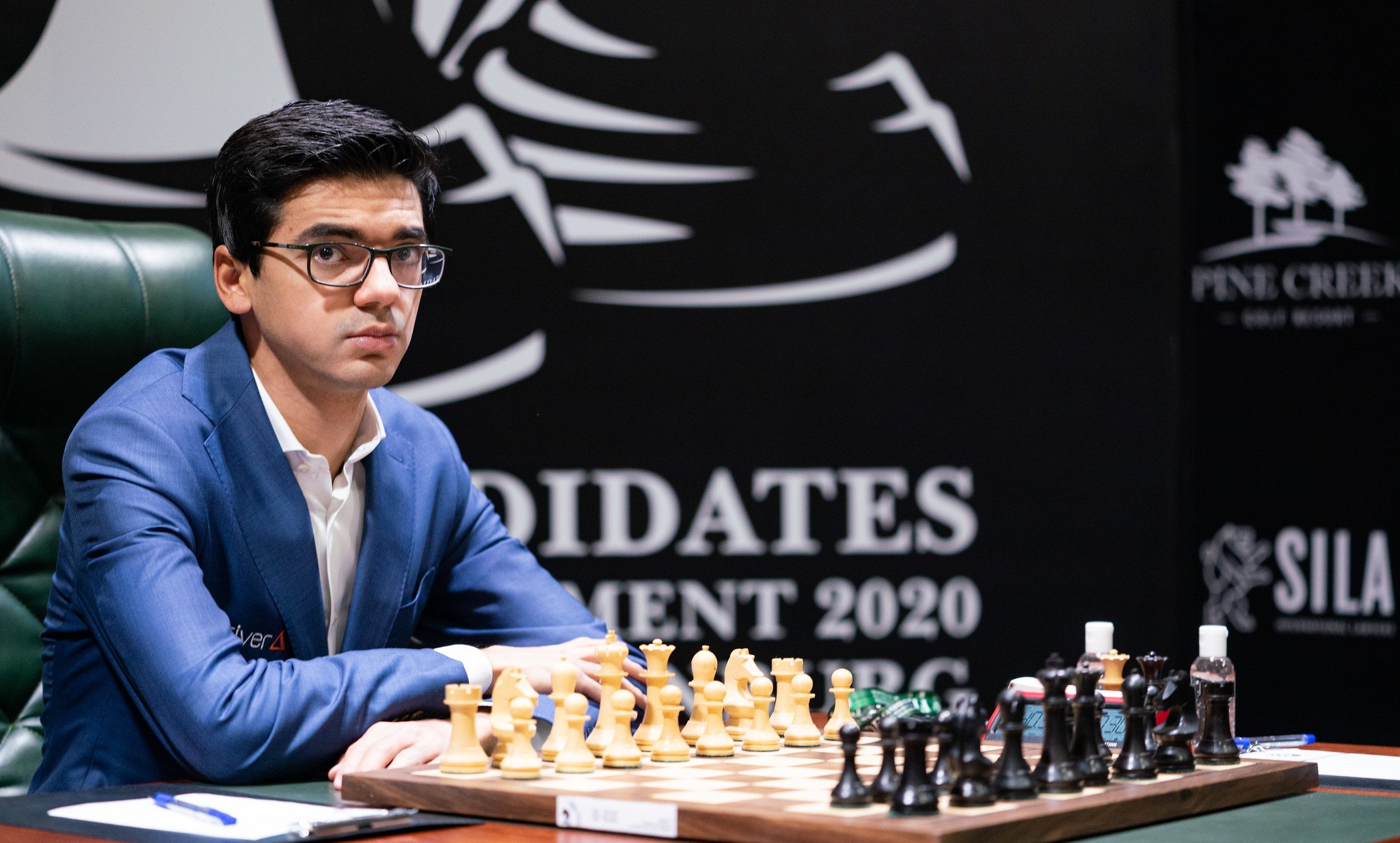 Giri advances to face off against World Chess Champion Magnus Carlsen in the final, which begins on Friday.
Giri Overcomes Game 1 Loss to Win Final Set
The third set capped a back-and-forth semifinal which began on Tuesday. On the first day, Giri posted a dominating 3-1 victory, winning both of his games as White. Nepomniachtchi stormed back in the second set, handing Giri his first loss of the tournament on his way to a 2.5-1.5 win.
That set the stage for a winner-take-all third set on Thursday. Nepomniachtchi took White and won the first game, but Girl was able to immediately equalize in Game 2. After two draws, the set went to a pair of blitz tiebreakers. After a draw, Giri crashed through Nepomniachtchi's position in the second to score a decisive win and move on to the final.
Carlsen has less trouble in his Chessable Masters semifinal matchup with Ding Liren. The first set produced some drama, as the two traded wins in the first two games and then stood deadlocked until Carlsen scored with Black in the second blitz tiebreaker.
The World Champion dominated Wednesday's second set. Carlsen opened by winning with Black, then repeated that feat in the third game to cruise to an easy 2.5-0.5 victory and move on to the final.
"I guess except from the opening of the first game," Carlsen said when commentator Peter Svidler said he had played well on Wednesday. "I suspect after that it was pretty good."
War of Words Culminates in Chessable Masters Final
The results set up a dream final of sorts for the Chessable Masters. Carlsen and Giri have become famous for their friendly trash talk, trading barbs over Twitter and during their commentary and interviews throughout the tour. Both players had repeatedly said they'd like to meet up in the final after topping their pools in the group stage, though Giri acknowledged he had an uphill battle ahead of him.
It's the final we were all waiting for – starting Friday! https://t.co/UI0lVM2DOt #c24live #StudyChess pic.twitter.com/z5p0tziXOZ

— chess24.com (@chess24com) July 2, 2020
"He's the favorite always and he's shown good chess in this tournament so far," Giri said of Carlsen. "He beat Fabi and Ding like they're babies, but they don't have active Twitter accounts and they don't have the social media skills I possess!"
Of course, Giri will need to do more than tweet well to get past Carlsen, who already has one win on his namesake Magnus Carlsen Chess Tour. Online bookmaker Bwin has pegged Carlsen as a -1000 favorite over Giri (+500) to take the final and win the $45,000 first prize.
Bettors searching for a reason to take the longshot do have something to hang their hat on. Giri has been in excellent form throughout the event. The Dutch grandmaster has lost just two games out of 35 played in the Chessable Masters, while winning eight. On the other hand, Carlsen has arguably performed even better: He has won 11 games against just three losses from 25 played.