Swiss Skydiver, Charlatan and Knicks Go are three names you'd expect to find in the world's richest race – the $20 million Saudi Cup. And those three American stars headline a lengthy nominee list for the Feb. 20 Saudi Cup.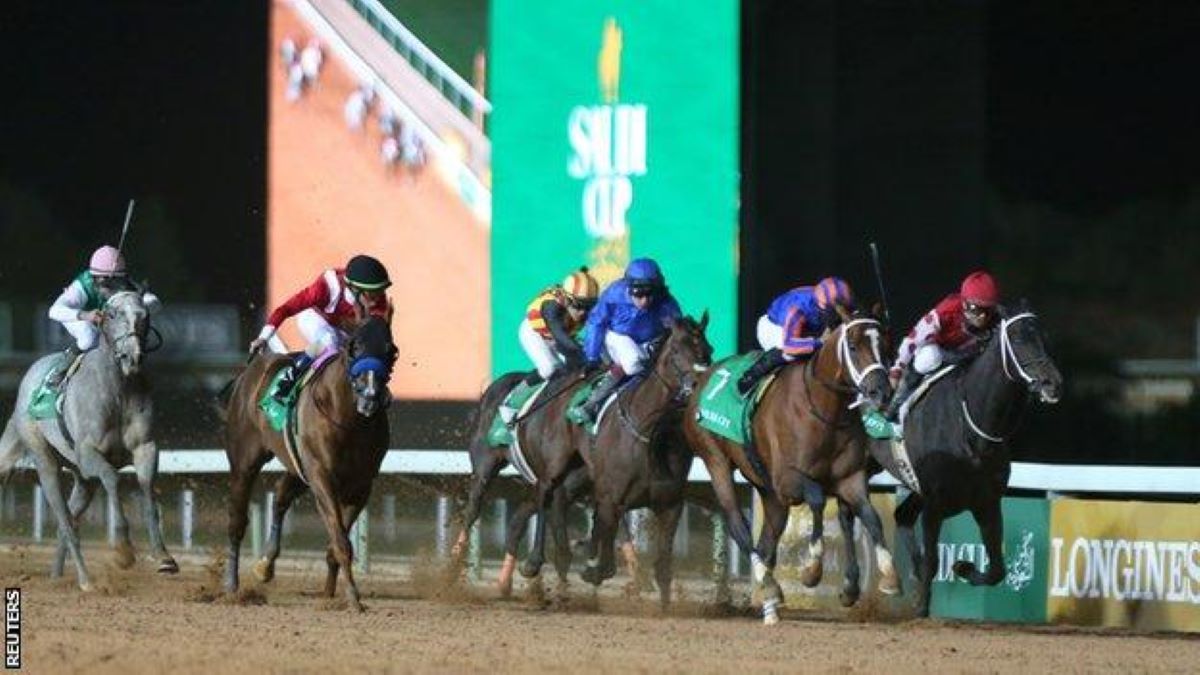 The 1 1/8-mile Saudi Cup drew 109 nominees from nine countries. It highlights a two-day, eight-race card at King Abdulaziz Racecourse outside Riyadh offering $30.5 million in purses. All told, 1,036 horses were nominated to the eight races.
But amid all that international talent, the eyes gravitate toward the aforementioned trio of Preakness Stakes champion Swiss Skydiver, Malibu Stakes winner Charlatan and Breeders' Cup Dirt Mile winner Knicks Go.
Should she make the 14-horse field, Swiss Skydiver finds herself in the role of last year's Saudi Cup wonder distaff – Midnight Bisou. The now-retired Midnight Bisou ran perhaps her best race in the Saudi Cup, finishing second to Maximum Security.
Cup Chalk? Look No Further than Charlatan and Knicks Go
As for Charlatan and Knicks Go, they figure to share favorite status, along with targets on their backs from many of their American equine brethren. Those brethren include last year's fifth-place finisher, Tacitus, two-time Grade 1 winner Code of Honor, Cigar Mile winner True Timber and multiple stakes winner Sleepy Eyes Todd.
Other American notable nominees include Storm the Court, Tax, Max Player, Jesus' Team, Independence Hall, Math Wizard and Gronkowski, who finished 10th last year. The runner-up in the 2018 Belmont, Gronkowski now runs in the Middle East.
Don't expect to find all of the above in the 14-horse field. The winner of the Jan. 23 Pegasus World Cup Invitational gets an automatic spot. But the name of the race is the Saudi Cup, not the USA Cup. An international flavor comes baked into this field.
The Saudi Cup Brings Out European Dirt Standouts
That starts with three John Gosden nominees from Great Britain led by Mishriff, the runner up in the 2020 Saudi Derby on last year's undercard and the Group 1 Prix du Jockey Club winner. Gosden also nominated Global Giant and Dubai Warrior. Along with that trio, there's Irish-bred, British-trained multiple Group 1 winner Addeybb.
Japan represents with that country's Dirt Horse of the Year, Chuwa Wizard, who earned an automatic berth by winning last month's Group 1 Champions Cup. That was one of four Saudi Cup qualifying races. Other Japanese nominees include 2020 Dirt Derby winner Danon Pharoah and Omega Perfume, who won the Group 1 Tokyo Daishoten.
Aside from Gronkowski, the Middle East contenders include American-bred New York Central, who won the Dirt Sprint in amazing fashion on last year's Saudi Cup undercard. They also include Alzahzaah, who brings a four-race winning streak into the Saudi Cup. That includes the Group 1 Crown Prince Cup.
Tune Into Channel Maker Going International
Notable nominees on some of the seven Saudi Cup undercard races include multiple Grade 1 winner Channel Maker, who trainer Bill Mott nominated for the $2.5 million Long Distance Turf Handicap and the $1 million Middle Distance Turf Cup. Storm the Court was also nominated for the Middle Distance Turf.
Jackie's Warrior and Hot Rod Charlie highlight the $1.5 million Saudi Derby American contingent. This presents a calculated risk for trainers Steve Asmussen (Jackie's Warrior) and Doug O'Neill (Hot Rod Charlie).
On one hand, there's traveling halfway around the world and taking a shot at a $900,000 first-prize check. On the other, there's balancing that with what traveling halfway around the world could take out of their charges heading into the heart of Kentucky Derby prep season.
Jackie's Warrior currently sits at 45/1 on Circa Sports Kentucky Derby Futures Board and 40/1 at William Hill Nevada. Hot Rod Charlie is 70/1 at Circa, 50/1 at William Hill.
Cloud of Maximum Security's Unpaid Purse Lingers
"We are absolutely thrilled with the final entry list for this year's Saudi Cup meeting, especially given the challenges everyone has been faced with over the past 12 months," said Tom Ryan, director of strategy and international racing for the Jockey Club of Saudi Arabia. "Considering this is only the second year of a new international racing event, both the quality and depth of entries has grown significantly and there some really strong momentum behind the meeting. We have seen marked improvements across the board, but most satisfying to us is the support that our turf races and the Saudi Derby have received."
This year's Saudi Cup proceeds while last year's $10 million first-place prize remains in limbo. Saudi racing officials withheld that hefty chunk of the purse pending an investigation into the alleged doping scandal surrounding Maximum Security's then-trainer, Jason Servis.