Between 2008 and 2011, Kendrick Carmouche won seven riding titles at Parx, outside Philadelphia, staking his claim as that track's dominant jockey and earning a spot in its Hall of Fame. But that was at Parx; a nice track, but a track out in the riding provinces.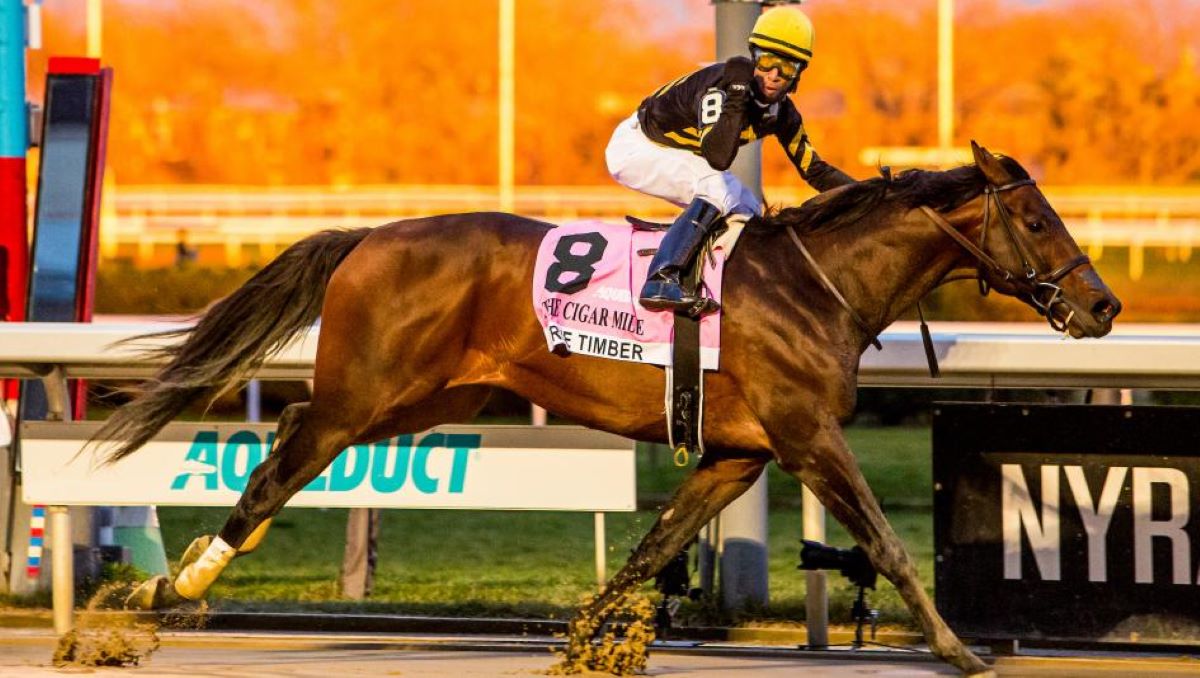 Now, Carmouche is a New York riding champion, courtesy of his 23 victories in Aqueduct's just-completed 18-day fall meet. The 36-year-old journeyman captured his first New York Racing Association riding title, earning more than $1.5 million for his 123 mounts.
Carmouche won 18.6% of his races and put 44.7% of his rides in the money (55 of 123). Better yet, he did so against the likes of Jose Lezcano, Joel Rosario, Irad Ortiz Jr., and John Velazquez. Lezcano (19 wins) and Rosario (16) finished 2-3.
Velazquez is the all-time leading money winner among jockeys, and the rider of this year's Kentucky Derby and Breeders' Cup Classic winning horse, Authentic. Ortiz, a two-time Eclipse Award-winning rider, is generally considered the best jockey in North America. One ranking placed him fourth worldwide for 2020.
New York Jockey Colony Indisputably Nation's Best
Coming in this company, Carmouche's performance at Aqueduct is a sign he deserves to shine under the bright New York lights.
"I seized the opportunity at hand and I'm grateful for all the trainers and owners for letting me show other people that I can win races," Carmouche told the NYRA. "I'm very blessed to say that I've come to New York five years ago and I got a title for the fall meet. I'm very pleased with myself. I'm sure my mom and dad and all my fans are just so happy for me. I'm on cloud nine and I might not come down until next Thursday."
What put Carmouche on cloud nine was his first Grade 1 win in Aqueduct's penultimate race of the meet, the Cigar Mile. He rode 7/1 True Timber to a dominant, 5-½-length victory in Big A's marquee fall race. When you consider Carmouche owns 3,314 career victories, it's frankly amazing that was his first Grade 1 trip to the winner's circle.
Cigar Mile is Carmouche's Biggest Career Win
"This means so much to me," he said after the race. This is the biggest win of my career and I hope I have many more blessed ones."
"Was this a grade one?!" @KendrickCarmou1 exclaims as he makes his way back to the winner's circle with TRUE TIMBER in the Cigar Mile! This is Kendrick's first G1 victory!!!!!

*cue the tears* pic.twitter.com/Es7AuPHeOL

— NYRA (🏙) (@TheNYRA) December 5, 2020
Again, it comes back to opportunities. Carmouche made the most of his this meet, capitalizing on the Breeders' Cup siphoning some of NYRA's top riders off to Keeneland for the weekend. He won nine of 27 races that weekend (33%), along with two runners-up and a third. Bet Carmouche that weekend at Aqueduct and you went to the window 44% of the time.
Yet, when Ortiz, his brother Jose, Rosario, and Lezcano returned from Kentucky, Carmouche never missed a beat. He won races for 14 different trainers, some of whom learned Carmouche is more than just a journeyman rider. One of those is Todd Pletcher, who gave Carmouche 13 mounts at the meet. He won seven of those races.
Carmouche Benefits from Pletcher's Standout Mounts
Pletcher told the Daily Racing Form that he plans to keep Carmouche in his riding rotation.
And why not? Carmouche won three other stakes races during the meet: the $100,000 Tempted with Pletcher's Malathaat, the $100,000 Central Park with Never Surprised, and the $250,000 New York Stallion Stakes Series Fifth Avenue aboard Laobanonaprayer. That latter race last Sunday cinched Carmouche the riding title.
Now, Carmouche can savor the title for a few more days. Aqueduct begins its 56-day winter meet on Thursday. It runs through March 28 and offers 42 stakes worth $4.57 million. It also offers plenty of more opportunities for Carmouche, who won 35 races at the meet last year, to show off his talent and prove he can be a big fish in a big pond.