If Vequist was a human being, she'd be the daughter of an established, well-to-do family. She'd be a debutante before winding up at one of those Eastern colleges at which the scions of America's top families often find themselves.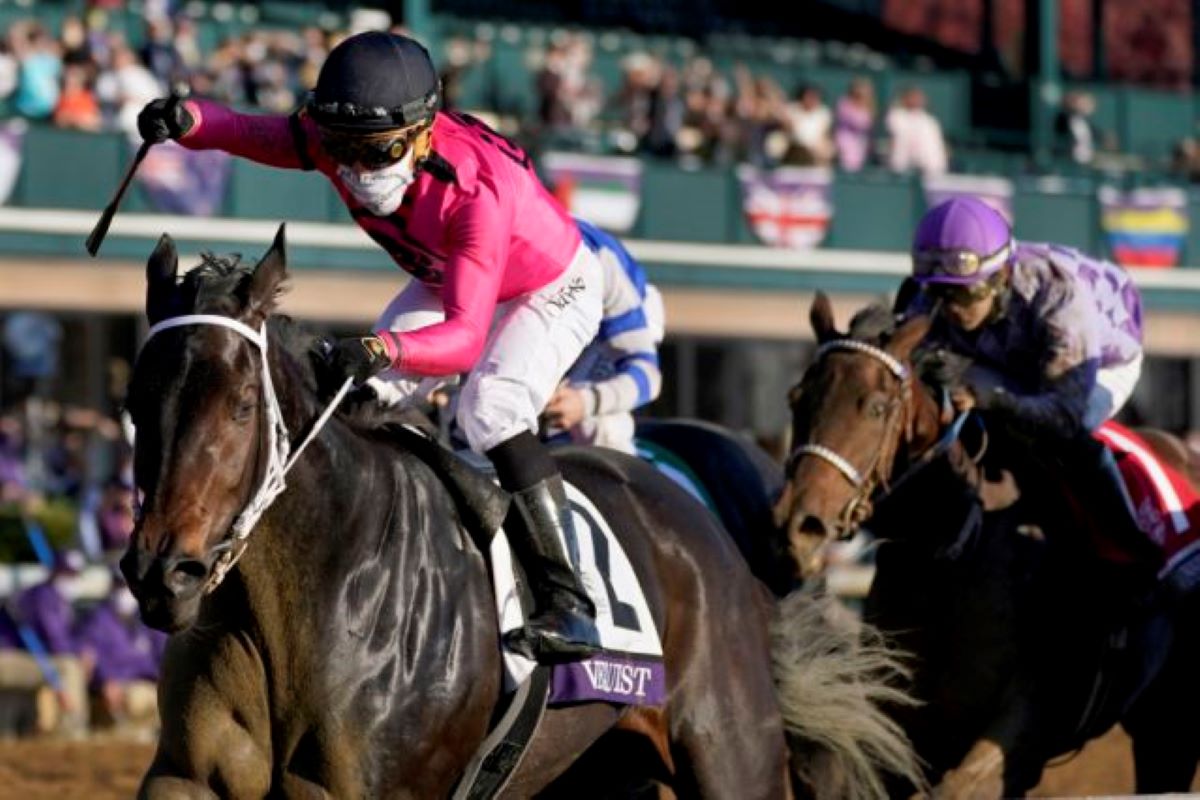 Instead, Vequist – who makes her 3-year-old debut in Saturday's Grade 2 Davona Dale at Gulfstream Park – is the equine version of that blue-blooded debutante. One grandsire is Mineshaft, the 2003 Horse of the Year and Champion Older Male Horse. The other is Uncle Mo, who went 5-for-8 in his career, won more than $1.6 million, and who is one of the most prolific sires in the world.
Vequist's sire? That would be Nyquist, the 2015 Champion 2-Year-Old and 2016 Kentucky Derby champion.
If you want to go back three generations, there's great-grandsires Indian Charlie and A.P. Indy. Indian Charlie won his first four races before finishing third in the 1998 Kentucky Derby. The late A.P. Indy won the Belmont Stakes en route to an eight-win season and nearly $3 million in earnings. He was an easy selection for Eclipse Champion 3-year-old male and Horse of the Year.
Vequist became more than a Breeders' Cup afterthought
These are the bloodlines Vequist carries into the starting gate for her first race since winning the Breeders' Cup Juvenile Fillies by two lengths last November. There, she turned the tables on her juvenile rival, Dayoutatheoffice, who beat Vequist by two lengths in the Grade 1 Frizette Stakes. The pair were 10 ¼ lengths ahead of everyone else.
Because of that, 6/1 Vequist was the fifth betting choice in the Juvenile Fillies. An afterthought, despite the fact she captured the Grade 1 Spinaway at Saratoga by 9 ½ lengths in only her second start.
That led to Vequist's Eclipse Award as Champion 2-Year-Old Filly. The debutante came out in style.
"It was a sensational year. It all happened so quick," trainer Butch Reid told Gulfstream Park. "One day, we were in a maiden race at Parx and the next thing we knew, we were winning a Grade 1 at Saratoga. It was all a bit of a blur."
Uncharted dirt for ultimate grinder Reid
Based at Parx, Reid can be excused for trying to push pause on this ride. He's been at this training thing since 1985 and Vequist is his first champion.
"It was a box that I was never sure that I would check, training a champion, so it was nice to get that accomplished," Reid said.
Now, Champion 2-Year-Old status in tow, Vequist begins her own path away from debutante and into legitimate company with her ancestors. That starts with the Davona Dale, the first of two starts Reid is seeking before the April 30 Kentucky Oaks.
The Davona Dale, where Vequist is the 7/5 morning-line favorite, is a one-turn mile that fits Reid's training schedule. She breezed every other week since mid-January, with her going 59.65 seconds for five furlongs on Feb. 13. That was the second-fastest of 30 at that distance that day.
You can see a difference between November and now
"I expect her to run well. We don't have the screws completely tightened for this one, but it should be a nice stepping-stone with some big races down the line in mind," he said.
When he sends Vequist out on those "big races down the line," Reid sends out a filly who is rounding nicely into a track force. He noticed over the 114 days since she ran at Keeneland for the Breeders' Cup that Vequist is a more physically and mentally mature specimen. In other words, that blue blood is coursing faster through her veins.
"Definitely, physically, you can see it. She's bigger and she's filled out nicely since her 2-year-old campaign," Reid said. "She always had a good head on her shoulder, so she didn't have too much to jump forward there. She's just a smart filly and doesn't worry about too much, so we're excited to get this first one under our belt."