In what would otherwise be a nice, but unremarkable Black-Type stakes race, Jessica Pyfer turned Saturday's Snow Chief Stakes into one of the day's feel-good racing stories.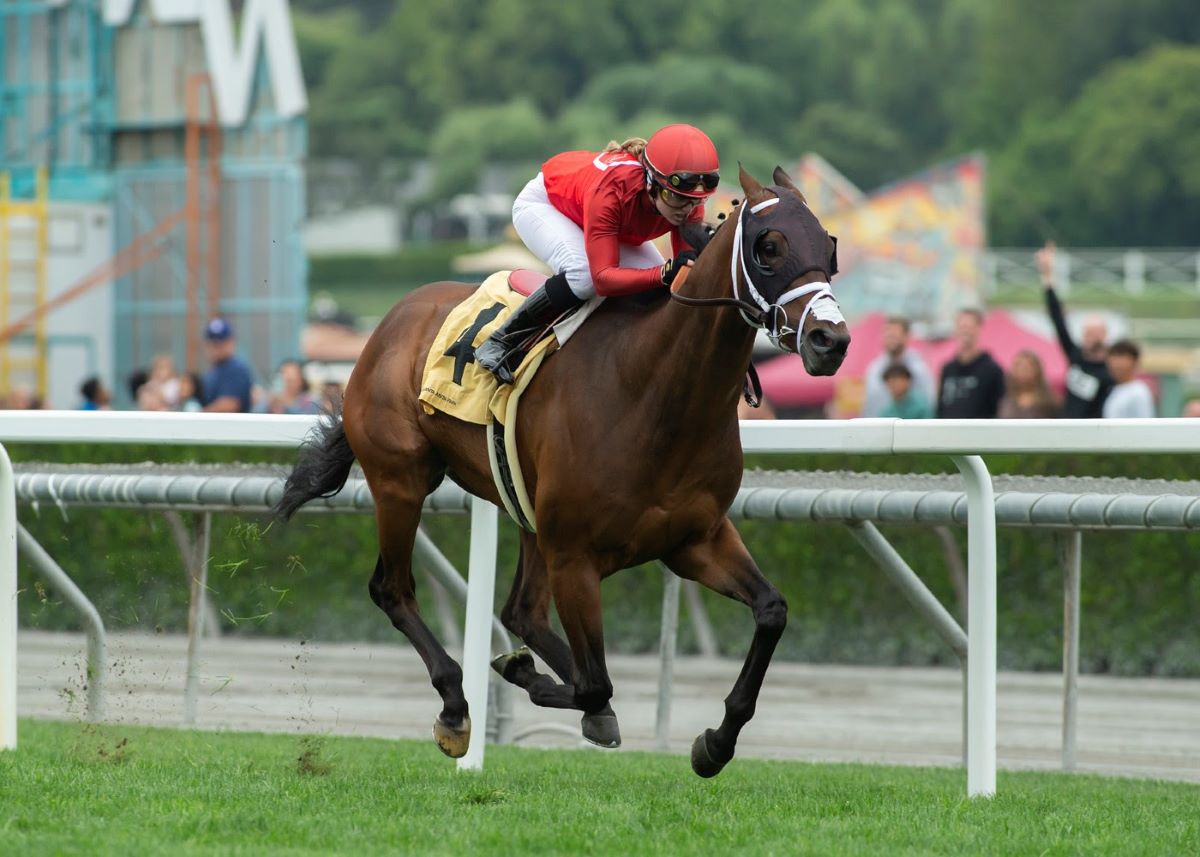 The reigning Champion Apprentice Jockey, Pyfer returned to the races eight days after being injured in a paddock accident to win her first stakes race as a journeyman jockey. Pyfer piloted Bally's Charm to a resounding 5 ¾-length victory in the Snow Chief at Santa Anita Park.
The Snow Chief score came in a race that is part of the Golden State Series, races for California-bred or sired horses. This Golden State Series race for 3-year-olds was one of 11 stakes races on Santa Anita's Memorial Day weekend card. It's not a race that will draw the attention you'll get in Grade 1 affairs like Monday's Hollywood Gold Cup or Shoemaker Mile.
But Pyfer and Bally's Charm, the 2/1 second choice, put the spotlight on the Snow Chief. The pair wired the field in the $150,000 race, turning aside even-money favorite Smuggler's Run with a dominant turn-of-foot in the stretch. It was the 3-year-old gelding's second consecutive win and third overall in six starts.
Pyfer is still waiting for that company
"I was waiting for some company to come up with me and it never happened, so I didn't know what happened behind me. But I knew my horse had so much talent," Pyfer said after the race.
Blessed ❤️ https://t.co/bjk8qOoEjI

— Jessica Pyfer (@jockeyjess) May 29, 2022
After taking the last two weeks off, Pyfer is just happy for the company of horses. She hadn't ridden since May 14. But much of this hiatus came as the result of a May 20 accident. Pyfer was kicked by Tricky Ricky in the paddock walking ring. Pyfer went to the hospital, where no serious injuries were found. She then took off her mounts for the duration of the weekend.
Just left the hospital! X-rays are clean! Just a deeply bruised hip! Thank God and thank you to all those who were there for me and the messages you have sent! Was definitely a shocking and scary experience! I will get some rest and reevaluate in the morning! ❤️

— Jessica Pyfer (@jockeyjess) May 21, 2022
"I had one rider ask me if I might need somebody, but I said Jessica would be good," trainer Jeff Mullins said. "She knows him, she's been on him every time, and she's worked him every time. I wasn't going to do that."
Bally's Charm is an under-the-radar gelding
Pyfer built a reputation as an apprentice last year for keeping horses relaxed and in a rhythm. That reputation – along with 74 victories and $3.2 million in earnings – brought her the Eclipse Award as Champion Apprentice Jockey of 2021. In her final race as an apprentice last November, Pyfer won a Del Mar maiden claimer aboard 50/1 Primer Dimer.
"He is just super special," Pyfer said about Bally's Charm. "Like I said before, I don't think he has it all together yet and that's how talented he is. I'm just really blessed I get to ride him."