US Women's National Team star Carli Lloyd has won two Women's World Cup titles during her career. But her kicking earned her new attention last week when she blasted a 55-yard field goal at an NFL practice last week.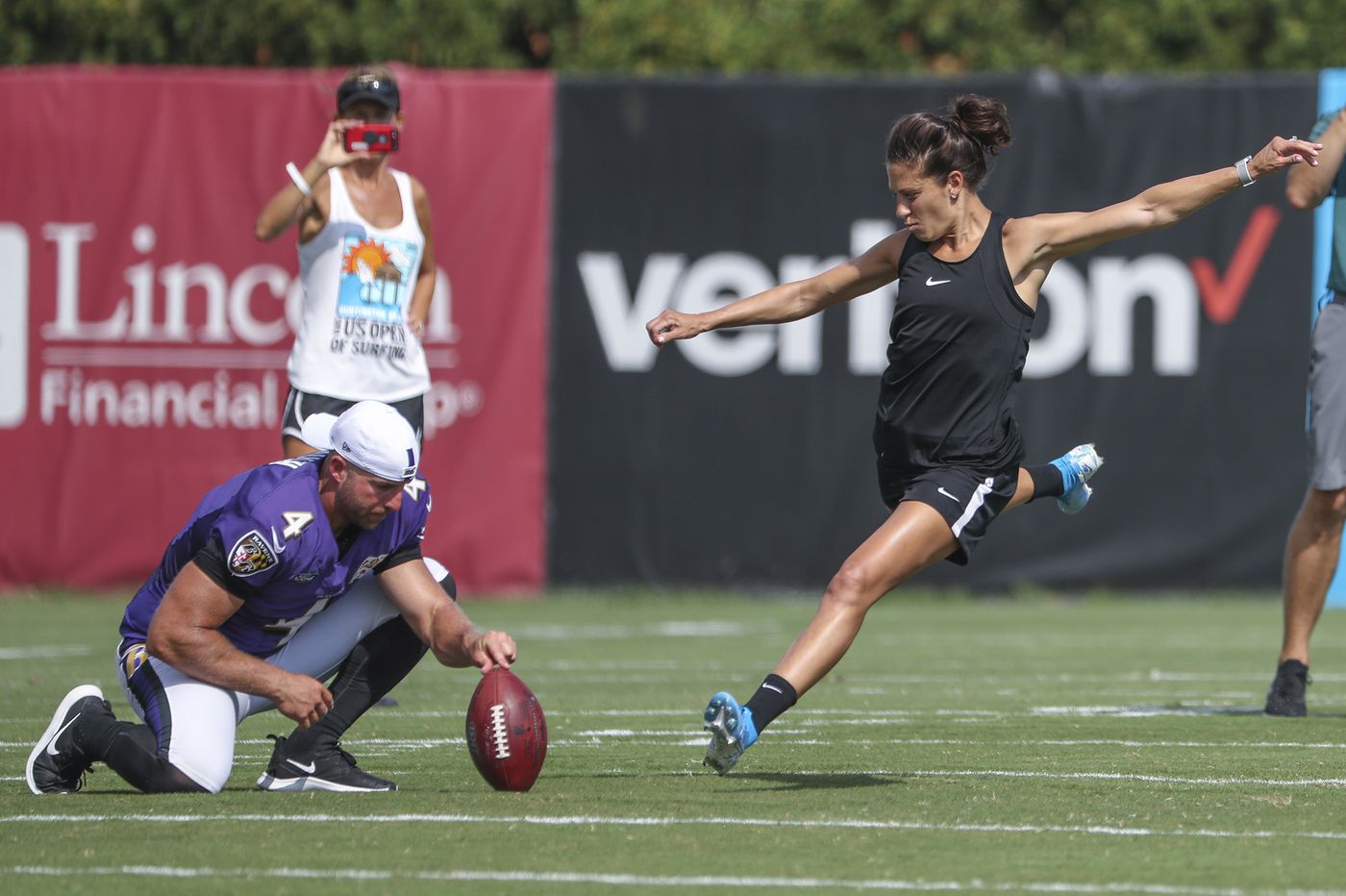 Given that she's known for having a big, accurate leg, Lloyd wasn't surprised at her success. Now, the soccer legend is saying that there's no reason to think women couldn't do the job as kickers for NFL teams.
Lloyd Goes Viral After Blasting Long Ball
Lloyd got the chance to test her own kicking prowess last Tuesday, when Lloyd's favorite team, the Philadelphia Eagles, was holding a joint practice with the Baltimore Ravens. Lloyd started out kicking from 40 yards out, then nailed the 55-yarder that got the world's attention.
Thank you to the @Eagles for having me out! Thanks to @JustinTuck @jake_elliott22 @MayorRandyBrown for the good time and tips! 🏈 🎯 #55yd pic.twitter.com/owZ16f46Th

— Carli Lloyd (@CarliLloyd) August 20, 2019
"I could kick field goals all day long. I absolutely love it," Lloyd told NBC Sports' Peter King. "I love kicking long balls in soccer, and it carries over to football. The technique is the same, and I think I'm very accurate."
In fact, Lloyd apparently continued to try longer field goals, though 55 appears to have been her best in practice.
"I tried from 57, but it was wide; the distance was good," Lloyd told King. "I would have kept going – my competitive nature. But I felt like I was holding them up out there."
Kicking Might Provide NFL Path for Women
Lloyd had no idea someone was taping her, and was shocked when she learned that the video had gone viral. But in the aftermath, she says she realized kicking could be "a pioneering moment for women."
"The mindset I have, I think with practice, I know I have to work on my steps and my technique, but I think I could do it and do it well," Lloyd said. "There is no reason why a woman could not do this. And I actually invite the pressure. I love the pressure."
After her visit to practice, Lloyd told Sports Illustrated's Planet Futbol TV that she "definitely got some inquiries" from NFL teams, but didn't provide specifics on exactly what that meant. She also noted that – at least for now – her plan was to remain exclusively a soccer player.
On the other hand, she said nothing bad could come of her – or another woman – getting a tryout.
"[The] big thing would be getting used to the big boys out there. But nothing scares me," Lloyd told King. "What's the worst that can happen? I don't make the team? Let's just say I did try. Maybe I change the landscape a lot."
Dedicated women's football has been gaining in popularity in recent years, but some women have also competed alongside men. In 2016, the National Federation of State High School Associations said that more than 1,900 girls were playing on high school football teams in a variety of positions. Several women have also kicked or punted at the collegiate level, including for FBS level teams.