The Tampa Bay Lightning thoroughly outplayed the Montreal Canadiens in a 5-1 drubbing in Game 1 of the Stanley Cup Finals. Now, the home team will look to take a 2-0 lead in the series when they host Game 2 on Wednesday night.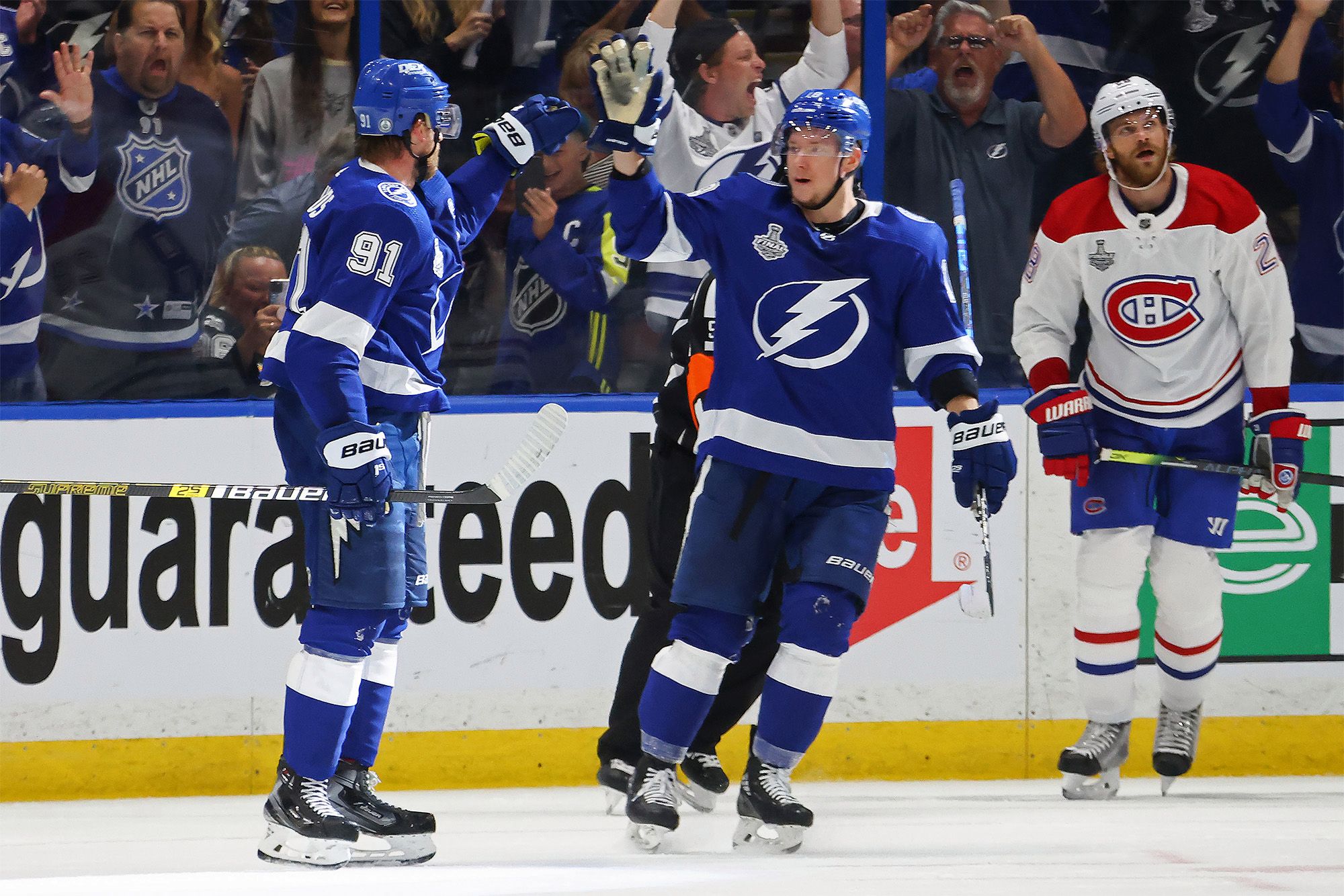 The Lightning dominated Game 1 from start to finish, out-skating the Canadiens and getting every significant chance on their way to outshooting Montreal 27 to 19.
Both teams say best is yet to come
Montreal's only goal deflected off of two Tampa Bay players on its way to the net. Otherwise, Andrei Vasilevskiy enjoyed a relatively easy night, making 18 saves in the victory.
Monday was obviously a bad night for the Canadiens. But the Lightning say they can play much better as well.
"I don't think we played our best game either," Tampa Bay forward Tyler Johnson told reporters. "I think both teams hare going to keep getting better as the series progresses. I think we have another gear as well, so that's all we're really focusing on."
The Canadiens will need to find a way to slow down Tampa Bay's top line, including Nikita Kucherov, who scored twice and contributed an assist in Game 1. Montreal center Nick Suzuki says his unit must be able to contend with the best the Lightning has to offer if the Canadiens want to stay in the series.
"We had a few turnovers. Me personally, I had two," Suzuki told reporters. "Just have to keep those down, be smart with the puck. I think once we get in the offensive zone, we can outwork them there."
Lightning enjoy home-ice advantage again in Game 2
Canadiens assistant coach Luke Richardson agrees with that assessment, noting that he doesn't have the ability to mix things up in Tampa Bay, as the Lightning have the last change and can thus dictate the matchups coming out of stoppages.
"You can try and flip things around a little bit, but obviously the home team has last match," Whoever's out there, we talked about it, has to be on your toes. Obviously, when the [Brayden Point] line especially is out there, they're very dangerous."
---
Canadiens vs. Lightning Game 2 Odds (via FanDuel Sportsbook)
Montreal Canadiens: +180
Tampa Bay Lightning: -215
Puck Line
Canadiens (+1.5): -162
Lightning (-1.5): +134
Stanley Cup Winner
Canadiens: +430
Lightning: -550
---
Tampa Bay comes into Game 2 as a significant -215 favorite over Montreal (+180), according to FanDuel Sportsbook. It's hard to disagree with that assessment, given how easily the Lightning controlled Game 1. But Montreal forward Brendan Gallagher says the Canadiens can fight back if they play the same way they have throughout the postseason.
"We believe that when we play the way we need to play, we play our game, we dictate the style of hockey that it is, we can play with anyone," Gallagher told reporters. "I think we've shown that here through three rounds. Game 1 we got away from that … for us tonight it's about getting back to our strengths and making sure we're controlling the style of the game."