One of the many byproducts of Authentic's Kentucky Derby win came this week when Spendthrift Farm increased Into Mischief's stud fee to $225,000 for the 2021 breeding season.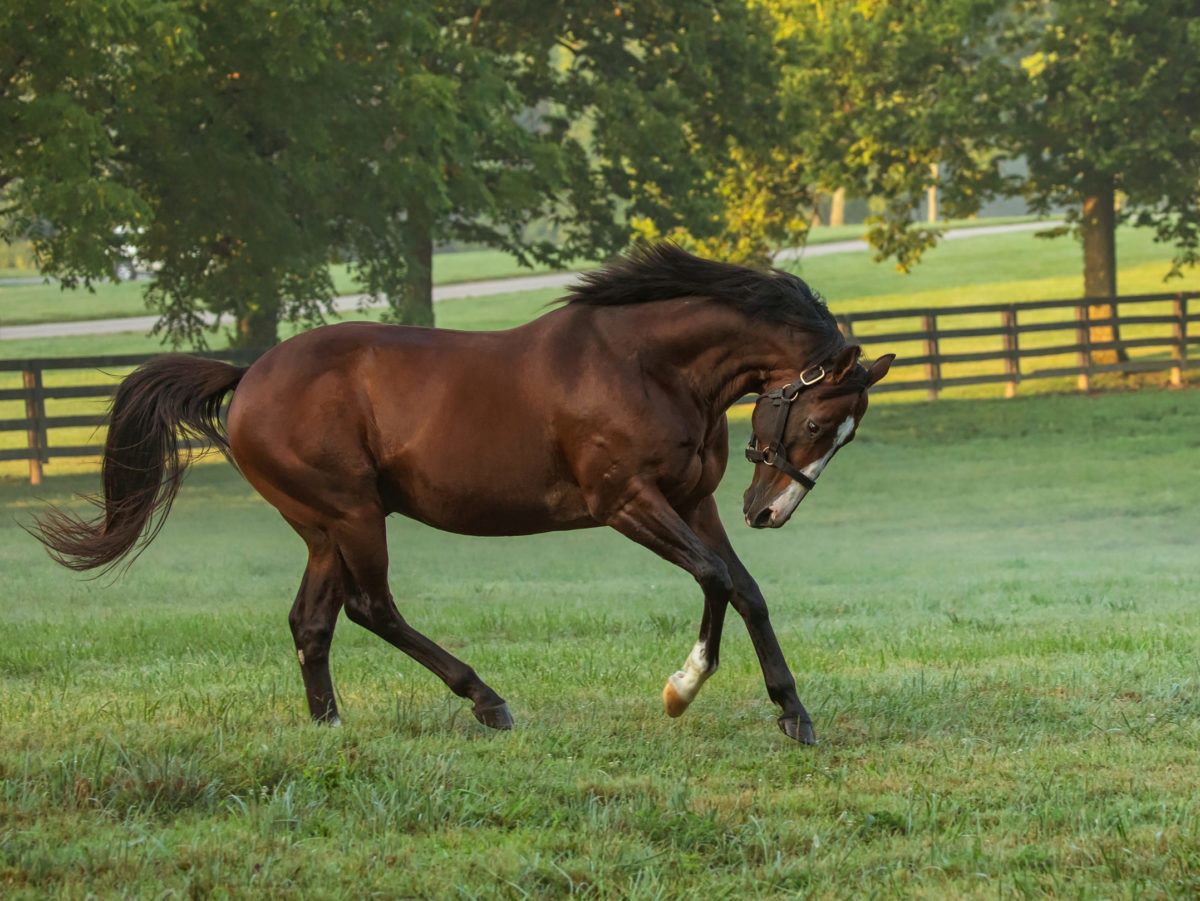 The sire of Authentic, Into Mischief's 2020 published stud fee was $175,000. To give you an idea of how sizzling hot Into Mischief is as a stallion, his current 3-year-old crop, led by Authentic and two-time Grade 1-winning filly Gamine, came with a $45,000 stud fee.
But breed an American Classic winner and all bets aren't off. They're up. Into Mischief's $225,000 fee trails only War Front's $250,000 among North American published stud fees.
"In our minds, there was only one box left to tick for Into Mischief, and that was siring a classic winner. Authentic was able to do that pretty emphatically in the Kentucky Derby, and we continue to believe the best is still to come for Into Mischief," Spendthrift Farm General Manager Ned Toffey said in a release. "Authentic, Gamine and these 3-year-olds were bred on a $45,000 fee and Into Mischief has continued to cover better books every year. It has been gratifying to see him thrive in the sales arena, including having the second-highest yearling average, along with more seven-figure yearlings than any other North American sire in 2020."
The Hot Sire in the Ring
At the just-concluded Keeneland September Yearling Sale, Into Mischief's 57 progeny sold for a total of $25,401,000. He was the second-leading sire by average sale at the sale, with his offspring commanding an average of $445,632. There and at the Fasig-Tipton's Selected Yearlings Showcase, he produced five yearlings that went for more than $1 million each, and another 23 that went for more than $500,000 each.
The success goes beyond this year's 3-year-olds. Into Mischief's progeny captured 80 black-type stakes winners and 33 graded/group stakes winners. They've combined for nearly $76 million in earnings and average nearly $102,000 per start. Last year, Into Mischief led the North American general sire standings with his offspring racking up $18,916,923 in earnings.
He hasn't missed a date this year either. As of Oct. 5, Into Mischief's progeny brought home more than $13.7 million and 11 graded stakes titles in 2020, putting him atop the 2020 sire list. Authentic's $3,040,000 and four graded stakes victories (along with two seconds) leads that parade. More than 154 Into Mischief progeny won races this year.
Like Father, Like Son in the Breeding Shed
"Into Mischief is the best sire in the world and (is) set to continue to prove it," Toffey said. "We are also confident he will become an important sire of sires, and have shown that in our commitment to acquiring his best sons."
That likely includes Authentic when his racing career ends. It also includes progeny such as Goldencents, the first Into Mischief progeny stakes winner. That colt would win two Breeders' Cup Dirt Miles and the 2013 Santa Anita Derby.
These are remarkable numbers for a horse with only six career starts – although Into Mischief made the most of those starts. He won three and finished second the other three times, earning nearly $600,000 from those half-dozen starts.
You Never Know Where Your Next Hot Stallion Comes From
Into Mischief began his stud career at Spendthrift in 2009 with a $12,500 stud fee. By 2012, waning interest knocked that fee down to $7,500. The following year brought Into Mischief's first crop to the track, where they blossomed.
His 21 starters included eight winners, three stakes winners, and a graded stakes winner, putting Into Mischief third on the North American first-crop sire earnings list. They also included two 2013 Kentucky Derby starters — Goldencents and Vyjack.
Along the way, more Into Mischief progeny began making mischief for their counterparts on the track. Practical Joke won nearly $1.8 million and five races in his 12 starts. Audible finished third in the 2018 Kentucky Derby to Justify. And Covfefe won six out of her eight races, including the 2019 Breeders' Cup Filly and Mare Sprint, along with Eclipse Awards as Champion Female Sprinter and Champion 3-Year-Old Filly.
"We think he is making a positive impact on the breed that will be felt for years to come, particularly with the heart and durability that are signatures of his offspring," Toffey said. "Into Mischief is just a remarkable animal that has the chance to be among the very best the breed has seen, and we feel extremely fortunate to have him."